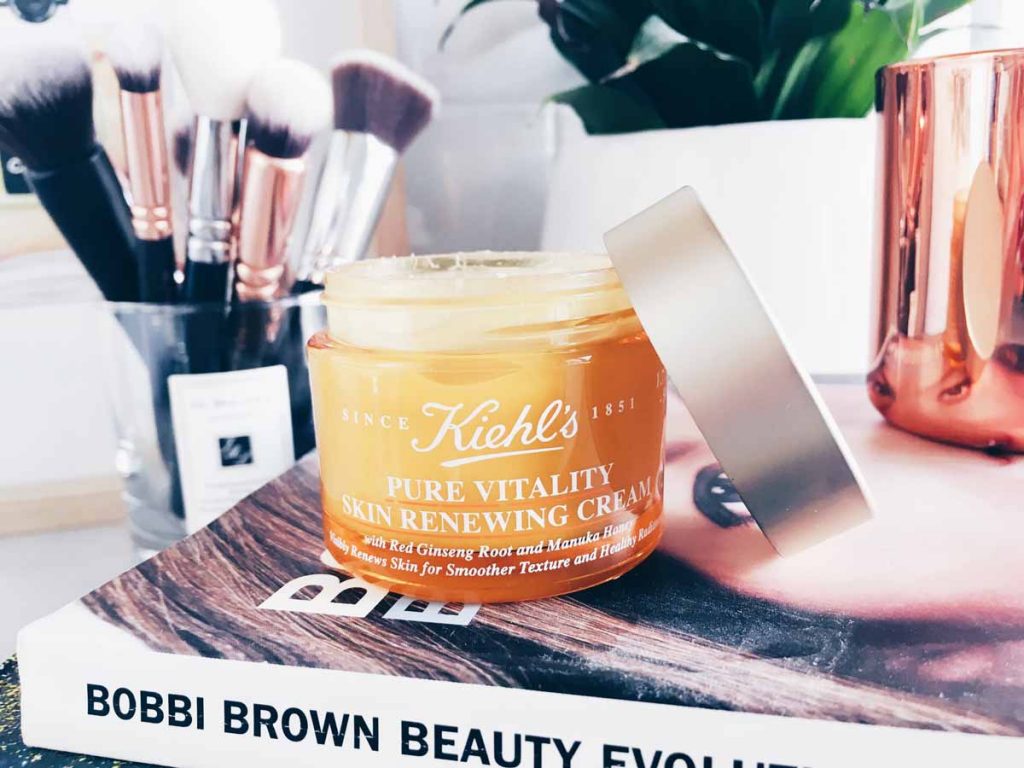 Kiehl's make some of the best skincare on the market in my opinion (Ultra Facial Cream, Midnight Recovery Concentrate and Creme de Corps to name a few of my favourites) so I'm always interested when they launch a new product. The Pure Vitality Skin Renewing Cream is designed to help the skin "resist hydration loss while also aiding in recovery from existing skin damage" and is formulated from 99.6% naturally-derived ingredients, minus any parabens, mineral oils or synthetic colours and fragrances. The texture is fairly thick and the first few times I used it I didn't really get it – it sat on my skin a little and felt a bit uncomfortable. Then I watched a video that explained how to apply it and it made ALL the difference! In the video, it said to use a very small amount (a blob on the end of a fingertip) and to warm it up between your fingers before applying. This had the effect of transforming the cream from a slightly sticky cream to a more slippy almost-oil, which meant it glided onto my skin and sunk in properly after a minute or two.
I wore it overnight and the result was very nourished, very smooth, very healthy-feeling skin. I haven't tested it consistently enough to notice any of the effects of the product's radiance-boosting claims but I think it makes for a really nice night cream. It's probably better suited to normal-dry skin but it's not like it doesn't sink into my combination skin so don't be scared to try it if you have some oiliness. The great thing about Kiehl's is that if you aren't completely sure whether a product will work for you, they're very generous with their samples. This means you can ask for a couple of sachets and try it at home for a few days before you decide whether it's for you or not – something ALL skincare brands should be doing as a matter of course.
Price: R895 (50ml)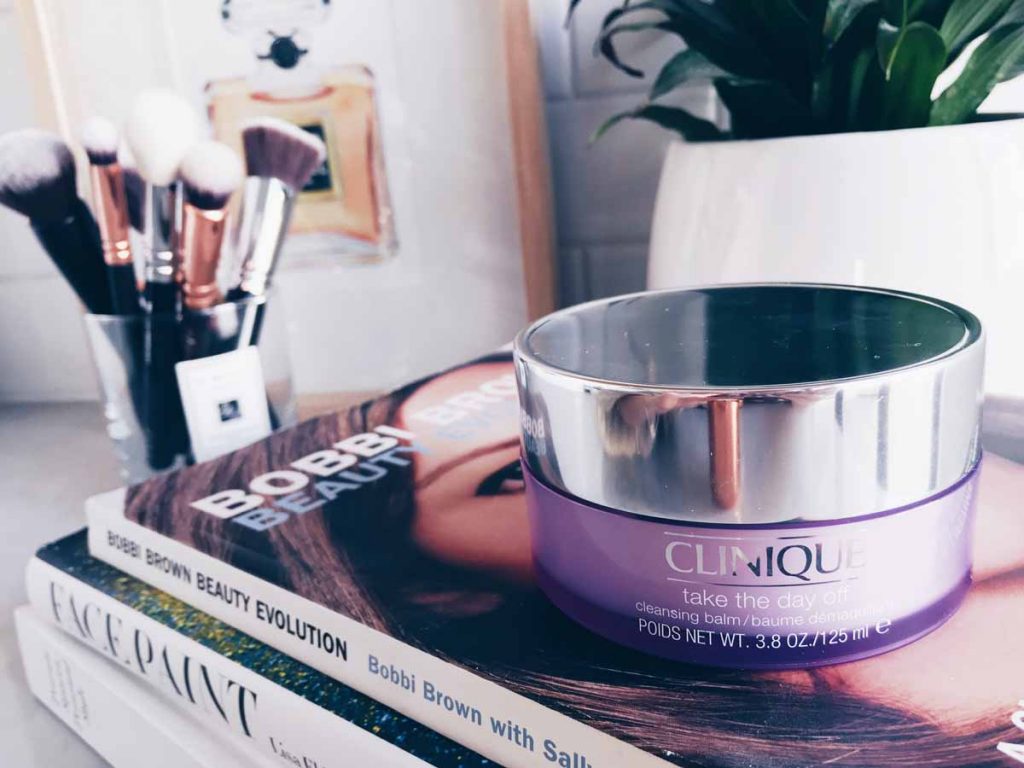 Camilla raved about this product in our Autumn Favourites video, having bought it at Duty Free on the way home from Iceland. It launched in SA moments after she landed back in the country so when a second tub of the product landed on our desk, I jumped at the chance to try it. Guys, it's so good! If you've used the Camomile Sumptuous Cleansing Butter from The Body Shop (R190 for 90ml, so only marginally less expensive per ml) then I can tell you it's quite similar, but the texture is that little bit more silky and luxurious. Here are the highlights:
Solid at room temperature but melts into an oil on contact with the skin
Feels really beautiful to use – totally smooth and silky, unlike the slightly more chunky, hard-coconut-oil feeling of the Body Shop version
Dissolves makeup effortlessly (doesn't sting your eyes either) and is equally effective and enjoyable as a second cleanse
When you splash your face with water, it emulsifies into a milk and rinses away without the need for removal with a cloth, which I love. It's one of the reasons I enjoy the Skin Creamery Oil-Milk Cleanser so much – sometimes I really don't feel like the added step of having to scrub my face with a hot cloth.
The formula is fragrance free which isn't a highlight for me but I can see how this would appeal to some people, especially those with sensitive skin
Price: R295 (125ml)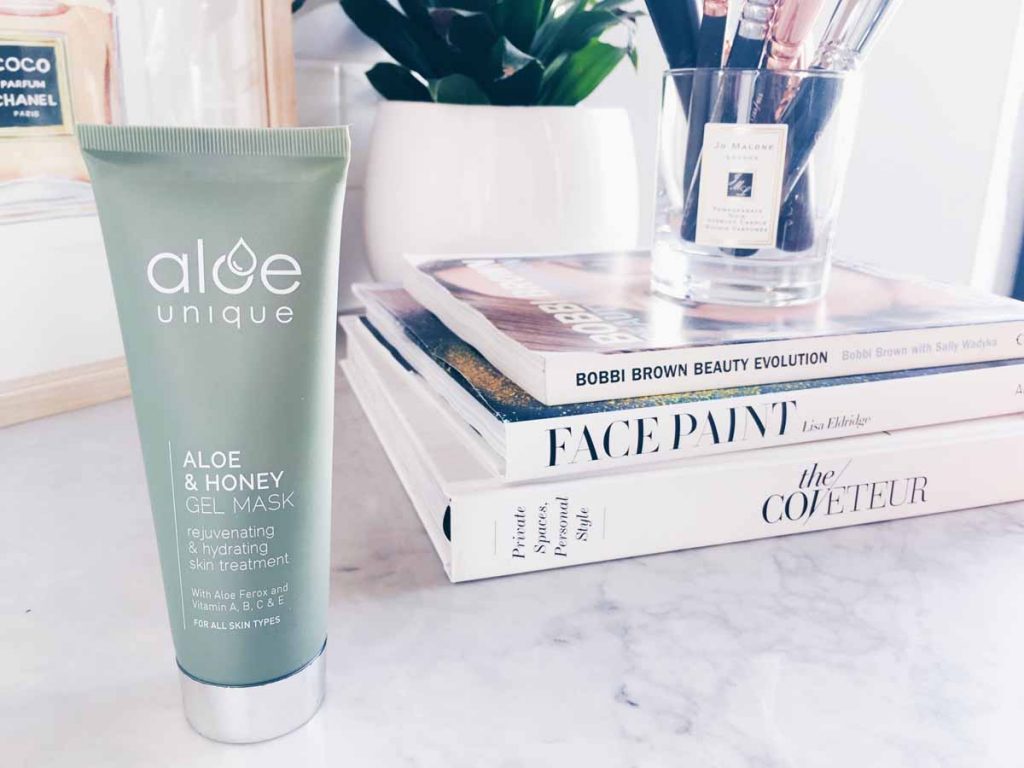 Aloe is one of my favourite natural skincare ingredients so I was very interested to learn about the launch of this new South African brand. They use Aloe Ferox, which grows wild in the Western Cape without pesticides or chemicals, in all of the products and everything is formulated to be paraben and alcohol free. All containers are recyclable (huge bonus for me – I can't stand throwing packaging into landfill) and the whole operation is sustainable and socially responsible, so you get a real feel-good factor from using the range.
The mask immediately jumped out at me and is the only thing I've had time to trial so far: combining the hydrating power of aloe with the moisturising properties of honey, it's a winner for normal-dry or dehydrated skin (not sure it packs enough of a punch for very dry skin). It's a clear gel formula that you apply in a generous layer all over the face and then rinse away after 20 – 30 minutes. It's a tiny bit sticky, even after it's been on the skin for a while, so it's not a mask I'd leave on overnight but after half an hour it does leave you skin quite soothed and fresh-feeling. It's not the most hydrating mask I've ever tried but it feels cooling and replenishing and works well as part of a multi-masking session after something like a clay mask and/or exfoliating mask, which is how I used it the first time. It's also extremely affordable as far as face masks go so well worth giving a go. List of stockists here.
Price: R108 (75ml)
All products supplied as PR samples