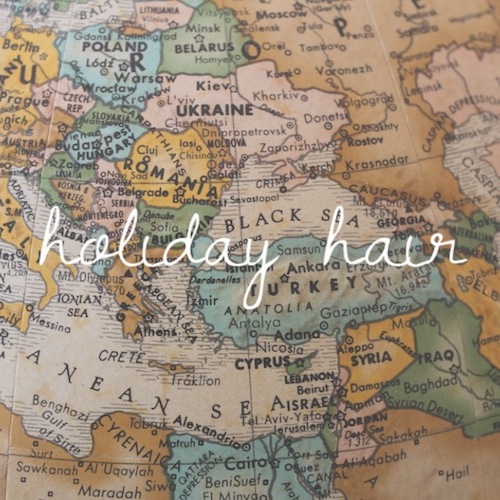 By the time you read this I will be sunning myself in Greece (sorry…oh wait, no, I'm not sorry). Those who know me will testify to the fact that I never travel without a hair dryer (Parlux), hair straightener (GHD) or an extension cable (you'd be surprised at how often I've found myself in places where the mirrors and plug points are far way from one another – rage), nor do I sacrifice my beloved products – everything comes with me. Obviously I'm not a masochist – I won't be blowdrying my hair every day in the sweltering heat, but there is going to be a wedding after all, so I need to be prepared.
As far as shampoo and conditioner is concerned, it should come as no surprise that I will be taking my one and only L'Oréal Pureology Hydrate Shampoo and Conditioner (decanted into 100ml travel bottles, naturally). I've written about these products before so I'm not going to repeat myself unnecessarily – you can read more here if you'd like to know a bit more about them. I will also be taking my L'Oréal Professionnel série expert Pure Resource clarifying shampoo (not pictured) with me as it will help clear the build-up of sand and seawater and give my hair a really good clean. I only use this shampoo once a week, as overuse can dry your hair out.
The sun, salt water and flying really take it out of my hair, so I am going to decant a little of my Federic Fekkai Anti-Breakage Treatment Mask to bring along to make sure that I keep my locks in tip-top condition. This mask smells sublime and really helps to restore dry and damaged hair.
As far as products go, L'Oréal comes up trumps again with their Mythic Oil, which I adore. I apply this after every wash, even if I'm not blowdrying my hair, just to make sure that my strands stay soft and moisturised. Not that you'd know it, but I have naturally curly hair which I beat into submission every other day as I suffer from the dreaded trifecta of crappy hair: poodle curls underneath, gentle waves on top and frizzy roots. WHY ME? On the rare occasions that I let my hair dry naturally, a curl creme is essential to make sure that I don't look like I'm sleeping rough. For that, I reach for my KMS Curl Up Control Creme which helps to shape and bundle my curls, and it also smells good – like citrus. Pleasing.
Another product that's definitely coming along is the Bumble and bumble Thickening Creme Contour. I use it after blowdrying to create texture and volume and it's phenomenal – the rich formula melts in your hands to a delicate, lightweight paste that disappears into the hair. On holiday I will be using it to help create more fullness at the roots as that where my hair tends to fall a bit flat, even when it's left curly. An added bonus is that this leaves the lengths of your hair looking really healthy and glossy – so it's the perfect final step in any haircare routine.
Have you got any summer hair care essentials that I should know about?