Every time that I go into Clicks with good intentions, I leave with a much lighter wallet and way more stuff than I went in for. I can't help it ok, it's a force bigger than me! Here's a collection of a few skincare bits and pieces that I've picked up recently: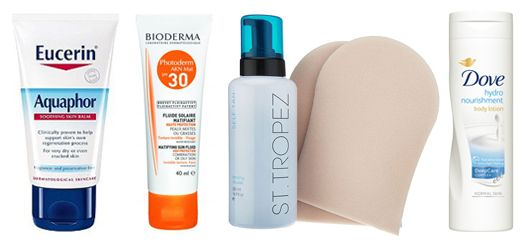 Aquaphor Soothing Skin Balm
I had heard that this was a drugstore version of Elizabeth Arden Eight Hour Cream with the added bonus of being fragrance free and considerably cheaper than the cult beauty alternative. It's got a similar texture to Vaseline – clear, thick and very soothing – and is apparently especially good for dry, chapped lips. I love a good multi-tasking so the fact that it can also be used for dry elbows, cracked heels, healing abrasions, softening cuticles and that sort of thing is music to my ears. I have a feeling that this is going to become a handbag staple.
Bioderma Photoderm AKN Mat SPF 30
Recently recommended by Anna from ViviannaDoesMakeup, this mattifying facial SPF is just up my street. I've been desperate for a light, non-greasy, water-resistant formula and apparently this is great for oily skin (my t-zone is shine central these days). I was considering the Kiehl's Ultra Light Daily UV Defence but quite honestly, SPF 50 is way more protection than I need plus its a lot more expensive than the Bioderma. I look forward to putting it to the test in Greece!
St Tropez Bronzing Mousse and Tan Applicator Mitt
A couple of days ago I had my first spray tan with Tamryn from Glow Cape Town (Camilla's review coming soon) and loved the results. Unfortunately the effects only last so long and I'm a bit paranoid of blending in with my wedding dress on the big day so I bought this as an emergency back-up. I'm not usually a self tan kinda girl but I've used St Tropez before (YEARS ago!) and know that it's a reliable product. This time I also bought the mitt which is apparently essential for a streak-free application. Here's hoping I don't have to use it in Greece but even so, I might try it out once I'm back home.
Dove Hydro Nourishment Body Lotion
If you read my June Favourites then you'll know how mind-numbingly boring I find moisturising my body. I'm lucky enough to have normal skin so I don't particularly need to pay special attention to it (unlike Camilla who pretty much walks around slathered in industrial-strength moisturiser all day long) but I also know that it's something I can't afford to ignore for too long or else risk the dreaded lizard legs. I prefer light lotions that sink in easily so when I spotted this on the shelf, I was sold. I've been using it for a few weeks and it does just what it says on the tin – it's nothing glamorous but it gets the job done and sometimes that's good enough for me!