Whenever I do a monthly favourites post, I usually try to stick to products that are available in SA because I know it can be a little frustrating falling in love with something that you can only buy overseas. I'm going to make an exception for this one though, as I recently visited the UK (did you watch my haul video?) and most of the favourites listed below were purchased at the time and I've been using them on the daily ever since:
Benefit Erase Paste (No. 2 Medium)
I recently ran out of my Bobbi Brown Corrector after using it every single day for a year (how's that for good value?) and instead of buying another one immediately, I decided to use up the little Erase Paste that came with the Finding Mr Bright kit. (This was available on rubybox towards the end of last year but it seems to be sold out now.) It turns out that the two products are extremely similar, the only real difference is that the Benefit version is slightly thicker and creamier. I always powder under my eyes though so it doesn't crease (as long as you're light-handed) and it neutralises purple shadows beautifully.
L'Oreal Nude Magique Eau de Teint (190 Rose Beige)
I picked this up on a whim and was very interested to see how the "lighter than water" liquid texture performed. After a little trial and error with application, I found the perfect way to use this was to dab a drop onto each section of the face (forehead, chin, nose, cheeks and neck) and blending in with my Real Techniques Buffing Brush. I then repeat the process in a second layer if I want more coverage. The advertising seems to suggest that you can use one drop to cover your whole face but I don't see how that's possible unless you're a little tiny fairy person; nevertheless it's the perfect, lightweight foundation for summer. I think it's best for those with normal/combination-oily skin that already has quite a good texture (I think dry skin would just suck it up on the spot). Since it's such a fine liquid, it doesn't offer any skin-smoothing benefits although it can be worn over a primer which would go some way to solving that problem.
Smashbox Photo Set Finishing Powder
One of the make-up artists at the Smashbox showcase I attended at the end of last year, used this powder to set my foundation and I was very impressed with its staying power. My lovely friend Emma also raves about it so I had to buy it for myself in my Quest for the Ultimate Powder, and I can tell you that it is certainly a contender. I usually stick to pressed powders but this loose version leaves the skin with a velevty, soft-focus finish that lasts for hours and is undetectable. I dust it on with a fan brush (a tip I picked up from the aforementioned MUA) for feather-light application over my T-Zone and the ultra-fine texture never cakes or creases. This stuff is a serious competitor to my beloved MAC Prep+Prime Transparent Finishing Powder: let the battle commence.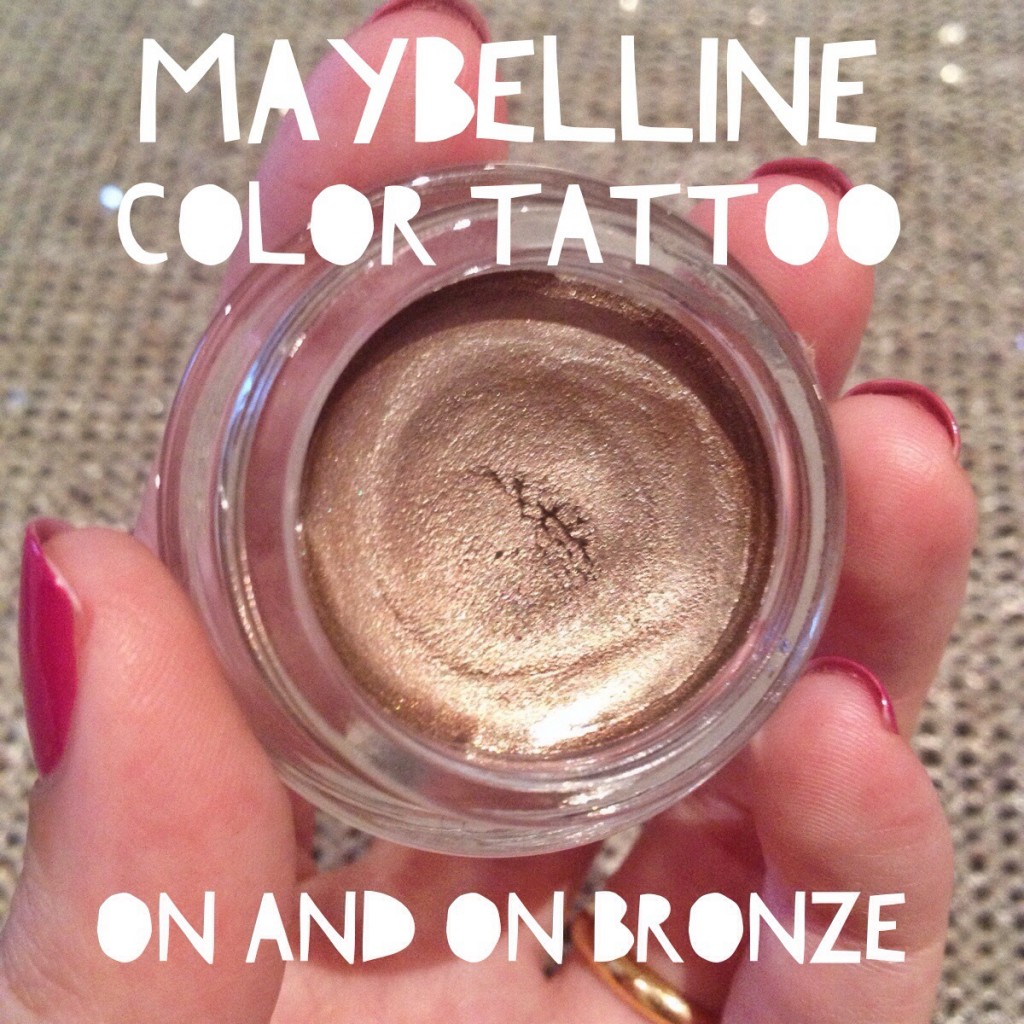 Maybelline Color Tattoo 24HR (On and On Bronze)
I don't even know where to start with my love for this stuff. I've got loads of cream eyeshadows in my stash (mostly from MAC) but Maybelline's shade range in SA never got me excited. US and UK beauty bloggers go mad for this colour which isn't available here (it's called "Bad to the Bronze" in the States FYI) and at a fraction of the price of the MAC Paint Pots, I thought it would be rude not to give it a go. I can report that the colour is the perfect bronzed taupe, the texture is smooth and blendable, and the crease-free staying power once it has dried is superb. I have been wearing it nearly every single day just washed over the whole lid, with lashings of black mascara (see below), and smudgy black and gold eyeliner. It also works as a great base for a metallic smoky eye (which is how I wore it on Christmas Eve), and will outlast even the most determined disco diva. Perfection.
MaxFactor False Lash Effect Mascara (Black)
I'm just going to come out and say it: this might be better than Clinique High Impact Extreme Volume Mascara. I feel like that's a massive betrayal of the mascara that has seen me through the past year with such faithful service, even on my wedding day, but I have to admit that FLE is giving it a run for its money. Although the Clinique version builds a little more volume and drama on the lashes, this MaxFactor mascara (seen here in limited edition packaging) packs major punch without the slightest hint of a clump. These types of formulas are MaxFactor's trademark and the fat plastic brush combined with short, stubby bristles gives a perfect result every time. I'm sorry Clinique mascara, but it's time to start seeing other people.
L'Oreal Hair Expertise EverRiche Nourishing & Flowing Shampoo & Conditioner
Although my hair is greasy at the roots, the ends are a little crispy and dry from years of getting highlights. It occurred to me that, since I have to wash my hair every day anyway, perhaps I should try a moisturising shampoo rather than one aimed at stripping my scalp of sebum. The new Hair Expertise range launched recently overseas and has been getting rave reviews for its sulphate-free formula enriched with botanical oils, so I had high hopes. And I have not been disappointed! It leaves my hair really soft but instead of being all slippery and sleek, it feels thoroughly nourished and thickened, and smelling like vanilla cupcakes. The range also includes the EverStrong (fragile and brittle hair), EverPure (colour care) and EverSleek (anti-frizz) variants and is currently on special for only £3.99 at Boots… just saying.