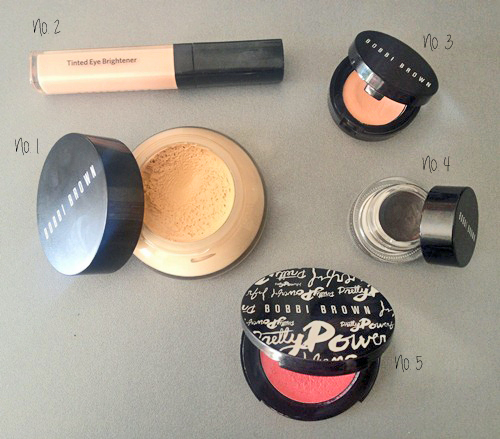 EXTRA SPF 25 Tinted Moisturizing Balm in Light to Medium
For the past month I have been reaching for my Dr Jart+ Water Fuse Beauty Balm Cream, and this. I have been leaning towards balms lately because my skin is still feeling so dry and I have been craving the hydration. This is billed as a lightweight foundation alternative for dry, dehydrated skin – bingo! The formulation is ultra-rich, so I wouldn't necessarily recommend this unless your skin is as parched as mine, as it might leave you looking a little bit greasy. This balm looks, feels and smells heavenly – it really does sink into the skin beautifully and leaves it looking glowy and fresh.  The coverage is light, but you could build it up a bit, should you be so inclined.  Added bonus: it contains an SPF of 25 to help protect the skin against damaging UVA/B rays.
Corrector in Bisque
For an in-depth review on this product, have a read of Julia's post here (warning: once you've read it, you will want to buy the Corrector – that's what happened to me). I've never used a corrector before, and now I wonder why it took me so long. This product really does neutralize under-eye darkness and brightens dark circles. The consistency is creamy, so it's easy to blend, and it doesn't crease. In addition, it's infused with skin conditioners to protect the delicate under-eye area. Bobbi recommends that you follow the Corrector with her Creamy Concealer, but I have found this to be too heavy. I opted for the Tinted Eye Brightener instead…
Tinted Eye Brightener in Bisque 3
It was going to take something pretty special to drag me away from my trusty Clinique Airbrush Concealer, which has been my go-to under-eye staple for the past few years. The lovely girls at the Bobbi Brown counter didn't have to work too hard to persuade me to buy this – the results spoke for themselves. It instantly brightened my shadows so I looked refreshed and awake – I mean, who doesn't want that?! When I use this on top of the Corrector, I look deceivingly well rested. A real gem.
Long-Wear Gel Eyeliner in Espresso Ink
I've used this product for years now, and although I've tried other gel liners, I always come back to this one. Nothing stays put quite like this does – both on the lid, and on the waterline. I like to tightline my eyes (when you apply liner onto the top waterline) and I find that this is the only liner that doesn't transfer onto the bottom waterline at all, which is nothing short of a miracle, I can assure you. Every woman should own one of these, in my humble opinion.
Pretty Powerful Pot Rouge in Pretty Powerful Pink
LOVE this. It has a smooth, creamy consistency, it's long-wearing, and the colour is gorgeous – what more could you ask for from a blush? I've harped on about this before here, but it really is one of the best blushes I've ever used (second only to NARS Orgasm). My biggest frustration with powder blushes is that they just don't stay on my face and I end up looking washed out by 10am. Not anymore though, I'm thrilled to tell you – with this I've still got some colour by the end of the day. Result!
*This is not a sponsored post, believe it or not!
Images by me.