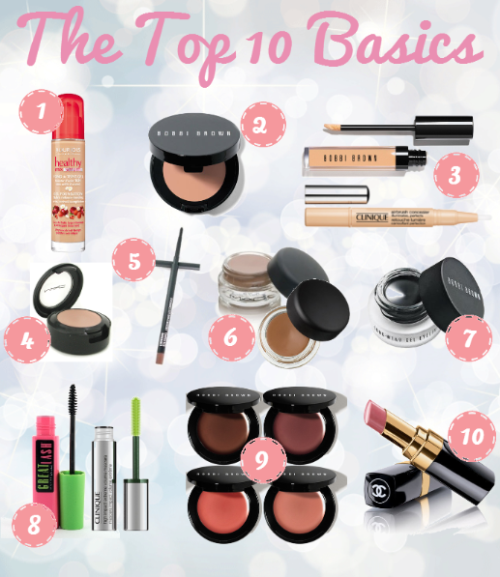 I often forget that not everyone has the same affinity for make-up that Jules and I have, and that for most people, the world of cosmetics is a daunting one. We recommend a lot of products on this blog, but the fact of the matter is, you don't need them, strictly speaking. None of us need five mascaras or twelve foundations (*avoids eye contact*), but what we want them all the same. With that being said, there are certain products that are essential if you want to avoid looking like the crypt keeper – and so with that in mind, I have compiled a list of the top ten basic products that I feel you should own. You will see that my selection is full of cream products – I have chosen them because they are easy to apply with fingers, and they don't require a great deal of blending.
Tinted moisturiser/BB cream/foundation. Very important, no matter how good your skin is. Helps to even out skin tone, cover blemishes and add luminosity to your skin. You don't have to spend a huge amount of money either – the likes of Bourjois Healthy Mix and Revlon Nearly Naked rank as some of my favourites, and they are both under R180.

Corrector.

I won't harp on about this again (we've raved about it numerous times here, here and here). Just visit your nearest Bobbi Brown counter – you can thank me later.

Light reflective concealer.

This illuminates and brightens your face, and banishes under-eye darkness. I love the Clinique Airbrush Concealer and the Bobbi Brown Tinted Eye Brightener.

Blemish concealer.

If, like me, you suffer with redness and blemishes and your skin is generally just a bit crap, you need concealer – it's a non-negotiable. You can read my post on concealer here, which lists my favourites.

Eyebrow pencil/powder

to fill in and shape your brows. I encourage you to watch Charlotte Tilbury's video here – her step-by-step brow guide can't be beaten. My product of choice is the MAC eyebrow pencil in Lingering.

Neutral cream eye shadow.

I like MAC Paint Pots in Painterly and Groundwork. They look sophisticated and elegant, and they are so simple to use – no brush necessary. They also have great staying power, so there's no need for a primer.

Gel eyeliner

. A great little multi-tasker – you can either apply it along your lashline for solid definition, or you can blend it out to create a softer finish (you will need to work fast though because it sets quickly). Alternatively, you can just apply it to your top waterline to give the illusion of fuller lashes. My favourites are Bobbi Brown Long-Wear Gel Eyeliner and MAC Fluidline. Jules also swears by Essence Gel Eyeliner.

Mascara

. Obviously.You don't have to spend a huge amount of money –  in fact, I find that expensive mascaras usually dry out quicker, so I tend to avoid them. My all-time favourites are Clinique High Impact Extreme Volume, Maybelline Great Lash and L'Oreal Volume Million Lashes.

Blush

. Essential – you can look washed out if you don't add a pop of colour to your face. I prefer cream blushers because I can really buff them in and they leave my cheeks looking fresh and dewy. Bobbi Brown's Pot Rouge is at the top of my list, but I have also been hearing good things about the Stila Convertible Colour lipstick/blush combo.

'My Lips But Better' Lipstick/Gloss/Lip Balm.

Nice and neutral – think nudes, peaches, dusty pinks. My perennial favourites are Chanel Rouge Coco Shine in Boy, Givenchy Hydra Sparkling Lip and Cheek Tint, Clinique Chubby Stick in Heaping Hazelnut and Smith's Rosebud Salve. They all leave your lips looking plumped up, luscious and ready to be kissed!
And that, as they say, is that! If there is an essential item that you think I've missed, let me know.
Image by me.