So all my favourite and most-used products this month are from overseas but I had to be honest and include them because otherwise this wouldn't really be a list of my monthly favourites! They're all things I bought in London and have used pretty much every day since. By the way – do you guys want me to do a haul and show you all the stuff I bought or does that sound boring? Let me know in the comments. Mini product reviews for each of these after the jump.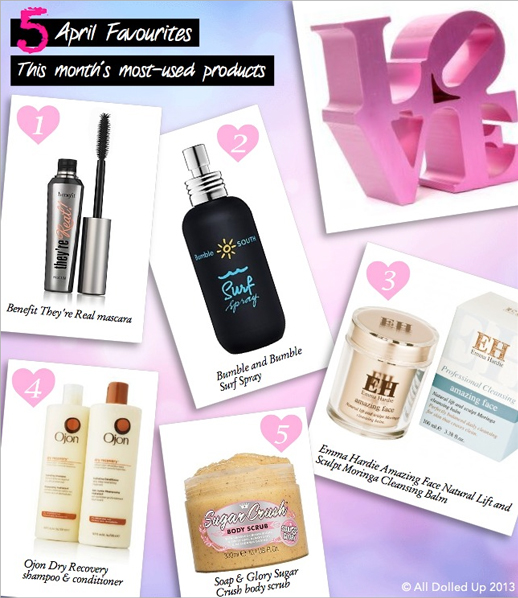 1. Benefit They're Real Mascara: Oh look! Another overpriced mascara to add to my collection! This one is probably worth the rather hefty price tag though because it actually does everything it claims to do: lengthens, curls, volumizes, lifts and separates. It's got a rigid plastic brush with a spiky star on the end for getting those hard-to-reach lashes and the finish is gorgeously black and glossy. I've heard that it dries out really quickly though so I'm using it every day to make sure I get my money's worth!
2. Bumble and Bumble Surf Spray: I've spoken about the sad state of my hair before: fine, flat and generally lanky with absolutely no personality. I've always struggled to achieve long-lasting bed head but this cult favourite salt spray is its new best friend. It forms a light wave in my hair and gives it lots of texture and "piecey-ness" – plus it lasts for HOURS! Most volumising and texturising products tend to have a decidedly temporary effect on my hair but this one has some serious staying power. A few spritzes of this plus my new Denman back-combing brush and I'm giving Alexa Chung a run for her money.
3. Emma Hardie Amazing Face Natural Lift and Sculpt Moringa Cleansing Balm: Aside from it's verbose moniker, this cleansing balm is an absolute treat. It melts into a lovely, slippy oil on contact with the skin which makes smoothing it all over your face to dissolve make-up and impurities an absolute breeze. It also smells heavenly and leaves my skin feeling soft but not greasy. My only gripe is the price – at £34 it's extremely pricey and since it doesn't actually do a better job than my LUSH Ultrabland (£11), I probably won't be re-purchasing it. I'll certainly enjoy using it up though!
4. Ojon Dry Recovery Shampoo & Conditioner: I blame this one on Lily Pebbles. She raves about this brand so I picked up a couple of samples in Boots and now I wish I'd bought a giant bottle! The range uses ojon oil and blue agave nectar to treat "dyed, dried or fried" hair to repair damage and give it extra hydration, shine and smoothness. The brand also ticks all the eco-friendly boxes by using lovely natural ingredients and avoiding nasties (parabens, mineral oil, DEA, etc). The shampoo and conditioner left my hair super soft and silky after just one wash and smelling of ylang ylang, sweet orange and geranium. Gimme more.
5. Soap & Glory Sugar Crush Body Scrub: I share a small obsession with Soap & Glory products with Tori from Kiss, Blush & Tell. I have a particular soft spot for their "original pink" fragrance which is in some of the products currently cluttering up my bathroom, like Clean on Me shower gel, The Scrub of Your Life exfoliator and Hand Food hand cream. I decided to try something new though and spent about half an hour standing in front of the S&G section in Boots, sniffing all the different options. I settled on the DELICIOUS Sugar Crush body scrub with brown sugar, sweet lime, almond oil and macadamia grains. It basically smells like a mojito so you feel like you're showing in a cocktail… plus it leaves skin beautifully buffed. I reckon I'll be going back for the Sugar Crush shower foam and body butter soon enough!