If you follow us closely on the blog or on social media, you're no doubt aware that I'm having a serious Korean beauty obsession right now (me and the rest of the world). The foundation of the Korean approach to skincare is really about maximum hydration, so it's no wonder that all the hydrating toners, essences, ampoules, serums and masks are right up my street. Last night I decided to give myself a facial using all of the bits and pieces I've accumulated recently and it gave my skin such a gorgeous glow I thought I should share it with you: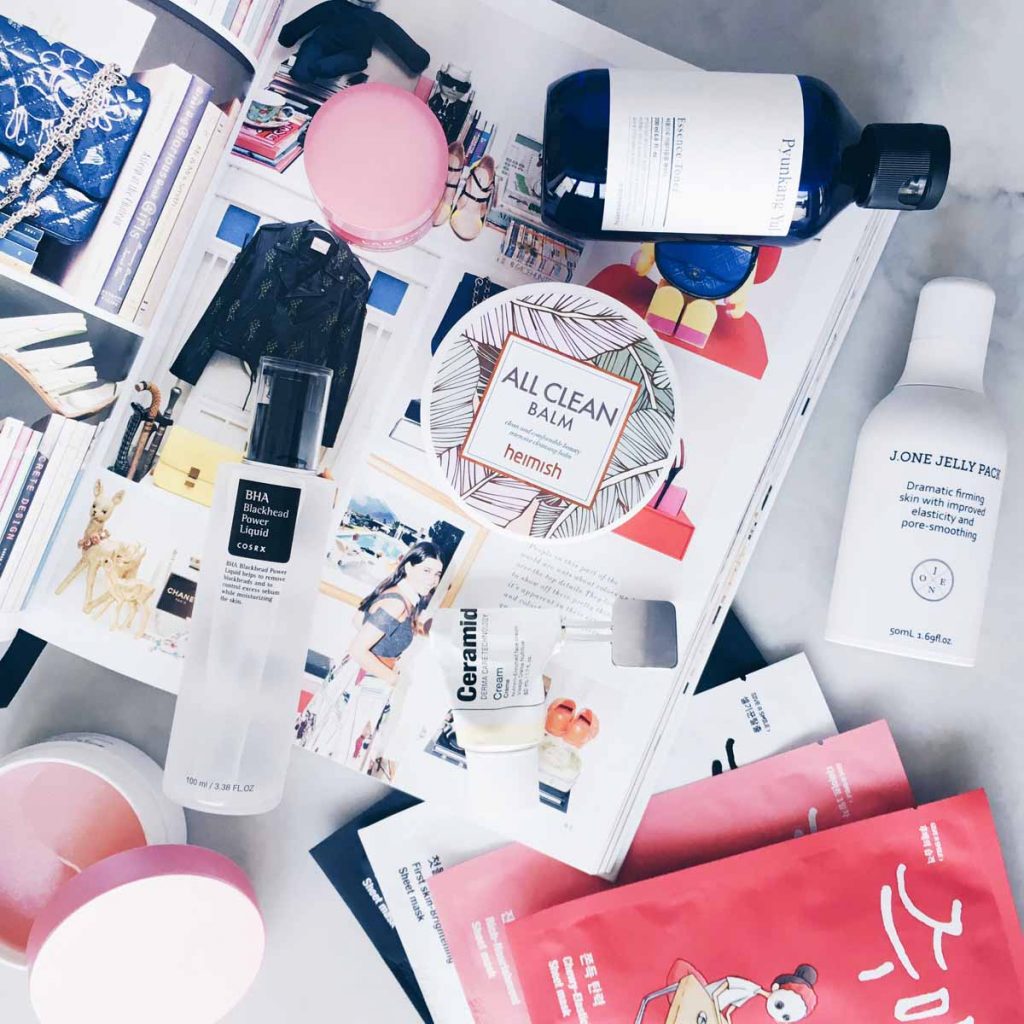 Step 1: Double cleanse
Probably the most well-known K-beauty skincare step is the double cleanse. More recently popularised by Caroline Hirons, using an oil or balm cleanser to remove makeup and then deep cleaning the skin a second time has always been the essential first step in the famous "10 Step" Korean skincare routine. Technically the second cleanse should be done with a water-based cleanser but I use whatever I'm in the mood for – as long as you're removing makeup thoroughly and following up with a suitable cleansing product, you've covered this step. As per our usual advice though, steer clear of foaming cleansers and/or those which strip the skin's natural oils with harsh surfactants. I also wouldn't use a micellar water for the second cleanse – an at-home facial is a time for self-care and you should use your most luxurious-feeling products.
Product recommendations:
Heimish All Clean Balm
Banila Co. Clean It Zero
COSRX Low pH Good Morning Gel Cleanser
Step 2: Exfoliate
Once your skin is dry (absorb water with a tissue rather than a towel for the full Korean treatment!), you have the option to use a fairly powerful exfoliator like alpha hydroxy acids or something a little bit more gentle, like salicylic. I used a glycolic peel pad two nights previously so I stuck to the BHAs in this case and left it on the skin for a few minutes so it could get to work on those pores and dead skin cells. You can also use a physical scrub but please make sure that it is gentle and ideally also contains some exfoliating acids – so basically the Korean version of the Exuviance Triple Microdermabrasion Face Polish. Or, you know, just use that one.
Product recommendations:
Neogen Bio-Peel Gauze Peeling Pads
COSRX BHA Blackhead Power Liquid
SkinFood Black Sugar Strawberry Mask Wash Off
Step 3: Essence
This has become my favourite step in the whole routine because it's where a lot of the hydration gets packed into my skin. What is an essence you ask? In K-beauty, an essence is a halfway between a toner and a serum in terms of texture and performance. The watery liquid, which is usually bursting with humectants, is patted into the skin to boost water levels before anything heavier goes on to lock that water in. It's completely optional of course but for me it makes a big difference because it keeps dehydration at bay and completely sinks in, leaving no residue on the skin. It's another layer of product but it really doesn't feel like it. You also have the option here of doing the "7 Skin Method" with your essence, which is where you pat the product into your skin and let it dry before doing it again (you guessed it) seven times in total. It takes time and I don't do it every day but when I do, it really works to plump up my skin, especially when combined with the rest of this facial routine.
Product recommendations:
Pyunkang Yul Essence Toner
Missha Time Revolution The First Treatment Essence Intensive Moist
COSRX Hyaluronic Acid Hydra Power Essence
Step 4: Serum
One of the most familiar steps for most of you will no doubt be the addition of a serum before moving onto moisturiser. It is an extremely broad category so if you have more than one, I'd suggest choosing the serum that supports your final goal, whether its hydration, anti-ageing, brightening, cell repair, antioxidants or some other targeted concern. My facial was all about boosting hydration and getting my skin to glow after a few days with the flu had ravaged it a bit, so I went with one of my most powerful hyaluronic acid serums.
Product recommendations:
Mizon Snail Repair Intensive Ampoule
Missha Time Revolution Night Repair Science Activator Ampoule
Klairs Midnight Blue Youth Activating Drop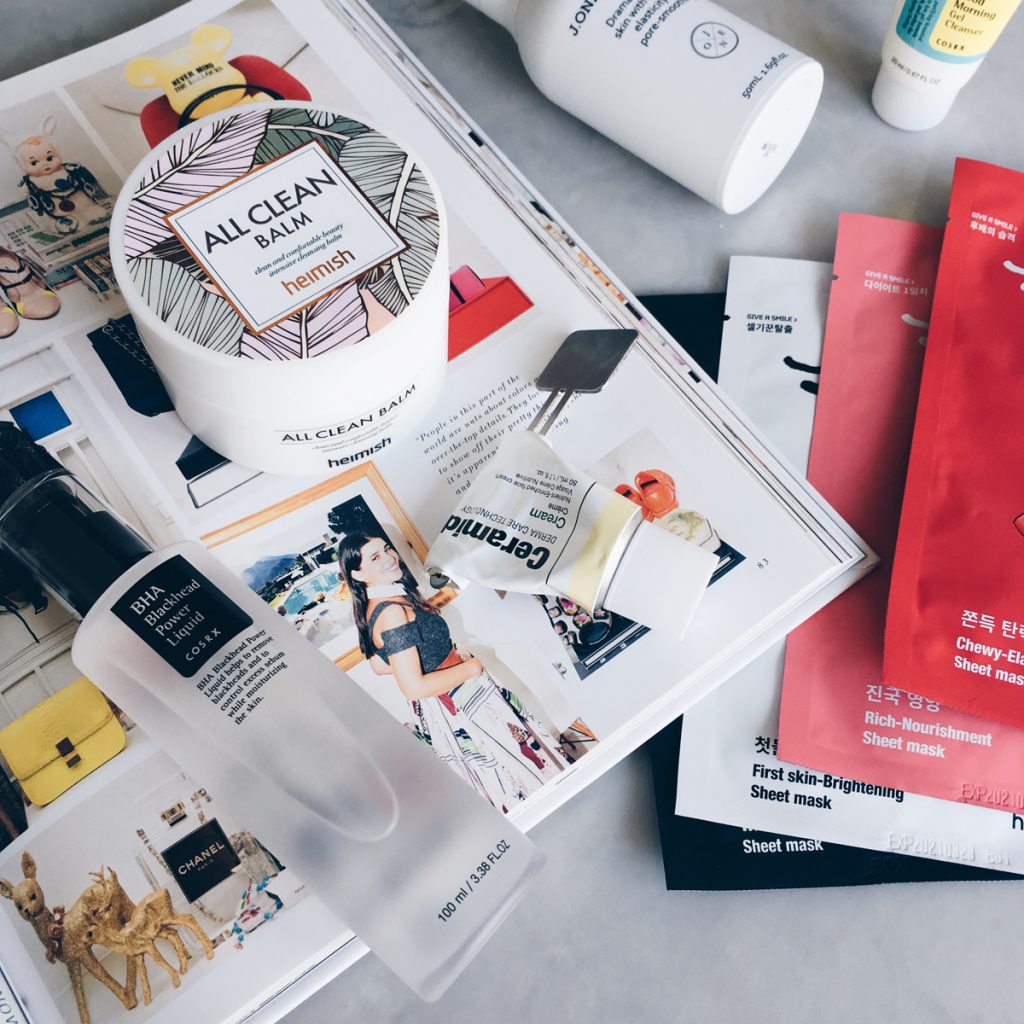 Step 5: Eye treatment
Glow Theory recently sent us each a box of samples to try, including the gorgeous Heimish Bulgarian Rose Water Hydrogel Eye Patches. If you watched us unboxing those packages on Instagram Live recently then you know how much these excited us from the minute we cracked open the container. Inside were 60 sparkly, pale pink silicone patches soaked in a line-plumping, skin-smoothing and bag-busting serum which, quite honestly, I'll continue to use whether they work or not because they're so delightful to look at! They adhere very well to the skin (no slipping and sliding around) and are very thin so are completely comfortable to wear for an extended period of time. You could achieve a similar effect with a good eye cream of course, but it wouldn't be as joyous.
Product recommendations:
Heimish Bulgarian Rose Water Hydrogel Eye Patch
Pyunkang Yul Eye Cream
TonyMoly Panda's Dream Eye Patch
Step 6: Sheet mask
Once the eye patches were in place, I cracked out one of my sheet masks to layer on top, loaded YouTube on my TV and watched beauty videos on the couch for half an hour. If spending 30 minutes that way isn't heaven on Earth, then I don't know what is. Sheet masks can be slippery buggers so I find lying down really is the most practical approach, and let's be honest, an important part of the whole self-care aspect of an at-home facial. I don't discriminate when it comes to sheet masks – in my experience they all do a similar job of hydrating your skin, no matter what it says on the packet. Having said that, the Too Cool for School Egg Cream Mask is the most effective one I've ever used, giving the skin seriously long-lasting freshness and radiance. I couldn't find that one in SA though so I've listed some of my other favourites below.
Product recommendations:
J.One Jelly Pack Vita 2-Step Mask
TonyMoly I'm Real Sheet Masks (various)
A'pieu Milk One-Pack Sheet Masks (various)
Step 7: Moisturise
Depending on your skin type and whether or not the serum from the sheet mask completely sinks in or not, you might be able to skip this step – I do sometimes. If your skin can handle it though, then by all means layer on a good moisturiser to lock in all that goodness from the previous steps. You can also choose to use a sleeping pack or moisturising mask here, like the Laneige one which is wonderful, rather than a traditional moisturiser. Either way, make sure you match the product to the needs of your skin – you don't want to go in with a super rich cream if the sheet mask was slightly oily to begin with and your face is already maxed out on moisture. You won't get glow, you'll just get breakouts.
Product recommendations:
Pyunkang Yul ATO Cream Blue Label (lightweight) or Nutrition Cream (rich)
Dr Jart Ceramidin Cream
Laneige Water Sleeping Mask
Step 8: Lip treatment
This doesn't have to be the last step – you can load up on a super-nourishing balm or overnight lip treatment at any point during the process. You could even throw in a scrub to exfoliate the lips and get them nice and smooth first. Either way, don't neglect them – even a dab of Aquaphor will do – or they'll be outshone by your fresh new face.
Product recommendations:
TonyMoly Kiss Kiss Lovely Lip Patch
Laneige Lip Sleeping Mask
Petitfree Oil Blossom Lip Mask
***
Some of the Korean beauty products really are just a bit of fun (like the TonyMoly lip patch) and are not designed to be packed with active ingredients that offer long-term skincare benefits. I love that about them though – an at-home facial should be fun! If you want more powerful products or you only have a couple of Korean brands in your kit, then you can obviously substitute any of the steps with non-Korean versions e.g. I used Estée Lauder Advanced Night Repair at the serum step because I don't have a K-beauty serum.
These are the retailers stocking Korean beauty brands in SA that I am aware of:
Glow Theory
K-Beauty Africa
Butterkup Beauty
Muse Beauty
Samika