Cult Beauty is hands-down my favourite online beauty retailer – I often spend hours browsing the site, wishing I was a millionaire/still based in London so that I could get my hands on their expertly curated products. These are some of the items currently on my wishlist…
I am most intrigued by this new style of brush that seems to be taking the makeup world by storm, aren't you? I never thought I would find myself coveting something which looks like a ginormous toothbrush, but it turns out that I do! These densely packed synthetic fiber bristles promise to buff both cream and powder formulations into the skin like nothing else, and, as someone who is forever chasing a flawless finish, it sounds like it'll be right up my alley.
My love affair with warm toned eye shadows continues! I don't know what's going on with me lately, but the orange, pink and red eye shadows are really floating my boat, and I think the shade range in this offering from Anastasia Beverly Hills is really something special. The palette contains 11 mattes shades and 3 metallic shades, all of which can be used either wet or dry. I'm also very into the pink velvet packaging – in high school Julia used to have a diary which was covered in pink fur (for real), so this makes me feel kind of nostalgic!
This might seem like an odd choice, but this is the first liquid eye primer I've ever seen, so naturally I want to try it. This can either be applied neat all over the lid prior to the application of your shadows/pigments in order to prolong the wear, or it can be mixed into the shadows/pigments to intensify the shades.
If the words 'plump' and 'glow' are contained in a product title, then it's a done deal. I am of the opinion that you can never have too many hydrating mists (I currently have four on rotation), and this one contains a generous dose of hyaluronic acid, watermint, aloe vera, and tiny gold pigments to boost the skin's luminosity. Surely a few spritzes of this would leave me looking like my glowiest self? Must get on that.
I am fully obsessed with my OUAI Texturising Hairspray which I ordered from Sephora earlier in the year (you can see the full haul here), and I now want to systematically work my way through Jen Atkin's entire line. I thought the Soft Mousse would be a good place to start because a) I love mousse and b) I think it would work really well in conjunction with the Texturising Hairspray to create long-lasting, textured volume. See the products in action here: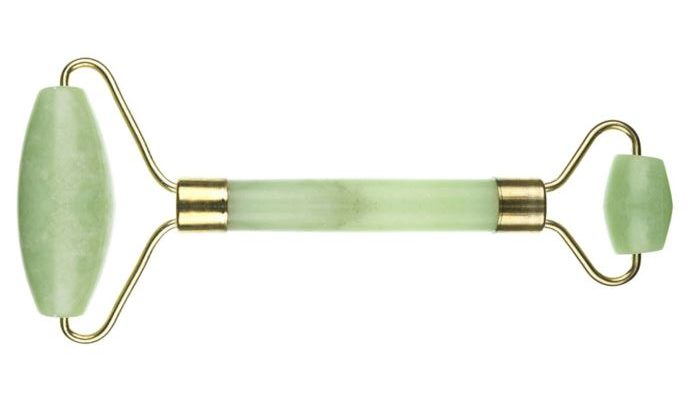 I have actually owned one of these before, but my Mom stole it (rude), so this would be a replacement purchase. This facial roller is an immensely soothing tool to use – there is something really therapeutic about sliding it over the contours of your face. I used to leave mine in the fridge, which makes for a refreshing morning ritual, and also helps to reduce under-eye puffiness. It is claimed that the healing properties of the stones, combined with the rolling action, works to tone up facial muscles, increase micro-circulation, stimulate detoxification and aids absorption of your skin care.
Not only is this curling wand beautiful (rose gold and white = heart eye emoji), but it's versatile too! It comes with three interchangeable barrels which allows you to create a wide variety of styles – from big, bouncy curls to tiny little corkscrew curls and everything in between. From the Cult Beauty website:
"With the brand's signature single pass technology – a ring of ceramic heaters which deliver fast, consistent heat up to 210°C  – and tourmaline-infused ceramic barrel, this enables you to make waves quickly and easily without compromising hair health, for salon-worthy styling from the comfort of your own home. Fuss-free and easy to manipulate, each barrel emits negative ions and infrared energy to seal the hair cuticle and lock in precious moisture, making it ideal for achieving smooth, polished, voluminous curls with next-to-no breakage."
Want.
Total hypothetical spend: 
£

375.00 = R7,039.25

(*dies laughing*)