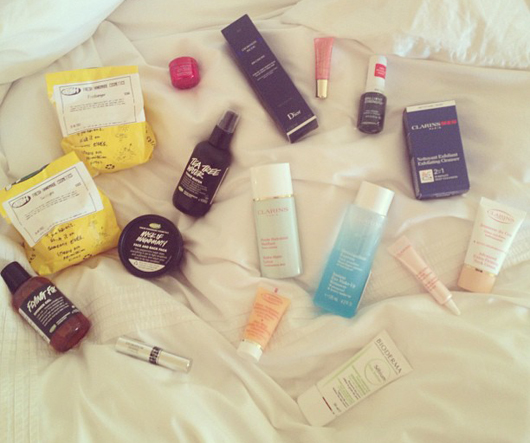 So, last Friday marked the end of my three-month-long spending freeze; 90 days of torturous new-product-bans after a rather expensive trip to the UK in April. To celebrate, I went and blew my monthly budget at the Waterfront (well, what did you expect?!) and here's what I bought:
Clarins
I've been wanting to try the Instant Eye Make-up Remover Lotion (125ml for R250) after seeing it recommended on a few trusted blogs for fast removal of stubborn mascara. I have NO patience when it comes to getting off my eye make-up and I invariable scrub at my eyes with whatever I am using so that it comes off as quickly as possible, which is basically the opposite of what you're supposed to do! I'm hoping to mend my ways with this fast-working bi-phase remover that's great for sensitive skin and contact lens wearers.
I've been struggling with oily skin on my t-zone lately, and I'm pretty sure that it's down to the huge number of products that I'm testing. If you read my bedtime beauty routine then you'll know I've cut down my overnight skincare in an attempt to rectify this but I was still struggling with a day time moisturiser that didn't leave me super shiny after five minutes. I bought the Hydra-Matte Lotion for Combination Skin (50ml for R340) on a whim and OMG is it amazing! It does exactly what I hoped it would where other, similar products have failed – keeps my t-zone shine-free while hydrating my cheeks and the edges of my chin. This moisturiser is a total game-changer for me.
Since I bought two products, one being a moisturiser or serum, I qualified for their current GWP which is a cosmetics bag packed with samples that you can choose yourself – here's what I got:
One Step Gentle Exfoliating Cleanser
Advanced Extra-Firming Neck Cream
Multi-Active Skin Renewal Serum
ClarinsMen Exfoliating Cleanser
Instant Smooth Perfecting Touch
Colour Quench Lip Balm

Lush
I re-purchased the Flying Fox Shower Gel (100g for R55) which is a favourite in our house and a few new treats that I hadn't tried before. The Tea Tree Toner Water (100g for R50) helps to balance oily, blemish prone skin with its antibacterial, antiseptic and antimicrobal properties. The Mask of Magnaminty (125g for R90) smelled way too good to pass up plus the peppermint oil, honey and kaolin clay inside it are great for banishing spots. I also stocked up on a couple of bath bombs, Twilight (R38.50), a lavender-scented sleepy-time one and Fizzbanger (R38.50), which whirls around your bath, spinning wheels of colour and froth with popping sound effects. Fun!
Dior
Camilla and the rest of the beauty blogging community convinced me that I needed Diorskin Nude BB Creme (R345) and I really do love it. The texture is extremely light, it melts into the skin with sheer to medium coverage that evens tone while leaving your skin looking, well, like skin. I was also given a little sample of their new Diorshow Iconic Overcurl Mascara which is equally fabulous.
Bioderma
I blame (our friend) Lisa Eldridge for this one – she's a big fan of Bioderma Sébium Pore Refiner (30ml for R199), especially as a primer for wedding make-up which is exactly why I bought it. I'm desperate for a good primer that will keep me shine-free and help my make-up stick to my face on the big day and I'm hoping this is it!
Right, time to start saving up again I suppose! Have a happy week, beauty bunnies xx