A few weeks ago Jules and I started the Change Your Skin Challenge with Kiehl's Midnight Recovery Concentrate ("MRC"). I have been keeping very quiet about the Challenge because my skin has been quite temperamental, whereas Jules' skin has responded really well and is looking better than I've ever seen it.
First and foremost, you should know that the problem is my skin, not the product. MRC is sublime and I have relished using it – it smells incredible and feels really indulgent and comforting on the skin. However, my love for the product aside, this was my first foray into facial oils and at the moment, my skin is not a happy camper. I have suffered with problem skin for years and have always had to be very careful about what I put on my face, because anything that isn't Cetaphil or Neutrogena usually causes a reaction. My skin also got noticeably more sensitive after my dermatologist in London misdiagnosed my rosacea as acne and put me on a heavy course of Roaccutane – a truly horrendous experience, as any fellow Roaccutane-taker will tell you.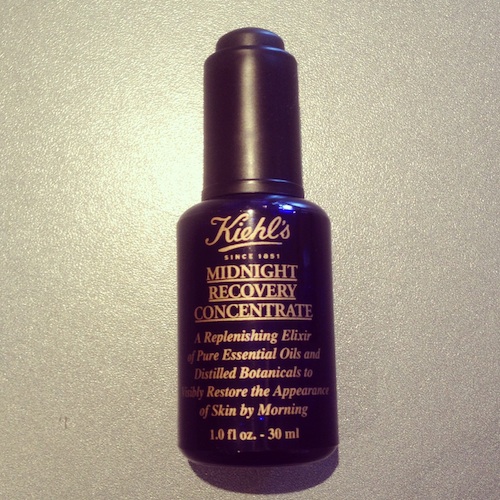 For the first two weeks of the Challenge I decided to wean my skin onto MRC because I knew that if I just started slapping it on every night my skin would freak out. So I started off by using it every other night on top of my Clarins Double Serum. Over the course of the next two weeks I built up to using it every night and things were alright – the texture of my skin was the same, which obviously isn't anything to write home about, but it gladdened by heart because it meant that my skin wasn't reacting the way I thought it would. After those two weeks I decided to forgo my serum and apply the MRC directly onto my skin after cleansing. Initially things went well – my skin looked smooth, and I noticed that any little spots around my mouth that seemed to want to come to the surface, didn't. MRC also seemed to be helping with existing inflammation elsewhere on my face and in addition, existing acne scars faded completely. *Pause for effect*. That is huge – I have never known of a product to deliver those kinds of results so quickly.
A few days later I decided to try a new cleanser – Lush Ultrabland (which is universally acknowledged as being the most gentle cleanser in existence, basically). Now, I don't know if perhaps I was too vigorous with the face cloth when removing this cleanser, or if there was some strange reaction between the cleanser and MRC, but all of a sudden, my happy little face was a mess. I developed redness and spots around my nose and cheeks, my skin tone was more uneven than usual, my dry patches got worse and my complexion looked flat. I struggle to see how Ultrabland could have caused that kind of reaction, but by the same token I felt like my skin was doing really well on the MRC, so now I'm more confused than ever! I cannot unequivocally state that it was the fault of one product or the other – it might, in fact, be neither – I just don't know. I have decided to stop using both Ultrabland and MRC for the time being and revert back to cleansing with Cetaphil and moisturising with Neutrogena (I am also cutting out all serums, toners and acid exfoliators). I am hoping that by stripping my routine back to basics, my skin will settle down and start looking a bit healthier. Once everything is back to normal I will try and reintroduce MRC into my regime and hopefully I will have better results the second time around.
I just want to reiterate that I think MRC is a wonderful product, and, notwithstanding my experience, I would highly recommend it. I have numerous friends who are also doing the Challenge and their skins are looking glorious. Thank you to Khiel's South Africa and Tori from Kiss, Blush and Tell for including Jules and I in the Challenge.