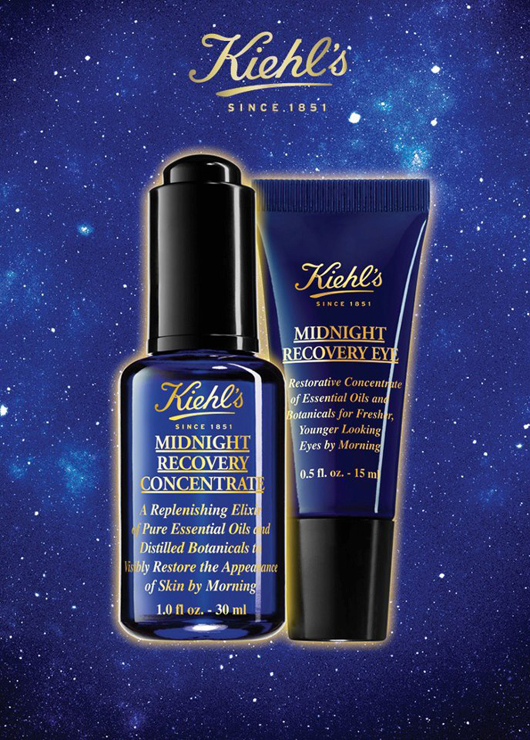 My experience with Kiehl's Midnight Recovery Concentrate was, overall, very positive. As I mentioned in my previous post on the subject, I had already been using MRC a couple of nights a week in rotation with my Alpha-H Liquid Gold and a regular night cream. The idea of the challenge was to use it every single night for 28 days and so that's what I did, adjusting my bedtime beauty routine accordingly.
I was very careful about how much I put onto my face for the first two weeks as I was nervous about causing a breakout, and stuck to two tiny drops patted into my skin after cleansing (no serum). When it became clear that MRC wasn't going to cause any unsightly blemishes, I increased the dosage to three, more generous drops most evenings. This increase seemed to make a noticeable difference (or maybe it was just continuous use starting to pay off). My skin is relatively good anyway so I didn't notice a dramatic improvement for the first 14 days, but for the last two weeks of the challenge I definitely found my skin was looking better than normal. 

Results
Dry patch on my chin cleared up (usually only works if I pack on Hydraluron on a daily basis but I only used it once or twice the whole month)

Monthly hormonal breakout on my forehead definitely less aggressive than normal, and I also found the spots stayed beneath the skin instead of becoming whiteheads (eeew, sorry)
Overall health of my skin improved: more hydrated and plumped up, smooth and nourished when I wake up
Skin texture improved: smoother and more refined (fewer dry patches and little bumps)
My tips
To apply, put a droplet on each finger, rub together with the fingers from the opposite hand, then gently press into the forehead, cheeks, chin and nose
While Kiehl's recommend that you massage it into your face, I don't think there is enough slip in the product to do that plus I'd rather give myself a facial massage while using my cleansing balm

I have combination skin so adding a moisturiser on top is not for me, but if you have dry skin it can add an extra boost of moisture and will improve your skin's overnight comfort level

I paired MRC with Kiehl's Abyssine Eye Cream+ which I found stung the corners of my eyes a bit so I'd recommend my all-time favourite, the Creamy Eye Treatment with Avocado or MRC's sister product, Midnight Recovery Eye.
Let us know if you have any questions and don't forget to search #ChangeYourSkin on Twitter to read other blogger reviews from the challenge. Thanks again to Kiehl's for supplying us with the product to trial.
P.S. I haven't done before and after pics because I don't believe the difference in my skin would be visible on camera. Texture, hydration, elasticity, etc. are much too subtle for the lens to pick up without a macro setting and there's NO WAY I'm letting anyone zoom into my face that much!