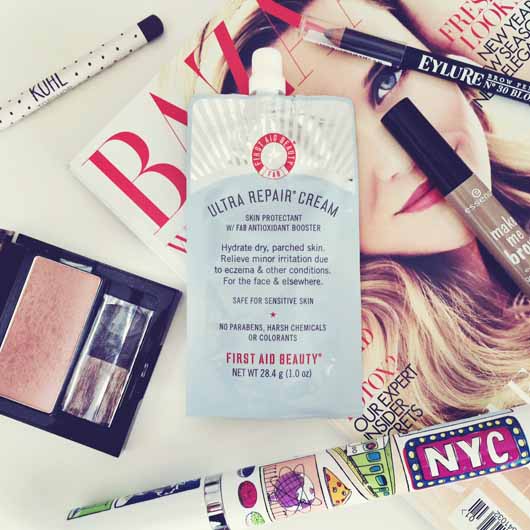 Revlon Powder Blush in "Naughty Nude"
I'm fairly addicted to blush so when I saw this one being mentioned a few times on YouTube, it was inevitable that it would find its way into my makeup collection. The shade is a light rosy brown with a subtle golden sheen, so it's the ideal nude blush and perfect for winter because it's not too bright. The formula isn't the best; it's a little bit chalky and the shimmer tends to emphasize skin texture, but I love the colour so much that I can work with these shortcomings. I think it would be especially pretty on pale skin or even as a highlight on darker skin tones. You can see swatches here.
Topshop Kohl Pencil in "Sable"
Can you tell we're both huge fans of the Topshop beauty range? I think it has featured in every favourites post and tutorial for the past few months. If you're looking for a dark brown eyeliner that's creamy and smooth, highly pigmented and really long lasting, then this one is for you. The colour is intense and chocolatey, it's easy to blend and sets to a budge-proof finish. It's been a long time since I've had a brown eyeliner and I had forgotten how much more subtle it can look compared to black, especially during the day. It's obviously quite versatile but I tend to use it with a bit of MAC Groundwork washed over my lids and plenty of mascara for an easy everyday look.
First Aid Beauty Ultra Repair Cream
If you watched my recent USA Beauty Haul, you will have spotted this moisturiser that I picked up in Sephora. It's proven to be an unexpected gem that I've used every day since I got back, and have been really impressed by how well it has suited by combo-oily-dehydrated skin. "One size fits all" products like this are invariably too heavy and too greasy for me, but Ultra Repair Cream sinks in beautifully with no residue, leaves skin smooth and hydrated, and also soothes the inflammation on the lower half of my face. Moisturisers that are both hydrating and nourishing without being too rich are a very rare find and I'm officially obsessed. I still think I'll use Neutrogena Hydro Boost in the summer but this is my new winter favourite for sure. You can buy First Aid Beauty on Feel Unique for delivery to SA.
Eylure Brow Pencil and Essence Make Me Brow
I had the recent misfortune of running out of my favourite eyebrow pencil; the Soap & Glory one I use every single day and absolutely love. Unfortunately you can't get it in SA and I didn't have a backup so I had to look for an alternative (the MUFE Aqua Brow is great but a bit labour intensive for every day) so I thought I'd try one of the new Eylure products that I saw in Dischem. I knew from the first time I used this pencil that it was a hit – the formula is quite hard and strikes the perfect balance between dry and waxy which makes it long lasting and very natural-looking. It also comes with a handy spoolie on the opposite end of the pencil for grooming the brows and brushing away any excess.
The Essence brow gel I've been pairing with it is a MUCH cheaper dupe of Benefit's Gimme Brow and does pretty much the exact same thing. It's also tinted (comes in two colours; one for blondes, one for brunettes) and also contains tiny fibres that help to build volume and fill gaps in sparse brows. The main difference is that Gimme Brow costs R295 and the Essence one is R45! I actually prefer the Essence brow gel as the brush is slightly different and deposits less product onto the brows, which I prefer as my brow hairs are super fine and thin and can easily get overloaded.
Slim Sonic Travel Toothbrush
One of my greatest frustrations with travelling is not being able to take my electric toothbrush with me and anyone who uses one will know that a regular one just doesn't cut it. We were sent this cute, battery-powered version a while ago and I ended up taking it with me to New York in May, which pleased me no end considering the cover was decorated with NYC landmarks! I know it seems like a bit of a random thing to rave about, but I loved it; it's super convenient and the sonic vibrations move at 22 000 times per minute, leaving you teeth feeling super clean. It has come in really handy over the past few months (we go away for weekends a LOT during winter) and I haven't even had to change the battery yet. There are loads of different colours and patterns to choose from, it's small and easy to store, and comes with an extra brush head for added convenience. It's both stylish and practical, which makes it my new favourite travel essential – check out slimsonic.co.za for more.