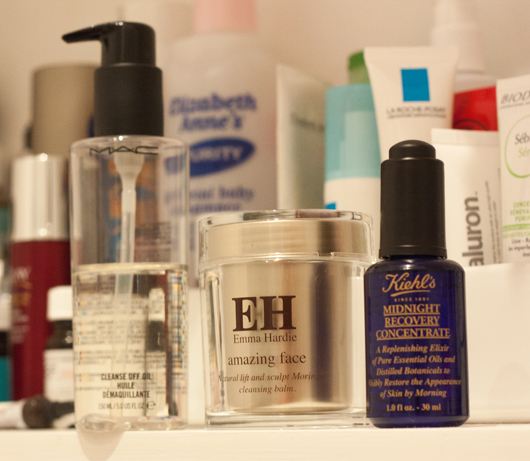 As you'll know by now, Camilla and I are participating in the 28-day Change Your Skin challenge with Kiehl's by trialling their Midnight Recovery Concentrate for a month. It has forced me to be much more disciplined about my routine so that the results of the challenge aren't skewed by all the different products I use, something that's very difficult for a product junkie like me.
I usually work in a three day cycle with my nighttime skincare, alternating moisturiser (at the moment I'm using Mama Mio Mighty Moisture), Alpha-H Liquid Gold and a beauty oil. Obviously I've now cut that down to just using the beauty oil which has lead to some very interesting observations.
I've worked out that a combination of three oil-based products to cleanse and nourish my skin at night has left it super smooth, refined and radiant. My skin loves the sun so it's always a bit spotty and blotchy in winter and I can honestly say that it's never looked this good at this time of year. My skin is completely clear (even during the dodgy bit of my cycle when I usually break out a little), well hydrated and feeling plump and youthful. I'm feeling so smug about it (watch me get a zit tomorrow!) that I just had to share the routine:
Step 1: Cleansing oil
First step in the double-cleanse (more on that in a separate post) is to remove all my make-up. Until recently, I tended to be a bit lazy with this and just use Bioderma but MAC's Cleanse-Off Oil does a bang up job of removing every last trace of make-up and is much more gentle on my face than a scratchy old cotton pad.
Step 2: Balm cleanser
The second step is to dry your face and then give your skin a good going-over with a balm cleanser, something like Lush Ultrabland or Bobbi Brown Extra Balm Rinse (I'm currently using up my Emma Hardie). Give yourself a gentle facial massage as you go to improve circulation and lymph drainage, then remove with a warm, damp cloth.
Step 3: Overnight oil treatment
Even before the challenge I was using Kiehl's Midnight Recovery Concentrate but so infrequently that it worked fine for me but I wasn't seeing dramatic effects. Although I'm very cynical about attributing any improvement in my skincare to one product (I suspect it's more to do with using fewer products in general) there's no doubt that KMRC is part of the solution. It's a light, non-greasy elixir that sinks in quickly and smells marvellous and there's not much more I want from my overnight treatment quite honestly.
You could add in a little mask or serum between steps 2 and 3, but I think it's the simplicity of this routine that's working so well for my skin. I also must point out that I have combination/oily skin and the oils actually work to balance it out, not make it worse, as is the common misconception. People with dry skin will love it even more!
So there you go. Give it a try and let me know if your skin improves as much as mine did.