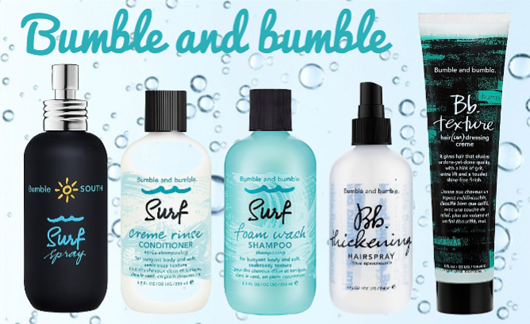 I've always been drawn to the packaging and branding of Bumble and bumble's products – quirky, humorous and fun, it epitomises everything that beauty should be. So I was thrilled to find the products in Boots when I visited the UK earlier this year, and particularly excited to try their famous and best-selling Surf Spray in an attempt to inject some texture into my super-soft, super-straight hair. It's quite pricey but wow does it work! I was also given generous samples of the Thickening Hair Spray (also great at adding some oomph to your strands) and Bb. Texture Hair (Un)dressing Creme which is a matte styling product that adds grit and hold to hair for an extra tousled finish.
The brand recently launched Surf Foam Wash Shampoo and Surf Creme Rinse Conditioner which I'm dying to try. They add bounce and body to hair which is just what I'm looking for from a shampoo, and apparently smell like a holiday. They supposedly add texture and enhance your natural wave which sounds right up my street – I can't wait to get my hands on some!
You can buy Bumble and bumble products on LookFantastic.com for free delivery to SA.