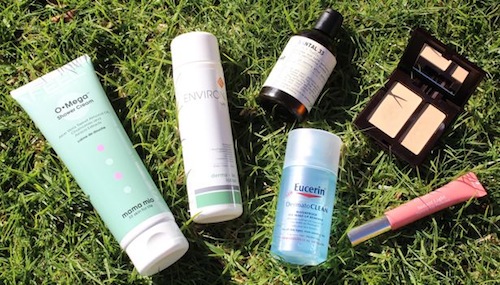 Laura Mercier Secret Camouflage Concealer
My love for Laura Mercier, and her world-famous Secret Camouflage Concealer in particular, has been well-documented. I have yet to find a concealer that does as good a job as this one does – it covers anything and everything and has the most incredible staying power, even without a setting powder (no mean feat). The unique two-toned camouflage system allows you to customize the colour to perfectly match your skin tone, thereby ensuring that you have an exact colour match all year round. Sadly not available in SA yet (my boyfriend brought this back for me after his most recent trip to the States), but if you every find yourself abroad, do yourself a favour and buy it.
Le Labo Massage & Bath Oil in Santal 33
There is nothing better than climbing into a lovely hot bath on a cold winter's night. I have always preferred oils to foams/milks because I find that they leave my skin feeling more moisturised. My all-time favourites include Jo Malone Lime Basil and Mandarin Bath Oil and This Works Deep Sleep Bath Soak, and more recently, Le Labo Massage & Bath Oil. I have my boyfriend to thank for this one – he brought it back from the States for me and I am now a woman obsessed. Le Labo is a luxury perfumer that creates all their fragrances by hand in their New York City lab. This scent, Santal 33, is a sandalwood blend and smells deliciously rich and smoky – it's quite potent so you only need a tiny drop, and it leaves you (and your whole bathroom) smelling heavenly. It doesn't contain parabens, it's not tested on animals, and it proclaims to help with your love life…ding, ding, ding, jackpot! If you would like to learn more about Le Labo, you can visit their website here.
Mama Mio Omega Shower Cream
Jules and I are both big Mama Mio fans, and at the recent Royal Baby Shower Event that we attended, we were spoilt rotten and given some of their best-selling products to take home with us. I have been loving using this indulgent shower cream – it smells so good and is incredibly gentle on the skin. It doesn't contain sodium laureth sulphate, so it doesn't lather excessively and consequently doesn't dry out your skin – essential for the winter months. It leaves my skin super soft and perfectly prepped to receive moisturiser post-shower (it should come as no surprise that the Mama Mio OMega Body Oil is still my product of choice here). Love.
Environ Derma-Lac Lotion
I wrote about this product earlier in the month, so I won't bang on about it again. Ingrown hairs? Eliminated. Dry, cracked heels? Vanished. That is all.
Eucerin DermatoCLEAN Waterproof Eye Make-Up Remover
Ok, I'm going to just come out and say it: I don't rate Bioderma Sensibio H20. Judge me if you will, but I find oil-based eye make-up removers far superior to micellar solutions, and this little gem from Eucerin is particularly effective. It's lovely and gentle, yet it removes every last stitch of make-up. Added bonus: it's cheaper than Bioderma – what more could you ask for?
Clarins Instant Light Natural Lip Perfector
I've only owned this for about a week, so it might be cheating to even include it, but it's so fantastic that I simply couldn't leave it out. This tinted gel/gloss hybrid is sheer enough to be worn on it's own, or can be layered on top of other products to enhance their colour. I got number 05 Candy Shimmer (a candy pink with a pink micro shimmer) and I wear it on its own – the colour is gorgeous and leaves my lips looking plump, hydrated and polished. These little beauties are enriched with shea butter and mango to intensely soften your lips, and contain (wait for it) '3D radiance pigments to optimally minimize imperfections'. I don't know what that means, but I'm fine with that. What I love most about this product is that it doesn't dry my lips out at all – usually I find that if I use a lipgloss continually, my lips start to suffer. Not so with this product though – even though it leaves a semi-gloss finish, it really does intensively moisturise my lips. The true mark of how effective it is: I haven't had to use a separate lip balm since I first applied it…and that, my friends, is nothing short of miraculous.