By now, you're no doubt aware that I'm a bit of a hoarder. I've been meaning to clear out my foundation drawer for a while now, so when I watched Anna's "Makeup Declutter" video I was finally inspired to trawl through it and identify the good, the bad and the long ago expired…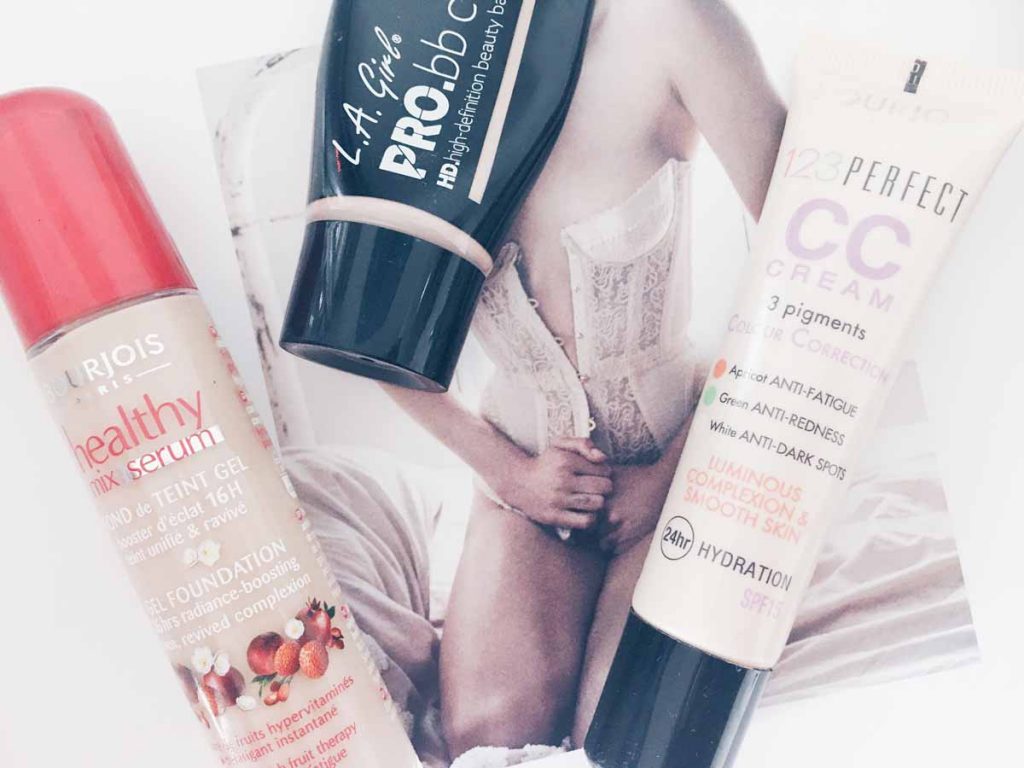 What I use every day
You'll notice two common denominators in my everyday base products: they're all lightweight and they're all from the drugstore. If I had to choose one to take to a desert island, it would be the L.A. Girl Pro BB Cream, of which I have no less than five backups in three different shades. At the moment, I'm mixing it 50-50 with the Bourjois 123 Perfect CC Cream; an approach born of necessity when I needed to tweak my foundation shade, but a combination I have grown to love. The L.A. Girl BB Cream is effectively a tinted moisturiser, while the Bourjois CC Cream has medium coverage (it behaves more like a foundation than a traditional CC cream), but both look and feel like nothing on the skin. The Bourjois Healthy Mix Serum Gel Foundation is easily the best "proper" foundation I've ever tried and one of the few I've ever repurchased. It goes on like silk, blends like a dream, shade 52 has the perfect neutral undertone for me, the coverage is light-medium so you can still see my freckles, and it makes my skin look luminous and, well, healthy. It's not available in SA but you can order it on Amazon.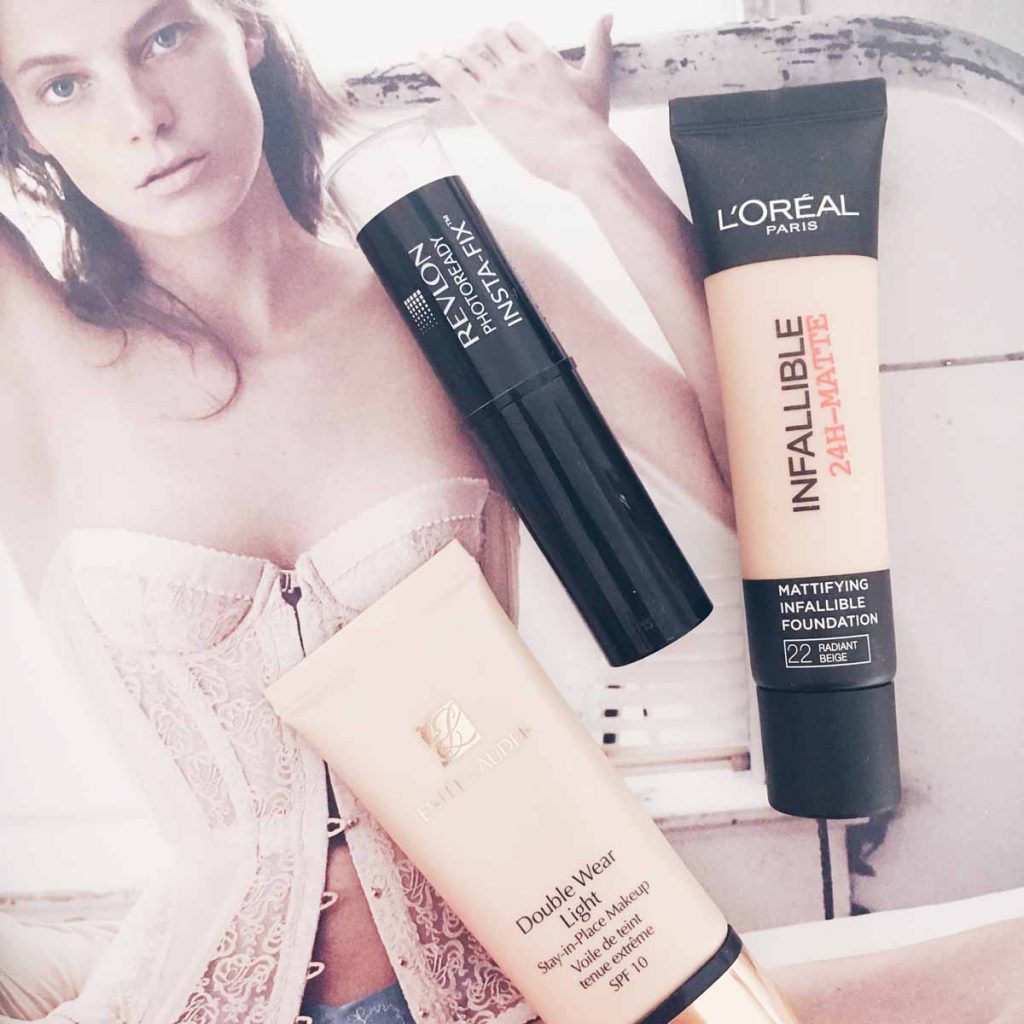 What I use for nights out
Sometimes, a tinted moisturiser just doesn't cut it. For nights out or "formal" makeup, I tend to go for something with a bit more coverage and lasting power. Estée Lauder Double Wear Light is a great example of this kind of base; in fact, it's the foundation I wore on my wedding day. It's pigmented but not heavy, it's borderline invisible when buffed in properly and it gives the skin a really even tone without looking like a mask. L'Oréal Infallible 24HR Matte Foundation* has a similar level of coverage with a slightly heavier, more velvet finish. I use this when I have a long, hot day ahead of me and usually apply it very sparingly so that it looks as natural as possible, but it can highlight drier patches. When my skin is badly dehydrated and I need extra coverage but don't want to look too makeup-y, Revlon Photoready Insta-Fix* is a better option as it sits a little more lightly on the face. It's surprisingly smooth and creamy for a stick foundation (especially a drugstore one) and it doesn't break down in steamy conditions. I actually forgot how much I like this foundation – I think I'll use it tonight!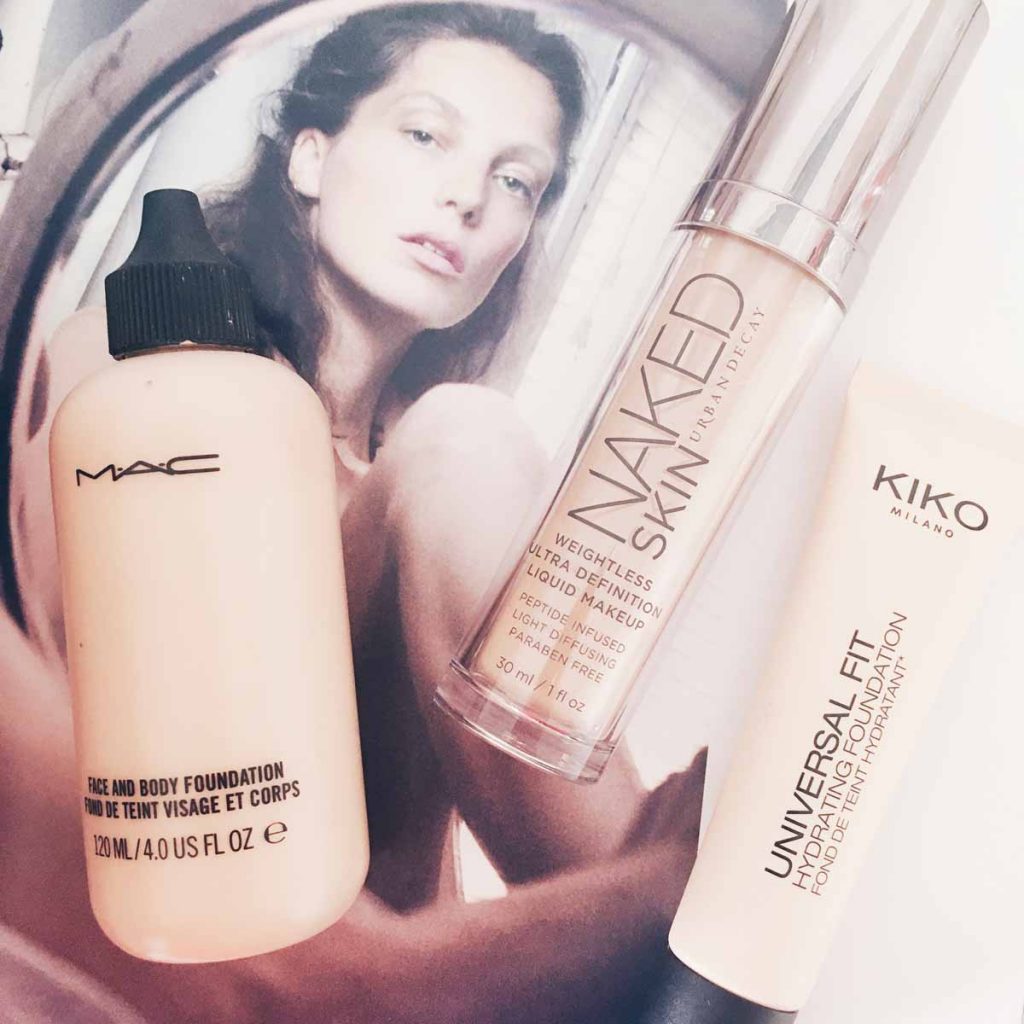 What I should use more
There are a number of really good foundations in my collection that I don't use as often as I should do. One of them is Urban Decay Naked Skin Foundation*, which is described by the brand as "totally weightless coverage" (✓) with a "luminous, semi-matte finish" (✓). It truly is like an invisible veil of pigment on your skin, although it is so lightweight that I do think you need good skin texture to begin with, as it doesn't have any smoothing qualities. The watery formula also means that it tends to be a little drying, so I get the best results when I use a juicy base underneath, like a tiny bit of facial oil or a rich moisturiser.
Another much-loved-but-under-used product is my Kiko Universal Fit Hydrating Foundation which I bought in the UK. The finish is that beautiful combination of glowy but not greasy, so it makes your skin look naturally beautiful. It has medium, buildable coverage, and feels really emollient and comfortable so it's a fantastic option for every day. MAC Face and Body is a bit more tricky to use – it's a water-based formula that you have to shake before use, and it contains a film-former so it sets as you blend it. It's unlike anything I have ever used before – it's invisible but it somehow makes your skin look like a doll's, with a certain ethereal sheen (which you can blot with powder where you want to). It has the added bonus of being totally waterproof so it's seriously good for hot, South African summer days.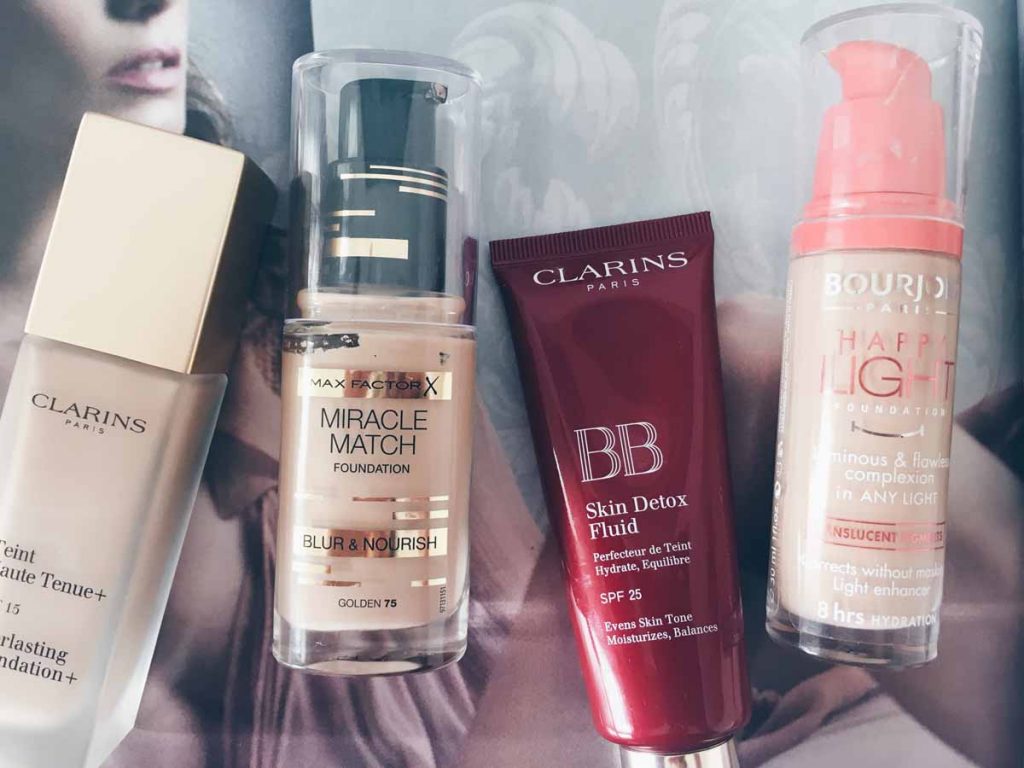 What I should get rid of
Just to be clear, these aren't bad foundations (those don't make it into my stash at all); they just don't suit me or have fallen out of favour for one reason or another. A classic example of that is the Max Factor Miracle Match Foundation* which I really, really like but for some unknown reason it contains glitter. Actual specks of (very fine) glitter. It feels like a good quality, high-end foundation but the sparkles are glaringly obvious in the sunshine and as someone with oilier skin, I just can't handle it. Dry-skinned girls may well love it though! Bourjois Happy Light is similarly gorgeous but it oxidises really badly on me, although I don't remember it always doing this – it might just be a bit beyond its use-by date. These two Clarins base products – Everlasting Foundation+* and BB Skin Detox Fluid* – were sent to us to try and have been languishing on my dressing table ever since. The former is a little bit too heavy for my taste and the I'm just not a fan of the texture of the BB cream. I find it slightly greasy to be honest, so again perhaps better for girls with dry skin.
*PR samples