Although it's much more under control now, I've had some version of oily/combination skin for as long as I can remember. Learning how to properly hydrate my face has made the biggest difference but I definitely still battle a shiny T-zone on a daily basis, especially in summer. The following list of skincare products are the ones that I have found best to help control and manage oily skin* and its effects.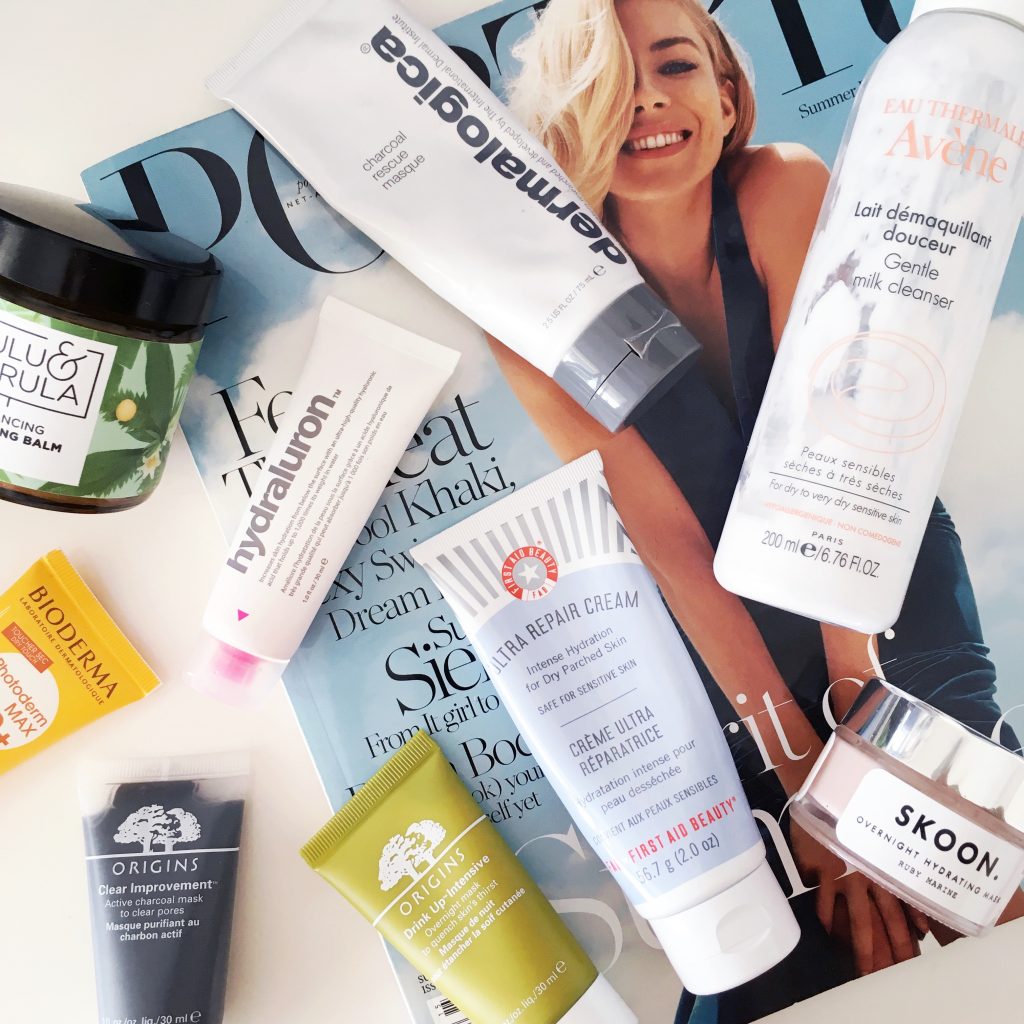 First, a quick overview of the skincare strategy for oily skin:
In the words of skincare expert Tata Harper: "In an ideal world, our skin maintains a healthy production of sebum naturally: just enough to lubricate the skin and protect from infection and pollution. However, when we have an overproduction of sebum – which can be caused by many factors including skin type, hormones, climate, diet – our skin becomes imbalanced, and this can result in a blemishes and a shiny appearance."
Daily cleansing helps to rid the skin of excess sebum but this process mustn't strip the skin completely, otherwise it will overcompensate by producing more oil.
Hydration (keeping water in the skin layers) is key – using the right moisturiser will keep your skin hydrated and avoid causing it to pump out more oil in order to stay lubricated.
Using facial oils and oil-based products to cleanse and nourish your skin can help to balance over-active sebaceous glands. Putting oils onto oily skin doesn't make your skin more oily – in fact, it achieves the opposite.
Gentle exfoliation is also important for oily skin because pores tend to get blocked more easily. Using AHAs and BHAs is ideal (read more about that here) and rather avoid harsh scrubs.
Salicylic acid toner
Salicylic acid is an absolute miracle worker for skin that tends to get congested because of excess oil production. This magical BHA clears out your pores, whisking away dead skills cells and reducing inflammation. It's a gentle and effective chemical exfoliator that can also improve skin thickness, barrier function, and collagen production – my favourite is the Paula's Choice Skin Perfecting 2% BHA Liquid Exfoliant.
P.S. Although it doesn't do the same thing – it's primarily antibacterial – a tea-tree-based toner like this one from Lush can also benefit oily skin by tackling the bacteria in pores that develop into spots and blackheads.
Oil-based makeup remover
You probably think I meant oil-free, right? Well actually no: an oil-based makeup remover like The Body Shop Camomile Silky Cleansing Oil breaks down oil-based products (like makeup) better than anything. It's the single most effective way to dissolve foundation, mascara, eyeliner, blush and anything else on your face and it doesn't leave a greasy film behind either. Just splash your face with water and the product emulsifies into a milk that can easily be rinsed away. MAC, Bobbi Brown, L'Occitane and Dermalogica also make cleansing oils but then tend to be much more expensive (and are not necessarily better).
Balm cleanser
The same principle applies to balm cleansers: these tend to be solid at room temperature (like coconut oil) but melt easily into the skin on application. The fact that they are oil-based means that they are efficient at breaking down impurities, leaving the skin super clean without disrupting its essential moisture balance. Stripping the natural oils from the skin will only backfire and cause your face to produce more oil, making you more shiny than ever. My favourite balm cleanser is Emma Hardie Amazing Face Moringa Cleansing Balm but I also love this natural, locally-made alternative from Lulu & Marula. Don't forget to remove these with a warm, damp facecloth otherwise they will leave a pore-blocking residue on your skin that could lead to breakouts.
Gentle morning cleanser
I tend to use cleansing oils and balms at night, but cream and clay cleansers are great morning-time options. A non-foaming gel is also good but it's important to avoid products that contain sulphates and other harsh surfactants that can strip away the skin's natural moisture (again causing the aforementioned backfiring effect). Ingredients like SLS might leave your face feeling squeaky clean but that's not a good thing – not only does it force your skin to produce more oil but it also turns your skin pH alkaline, creating a breeding ground for bacteria. I use Avène Gentle Milk Cleanser every morning, but other favourites include REN Clarifying Clay Cleanser and Kiehl's Ultra Facial Oil-Free Cleanser.
Hydrating serum & moisturiser
Figuring out that my skin is oily because it's dehydrated (it struggles to hold water in the cells so sebum is produced to help compensate for the lack of lubrication in the skin) and treating it accordingly has made the single biggest change to my skin quality. I'd go so far as to say that ALL skin types are dehydrated to one degree or another (learn about the difference between dry and dehydrated here) so we could all benefit from a little extra H2O. The result is skin that's plump, soft, comfortable and less inflamed, and skin that doesn't produce excess oil. The most effective hydrating moisturisers in my experience are Clinique Moisture Surge Extended Thirst Relief, Kiehl's Ultra Facial Cream and First Aid Beauty Ultra Repair Cream. You can read all about my hydrating serum collection in this post.
Face masks
Oh how I love a good face mask! There are two types that I favour to give my combo skin a boost: hydrating masks and purifying masks. For the former, products like Skoon Ruby Marine Overnight Hydrating Mask, Origins Drink-Up Intensive Overnight Mask and Avène Soothing Moisture Mask get plenty of action in my stash. Sheet masks are also a fun and affordable way to treat your skin and keep it looking soft and supple – brands like Cettua and Sorbet make them and are available at Clicks. Clay and charcoal masks, on the other hand, are great for skin that's a bit angry or congested – in fact I often do one of these masks before going in with a hydrating one for a double-whammy skin treat. My faves are the Origins Clear Improvement Active Charcoal Mask, Dermalogica Charcoal Rescue Masque and Aēsop Parsley Seed Cleansing Masque.
Mattifying sunscreen
Greasy sunscreen is a the bane of my life, something I'm sure lots of oily-skinned gals can sympathise with. It's only in the past couple of years that lighter formulations have become more mainstream. The new generation of lightweight, often mattifying facial sunscreens can be worn under makeup but are also heavy-duty enough for a day at the beach, and offer comprehensive protection from both UVA and UVB radiation.
My sunscreen recommendations for oily skin include:
Kiehl's Super Fluid UV Defense SPF 50+
Clarins UV PLUS Anti Pollution Sunscreen SPF 50
Dermalogica Solar Defense Booster SPF 50
Heliocare Gel SPF 50
Bioderma Photoderm MAX Aquafluide SPF 50+
***
To learn more about why skin is oily and how to manage it, read this informative article from the Paula's Choice website. This post by Caroline Hirons is also worth a read, as is this one from Tata Harper.
*This article is based on my experience with oily skin, NOT NECESSARILY acne-prone skin. Please seek the advice of a professional if you have acneic or problematic skin.