This has the potential to be the most boring blog post of all time… but for some reason, I love taking a sneaky peek inside other people's handbags so I figure a couple of you might too! "What's in my Bag" videos are my guilty pleasure on YouTube (anyone else?!) so I thought I'd show you what goes into the little pouch that I keep in my main handbag. It's a short list of absolute essentials: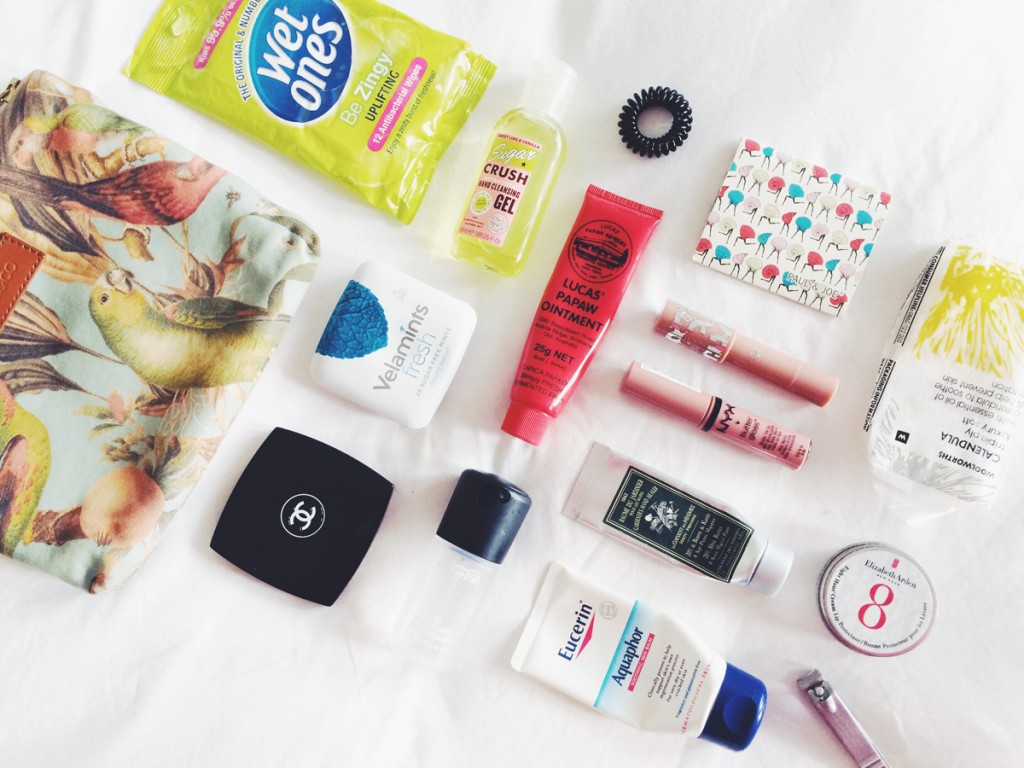 Hand Sanitizer & Wet Wipes
These products are a combination of two of my favourite things: clean hands and citrus scents! I cannot. stand. the feeling of sticky or dirty hands so not only do I carry around this nifty little travel-sized pack of hand wipes, but I also have a massive box of them in my car. I tend to use these when I need to mop up after a messy meal or clean something off my hands, whereas the anti-bac waterless cleansing gel is something I use before I eat (when I'm not at home, obvs). Both have a zingy lime smell which makes me happy and are also very useful when travelling. I bought these particular products in the UK but you can easily get local alternatives from Pick 'n Pay, Clicks, Dischem, etc.
All-Purpose Balm
I have no idea why there are THREE of these in my bag but they get plenty of use, nonetheless! I have to have something on my lips at all times, whether it's a nourishing balm or a colour product, so I'd say these are probably the most essential items that I carry with me (again, I have more in my car!). Aquaphor, Eight Hour Cream and Papaw Ointment are all cult classic beauty products and are multi-purpose: I use them to soothe burns, soften cuticles and tame fly-aways as well as keep my lips lovely and soft.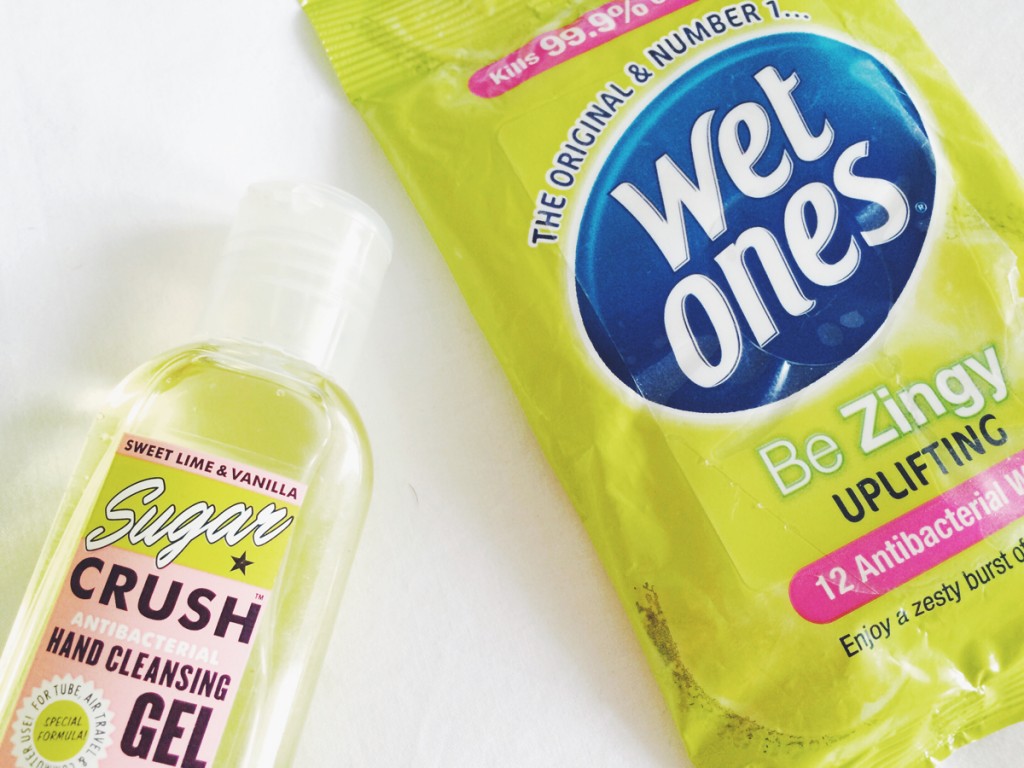 Miniature Nail Clippers
This handy tool combined with the aforementioned skin balms make for a brilliant on-the-move manicure – you'd be surprised how good my nails look after a 2-hour wait in a visa application queue! Have clippers on hand also stops me from picking at hangnails or ripping off a broken nail with my teeth (we've all done it!) which has the added benefit of making me feel like a real grown-up. It's the small things, people.
Neutral Lip Products
I always ALWAYS have a neutral lip colour somewhere on my person, and usually it's these two. And because I'm never knowingly without my favourite lip products, I also have 2 or 3 backups in my makeup kit. The Nyx Butter Gloss in Tiramisu and S&G "Nudist" Gloss Stick represent two of the world's most flattering and foolproof lip products, plus they're a breeze to apply on-the-go.
Mints & Tissues
Look, it's not exactly a beauty product but minty fresh breath is up there with the most important personal grooming habits so here they are. I don't chew gum so something like these sugar-free mints from Woolies or a good old pack of Smints get me through many otherwise awkward social occasions. And tissues – well, that's an obvious one.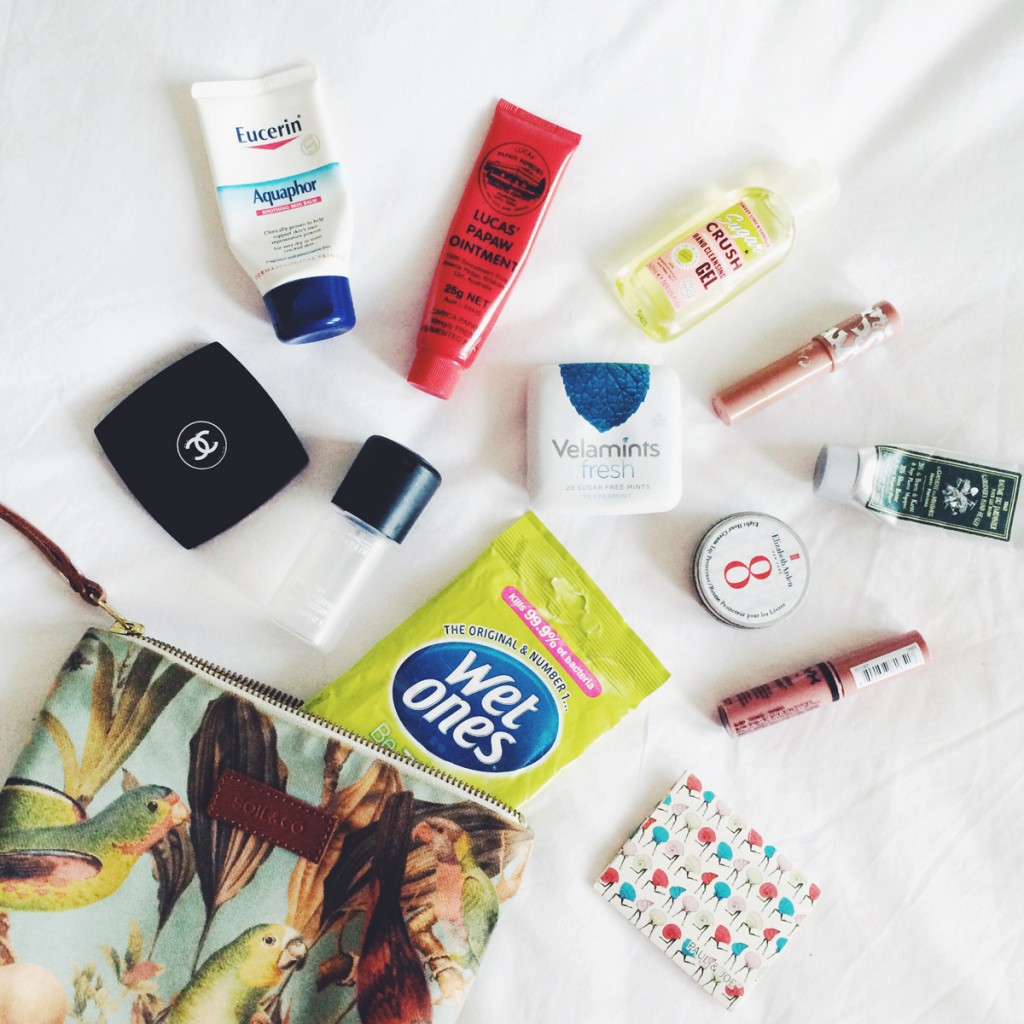 Compact Mirror
I'm fairly sure this glamorous Chanel compact was a gift from Camilla at some point and it makes me feel helluva fancy whenever I whip it out to put on my lipstick. It conveniently has a normal mirror on one side and a magnifying mirror on the other side, for when you really want to traumatise yourself or pick some spinach out of your teeth.
Blotting Sheets & Fix+
Any oily-skinned gal shouldn't be caught dead without a pack of blotting sheets and I am no exception. Again, I have these dotted all over my life – vanity table, car, makeup bag, toiletry bag, gym bag – as I honestly can't live without them. They do double duty by erasing shine from my T-zone and removing oil from my skin so that adding powder on top doesn't make my skin look cakey. A spritz of Fix+ after a good blot and a fresh layer of powder and my makeup looks like new!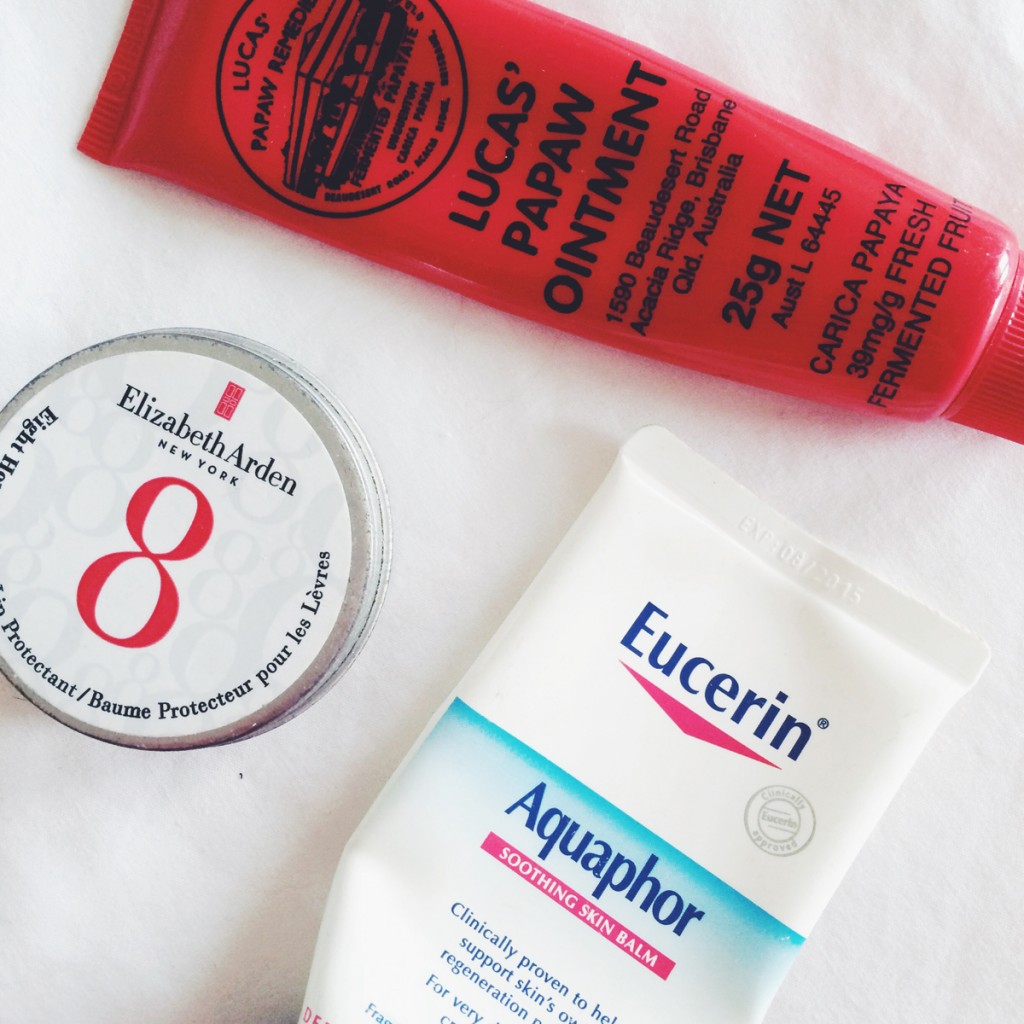 Hand Cream
Writing this post makes me realise how many things I keep all over my house… hand cream is another one! I have an Aesop one on my desk, an Elizabeth Arden one next to my bed, a Clarins one in my nail kit and pretty much any travel-size one in my handbag. This "Gardener's Hand Healer" is from Le Couvent des Minimes (the little sister brand to L'Occitane) and it's lovely, but honestly any mini hand cream will do.
Hairbands
If you haven't tried the Invisibobble yet then what are you waiting for?! I literally haven't used a regular hair band since I discovered these. Their "telephone cord" design gives your pony tail great grip without leaving you with a headache, as well as avoiding that tell-tale bump when you let down your hair. They are a true innovation in a beauty category that I didn't think needed improvement and I'd highly recommend getting your hands on some. I've tried lots of the rip-off brands and let me tell you: nothing comes close to the original.
The pouch itself is from a local brand called Soil Design and I bought it at the Watershed at the V&A Waterfront.