Beauty blogs and YouTube channels all over the world are bursting with great, affordable makeup and skincare product recommendations. Some of those products get raved about to such a degree that they achieve cult status (think Real Techniques brushes, Maybelline Great Lash mascara and Carmex lip treatment) but others are much less likely to get a rave review online. I rifled through my collection and picked out the unsung heroes that I think deserve more notice: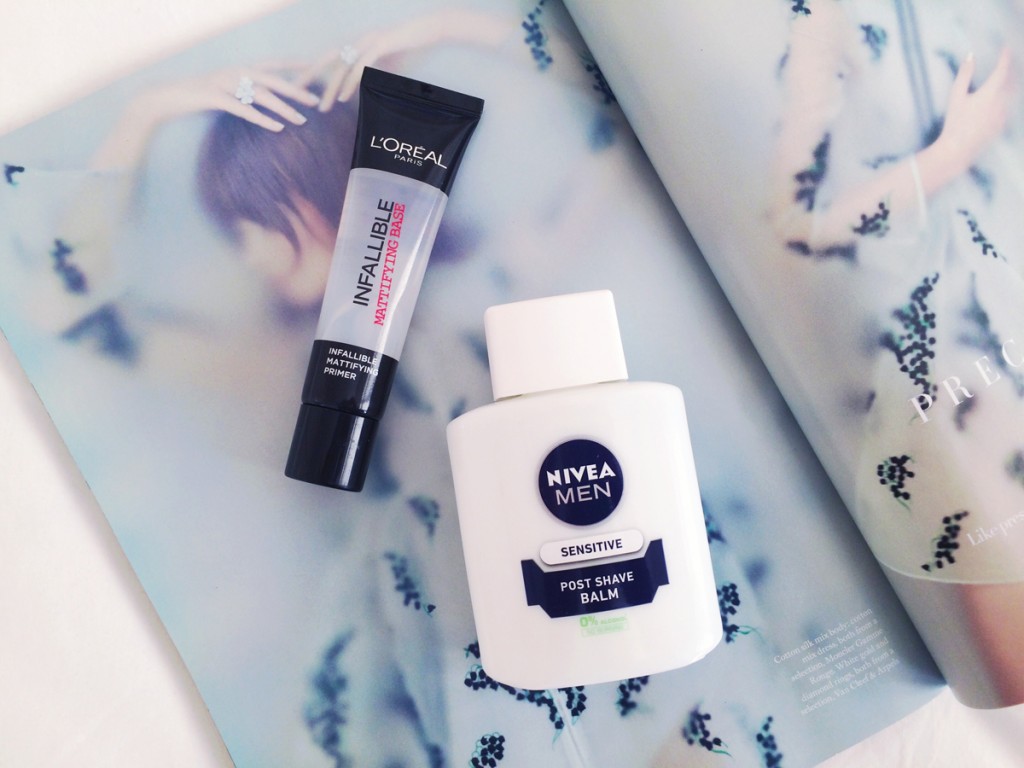 Skin
There are two primers that I use regularly (see my entire primer collection here) that are so good, I'd pick them over the more expensive ones any day of the week. The first isn't exactly a secret but if you don't subscribe to Nikkie Tutorials or watch our videos, you might never have heard of it. The Nivea Men Sensitive Post Shave Balm is absolutely genius for giving your skin a hydrating boost while providing a smooth but grippy base for your foundation to stick to. The formula is extra gentle and alcohol-free, with tons of glycerin to soften and hydrate, plus soothing chamomile and vitamin E to nourish. Ok it smells a little bit like a dude but that scent disappears quickly and you're left with plumped up skin that's ready for makeup.
If, like me, you suffer from a combination of dehydrated skin (which the Nivea balm helps with) and an oily T-zone, then you'll love the L'Oréal Infallible Mattifying Base. It's a clear, silicone-y primer than fights against shine all day long (ALL. DAY. LONG.) while softening lines and pores with a soft-focus effect. While the Nivea primer can be slapped on with abandon, this product works best if smoothed on gently in small amounts. I only put a tiny amount on my forehead, nose and chin to avoid pilling and it works like a treat. Better and cheaper than Benefit The Porefessional (which isn't an identical product but offers a similar effect) IMHO.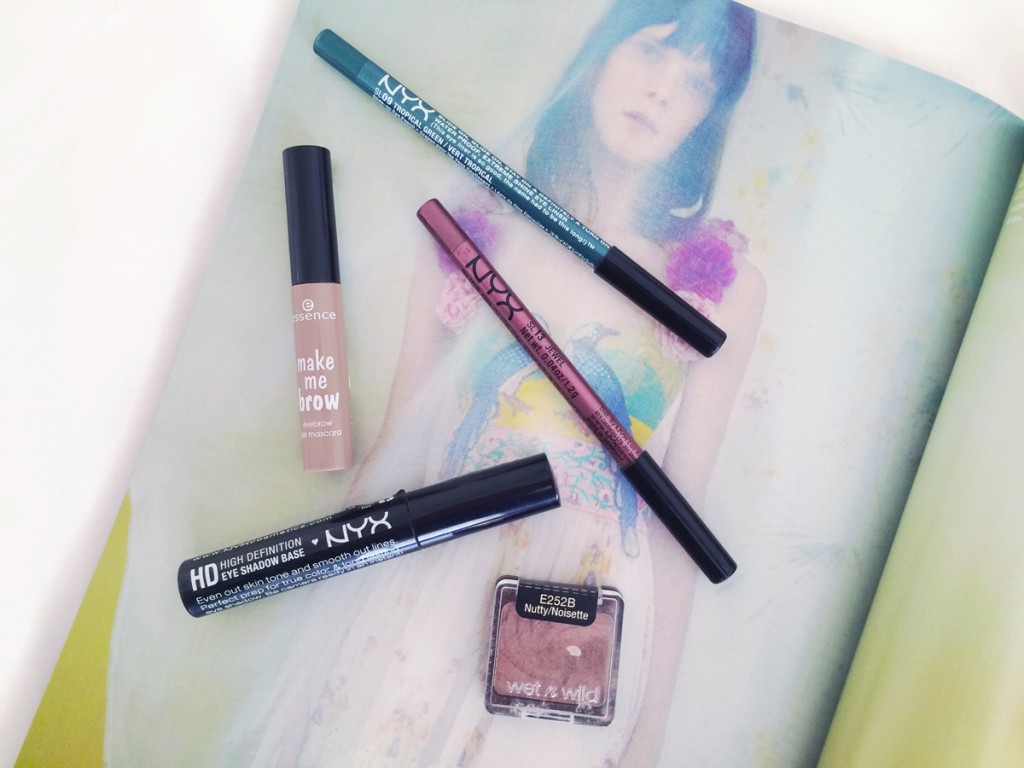 Eyes
Sticking with the primer theme, eyeshadow base is a product that completely changed my makeup routine. I used to NEVER wear eyeshadow because everything used to crease on me and then melt away. Then I discovered Urban Decay Primer Potion which is the grand-daddy of all eyeshadow primers and completely solved the problem. At the time, it was tricky to get hold of (although Urban Decay is launching in SA in June!) and fairly expensive, so I tried this version which I found at Clicks: Nyx HD Eyeshadow Base. It has a similar texture to Primer Potion and let me tell you, it works just as well. It's probably slightly less heavy duty but it definitely extends the wear of your eyeshadows and prevents creasing remarkably well. I've worn this on one eye, with PP on the other, and at the end of the day I could hardly notice a difference between the way each had worn. Two very enthusiastic thumbs up.
Also from Nyx are these fabulous Slide-On Pencils that come in a variety of beautiful jewel-tones. The formula is very smooth and creamy so they glide on and then set to a budge-proof finish. They work well in the waterline (maybe not the most long-wearing but I love them for a pop of colour in the lower lashes) and are very highly pigmented.
Similarly creamy are the Wet 'n Wild Color Icon eyeshadows, which are insanely good quality for the price. I have the more well-known palettes like Comfort Zone and Walking on Eggshells, but I find myself reaching for this single powder eyeshadow called "Nutty" on a much more regular basis. The formula is pigmented and buttery, and the shade is like a satin version of my beloved MAC Groundwork Paint Pot. What's not to love?
"Brows" is a strong word for the sprinkling of blonde hairs that grow on my forehead. They require more maintenance and makeup than anything else – I have to pluck or wax them to keep the shape, tint them so they don't just blend in with my skin tone and then draw them in every day so I don't look like a weirdo. Something I discovered last year and have been using religiously ever since is the Essence Make Me Brow, which is a tinted gel that also plumps up your brow hairs, making them look fuller (it's basically Benefit Gimme Brow at a fraction of the price). I especially like it for giving my brows a more natural, bushy appearance so they don't look so obviously pencilled-in. It also comes in a brunette shade and costs just 50 bucks.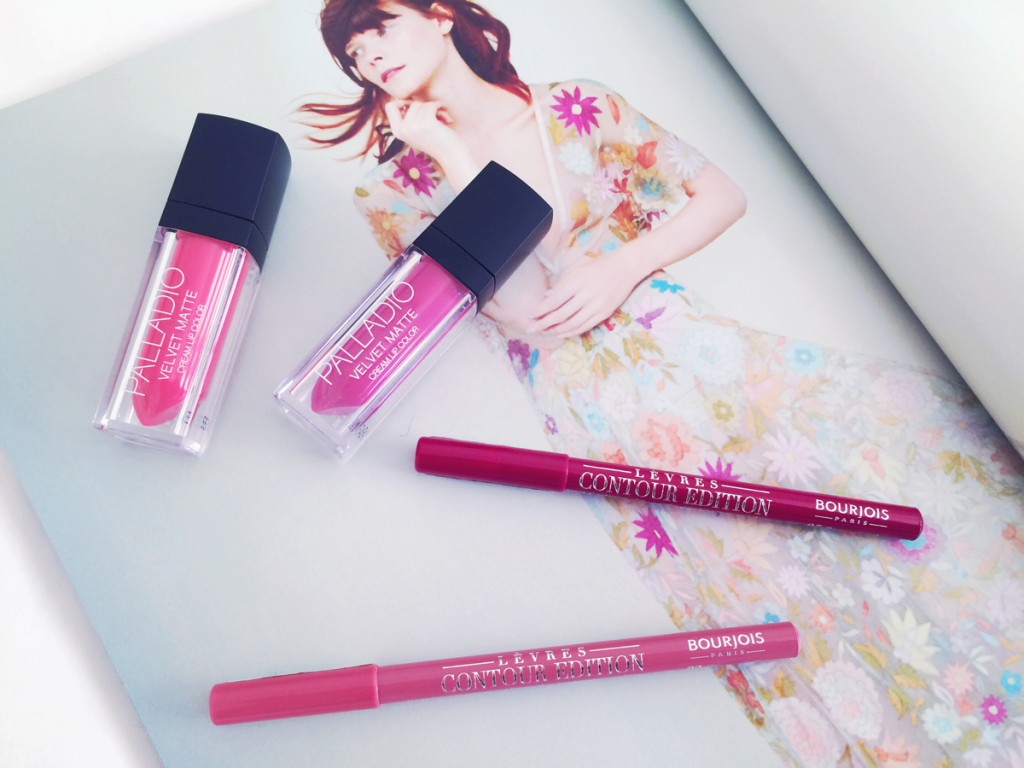 Lips
You know how I love a bold lip! The liquid lipstick craze has well and truly hit the beauty industry but I'm not a fan of the super-drying formulas that make your lips shrivel beyond recognition. I've found that the happy medium is a liquid or cream formula that has tons of pigment but isn't necessarily 100% matte, and these Palladio Velvet Matte Creams fit the bill perfectly. They don't dry down completely but for that reason they stay creamy and comfortable on the lips (although beware: this means they are prone to transfer and getting on your teeth!). The colour doesn't fade or go patchy, nor does it peel off after a few hours. These and the Revlon HD Ultra Matte Lip Colors are my favourites from the category and they're both drugstore brands!
I've always been a MAC lip pencil lover, but mostly out of a lack of imagination. I didn't really know which affordable brands did good lipliners and just assumed MAC made the best. Then Bourjois sent us some of their Contour Edition Lip Pencils to try and I completely fell in love. Great colour payoff, a creamy texture that doesn't drag on application and a really long-lasting formula makes these even better than the MAC ones, plus they're so rich you can even wear them by themselves. I get loads of use of the shade 05 Berry Much in winter (you can see me wearing it in this video) and it goes beautifully under my darker lipsticks too. The only downside is that the shade range is really small but if you can find the colour you're looking for, you'll be golden.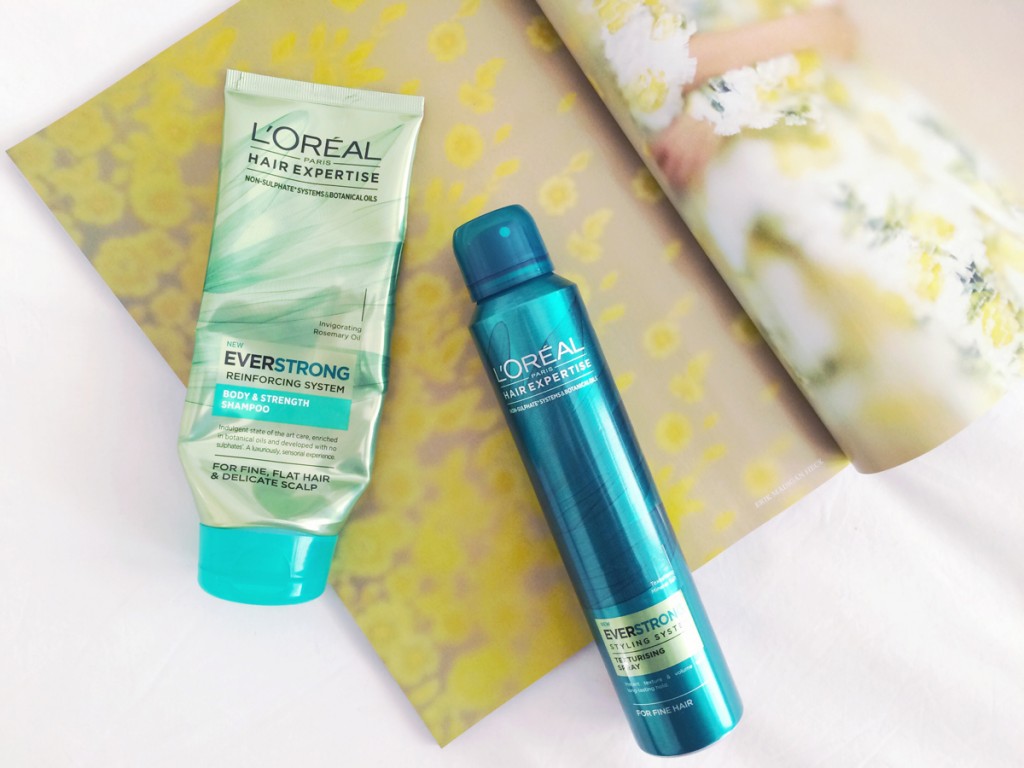 Hair
Sulphate-free haircare is a hot topic these days, and for good reason. Lots of people are sensitive to the surfactants and detergents in shampoos which can lead to a very irritated scalp, something we can all agree is rather unpleasant. Until relatively recently, premium brands like Pureology were the only ones who made SLS-free ranges but the trend has trickled down into the drugstore and now you can get sulphate-free haircare from Dove, OGX and, my favourite, L'Oréal. There are three variants in the line; EverStrong (green packaging; for fine hair), Pure Colour (purple packaging; for colour-treated hair) and Pure Riche (gold packaging; for dry, unruly hair).
The range looks really luxe, which doesn't hurt one bit, but they also work wonderfully and smell glorious. I've made my way through a bottle of the EverStrong Body & Strength Shampoo "for fine, flat hair" and although it wasn't exactly volumising (I don't actually want my shampoo to be volumising because that just means lots of product build-up), it leaves my hair very swishy and clean. It also lathers up really well, something sulphate-free haircare usually doesn't do because the sulphates are what creates the foam. Now I'm busy working my way through the Pure Riche Nourishing & Taming Shampoo, and although I don't have coarse or "very dry, rebellious hair", I still find it nourishing without being too rich. And if you're looking for a good dry texturising spray, the EverStrong one is an absolute winner! Like a cross between a salt spray and a hair spray, it delivers non-sticky texture in a fine, great-smelling mist. You can see the whole range on the Clicks website here – it's not the cheapest but I reckon its some of the best haircare you'll find in that aisle.
Ok, now its your turn. What do you think are the unsung heroes of the drugstore?