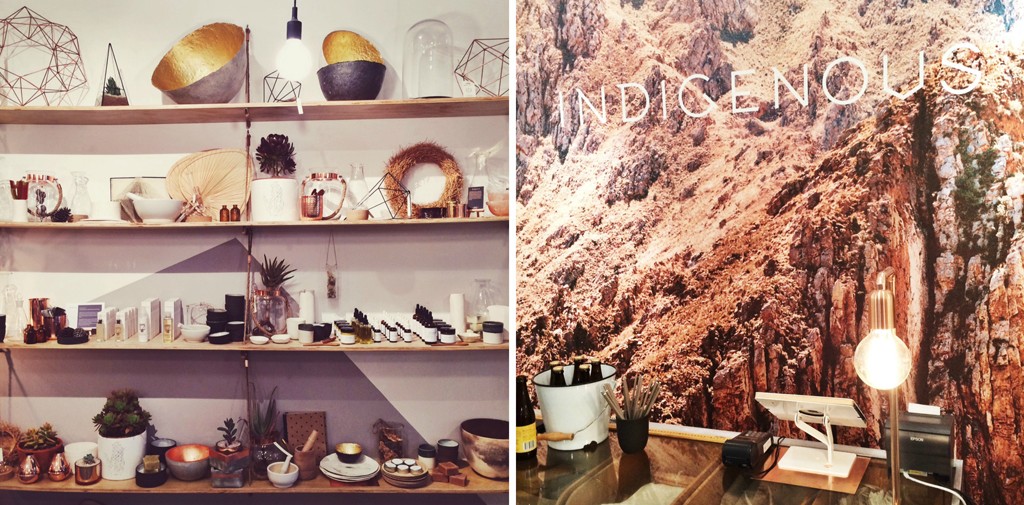 Last week we were invited to the opening of a new store in the Woodstock Exchange called Indigenous, which stocks a gorgeous selection of well-curated home accessories and – more importantly – natural beauty products! They are also planning to introduce some of their own skincare to the shop but for now, here are the amazing goodies you can get there (Christmas gift ideas alert!):

Oh, how I love a local beauty range with good branding! This beautiful line of handcrafted, 100% natural skincare products is made from pure botanical oils and extracts. As you might expect, they are also free from chemicals, fillers, perfumes and preservatives, and are not tested on animals. Highlights from the range include the Calming Body Balm, Refreshing Tonic Mist and Nourishing Treatment Oil. If you aren't based in Cape Town, you can also shop the brand online here or find other stockists here.

The founder of this incredible local brand, Stella Ciolli, was at the event and it was an absolute thrill to meet her. SKOON has exploded since it launched earlier this year and with good reason. The ingredients list is a celebration of nature's finest; pure plant oils, rich butters, delicate floral essences and botanical extracts. We've raved about the Ruby Marine Overnight Hydrating Mask (a major contender for product of the year for me), The One Super Moisturiser and the Concentrate Squalane but everything Stella makes is just amazing. You can find out more by reading the FAQs on their site, where you can also place an order for home delivery.

Spanish pharmacist, botanist and cosmetologist, Pedro Catalá (who we were also lucky enough to meet at the event), has used his extensive research and knowledge of plant extracts to develop this small but perfectly-formed range of skin care products. Particularly suitable for stressed, sensitive and reactive skin, the formulae are designed to protect and restore skin as it ages, and include a special blend of 12 key ingredients, hence the name. We were sent home with generous full-size bottles of the Purifying Cleansing Beauty Cream (a squalane-rich, hydrating facial cleanser) and the Ideal Moisture Level Serum (a plumping skin booster packed with active ingredients) which I can't WAIT to try! TWELVE is also available in the UK and Europe, but Indigenous is currently the only stockist in SA.

Another brand that is new to us is Botanies Skin Food, a range that was previously only available on their website and at local markets. Based around the concept of seasonal skincare, the line offers products that help the skin adapt to the changing weather. Although the products are strictly suitable all year round, it's a lovely idea and the oil-based balms and treatments all help to nourish and hydrate the skin. We especially liked the look of the Cool Comfort Summer Body Balm and Body Treatment Oil, while the Face and Beard Treatment Oil for Men would be a great addition to your man's Christmas stocking.
All in all, Indigenous is an absolute gem and well worth a visit. Are there any other hidden beauty destinations in Woodstock or Cape Town in general that you would recommend we check out?