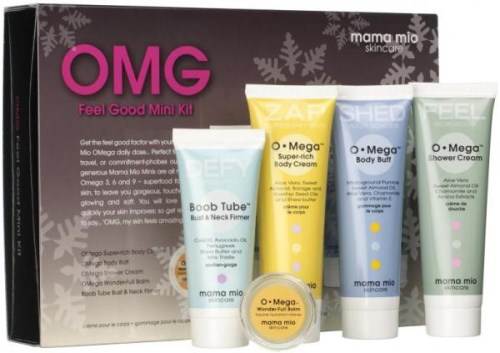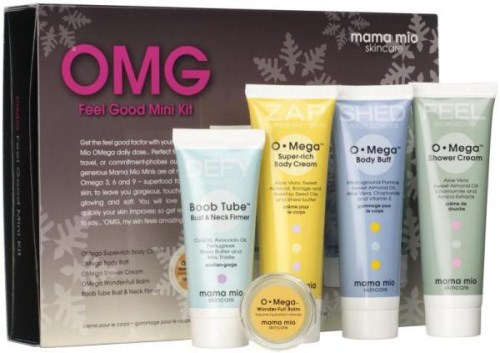 Mama Mio was officially launched in 2005 by four friends whose main objective was to help women feel more confident in their skin. All of their products are jam-packed with the highest possible dosage of active ingredients so that you see maximum benefits very quickly. The ladies at Mama Mio also maintain a strict 'No Nasties' policy, so all of their products are paraben free, petroleum free, sodium laureth sulphate free and sodium lauryl sulphate free – everything is completely natural.
The OMG Kit contains 5 of Mama Mio's best selling body products:
Boob Tube, the award-winning bust cream, which is firming and super-nourishing;
OMega Body Buff to remove dead skin cells and stimulate cell renewal;
OMega Shower Cream to cleanse and hydrate your skin;
OMega Super-Rich Body Cream, a deliciously fragranced intensive moisturiser; and
OMega Wonder-Full Balm, which is billed as the most useful balm you will ever own.
Boob Tube was my favourite product out of the kit – I saw a real improvement in the texture of the skin on my décolleté, and I noticed this change almost immediately. My skin was smoother, softer and almost glowing – I've never known of a product to deliver those kinds of results so quickly. As far as firming goes, I had breast implants a few years ago, so I can't comment on whether or not this product helps perk up your breasts – but based on the other reviews I've read, it delivers!
OMega Shower Cream is a luxurious, conditioning treat for bath times. It is sodium lauryl sulfate free, which is fantastic news for your skin, but it does mean that it doesn't lather very much (SLS is the foaming agent found in a wide variety of personal care products). It left me feeling hydrated and nourished, and it smells like heaven.
OMega Super-Rich Body Cream really knocked my socks off – there aren't enough hours in the day for me to tell you how much I adored this. It sunk into my skin quickly and left me with the silkiest finish I have ever known. I suffer with keratosis pilaris (those unsightly red bumps on the outer sides of the arms) and this helped soothe the redness tremendously. This cream is packed with ingredients that are super-rich in Omega 3, 6 and 9 – it's basically a super-food cocktail for your skin.
OMega Wonder-Full Balm really does what it claims to do. This balm contains nine natural oils in a beeswax base –  it forms a solid oil that melts on contact with your skin, providing rich, intense moisture. I use it as a lip balm and cuticle cream each night before I go to bed, and I am thrilled with the results.  I must admit I haven't used it on any dry patches – but that's only because I don't have any thanks to the OMega Super-Rich Body Cream!
OMega Body Buff was my least favourite product. I used it on dry skin before I got into the shower – and whilst it did exfoliate my skin, it didn't leave me feeling as smooth as I hoped it would. I think it's a little bit too gentle to be really effective.
Want to try these products for yourself? Well, you're in luck because we've got one OMG Kit to give away! To enter, all you need to do is:
Like All Dolled Up's Facebook page; and
Like Poise Brands' Facebook page. Poise is the sole distributor of Mama Mio in SA. You can visit their website here.
Good luck, beauties! The winner will be announced on our Facebook page on 30 April 2013.
Image via
This is a sponsored post.