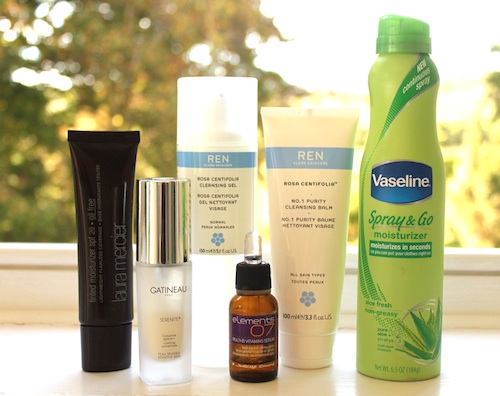 Gatineau Serenite Soothing Concentrate Serum
Julia and I were sent some Gatineau products to try recently (more on that soon) and this serum has quickly become a firm favourite of mine. It is intended for skin which is 'in crisis' and in need of a bit of TLC. It works by strengthening the skin's natural barrier and rapidly reducing any redness or reactivity – and I can attest to the fact that it really does work. It is a real pleasure to use – the texture is luxurious and silky, and it glides onto the skin like a dream. I have been applying it after toning, and following it with my Juliette Armand serum (below), and my evening moisturiser. It is not, as I understand it, intended to be used on a continuous basis, but rather as an intensive treatment over the course of 3 weeks. I have been using it for 4 weeks now and have only just stopped, very much against my will. Let's see what happens next…
Juliette Armand Elements 07 Multi-B Vitamins Serum
No introduction necessary here! Regular readers will know how highly I rate this brand, and this serum in particular has become a 'can't-live-without-it' in my skincare regime. I am almost finished my second bottle and honestly, I can't see myself ever being without it. This serum is comprised of vitamins B5 and B6, both of which contain anti-inflammatory and anti-irritant properties – if you want to learn more you can read my previous post here. I spent a lot of time in two quite extreme climates while in the States – the desert (Coachella, Joshua Tree and Vegas), and then the snowy mountains (Yosemite National Park and Sequoia National Park), and this serum helped keep everything under control. I expected my skin to react to the constant change between hot and cold, but it didn't, and I put it down to this serum.
Vaseline Spray & Go Moisturiser
I absolutely love this stuff. Jules brought some back from the UK for me last year and it was the first thing I bought when I got to America (why don't we get it here? Baffles me). It does what it says on the tin: it sprays a light film of moisturiser all over your body. It smells good, absorbs quickly and provides good moisturisation – what more could you ask for? Not the best method of application for winter…because spray = cold, but I pop it onto my hands first and then apply. Problem solved.
REN Rosa Centifolia No. 1 Purity Cleansing Balm and Rosa Centifolia Cleansing Gel
Confession time: I couldn't decide which cleanser to buy, so I bought both. I get a little starry-eyed when I'm contemplating REN products (can you blame me), and this Rosa Centifolia line is incredibly gentle, so I figured I couldn't go wrong. I'll admit, I was a little apprehensive about the balm, purely because my first foray into balm cleansers didn't end well (Lush Ultra Bland. Bad reaction. The end.), but I had heard such good things about this one that I decided I had to give it a go. Well, I am very glad that I did because it is lovely! I use it for my first cleanse to remove all of my make-up – I apply it onto my dry skin and really massage it in (I have been massaging my face a-la Caroline Hirons and, although my skin is very pink afterwards, it feels really fantastic). I then wash it off with a warm water and a face cloth, and my skin feels clean and hydrated afterwards (it leaves no residue whatsoever). I adore the smell, and the formulation is so soft and soothing – I am so enjoying using it. I use the gel cleanser in the mornings, as it cleans my face without stripping any of the moisture out, and I also use it with my Clarisonic (a marvellous pairing if I do say so myself). I have found both of these cleansers to be very effective, whilst being incredibly gentle at the same time, so if you're in the market for a new cleanser, I would encourage you to give either of these (or both, if you have no self control…no judgement) a try.
Laura Mercier Oil Free Tinted Moisturiser
This had been relegated to the back of my foundation/tinted moisturiser collection and I have no idea why. I am a fickle creature so I chop and change a lot, but when I used this again recently I was bowled over by how good it was – I had clearly forgotten about it in my frenzy to find the perfect foundation. I took it with me to America and it was the perfect option for the days when I only wanted a hint of coverage – not even I have time for a full face when I'm on holiday (lie-ins always take priority). Most days I just slathered on a bit of this, filled in my brows, popped on some mascara and was out the door. It has good staying power and did a great job of evening out my skin tone – tick, and tick. Welcome back, Laura Mercier.