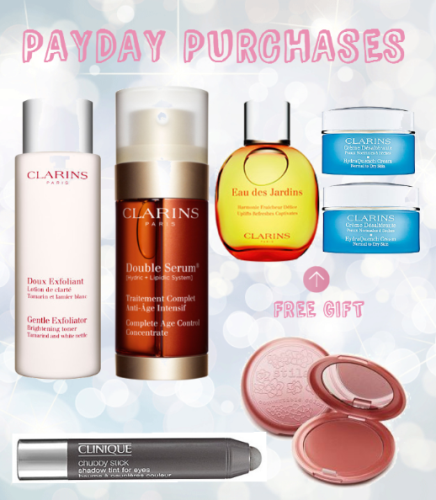 There's nothing quite like getting that payday SMS, is there? Best. I don't know about you, but I tend to hit the shops immediately as I feel like the cash is burning a hole in my pocket. Here's what came home with me this month…
Clarins Gentle Exfoliator Brightening Toner and Clarins Double Serum – R350 and R695 respectively
Skincare guru Caroline Hirons has raved about the Brightening Toner for ages (read her review here) and she maintains that, despite the usage instructions, it is actually gentle enough to use every day. When I asked the lady at the Clarins counter for her opinion, she went pale and urged me not to. Hmmm. I think perhaps every other day will be my happy medium – I will report back soon.
(Our friend) Sali Hughes reviewed Double Serum in her lastest video, and after watching it, I knew I had to have it. It contains 20 pure plant extracts and is meant to reactivate the five vital functions that youthful, beautiful skin depends on – hydration, nutrition, oxygenation, protection, and regeneration.  It has two chambers – one containing a  hydric (water-soluble) formula, and one containing an lipidic (oil-soluble) formula.  The dual chambers ensure the stability and potency of each formula by ensuring that they only mix on application. I am really looking forward to getting stuck into this…full review to follow.
As fate would have it, Clarins is running an incredible promotion until 9 June 2013: buy any two products, one of which has to be a moisturiser or serum, and receive a fantastic goodie bag containing a 30ml Eau de Jardins fragrance and two deluxe travel-size samples from their selection. I chose two HydraQuench moisturisers as my skin is incredibly dry – I thought it best to stock up on something that I could actually test for a decent amount of time to see if it works for me.
Clinique Chubby Stick Shadow Tint for Eyes in Curvaceous Coal – R215
I have been looking forward to trying these for a while, mainly because of how much I adore the Chubby Stick Lip Balm. I decided on the dark grey colour because I wanted something heavier for the winter months – I prefer to play up my eyes rather than my lips. Although it isn't as pigmented as I would have liked (hence the 'tint' in the name), it is buildable and blends easily, leaving a lovely smokey finish. I am going to experiment with this a bit more – I think perhaps layering other colours on top will add a new dimension.
Stila Convertible Colour in Lillium – R240
These have been getting a lot of love from beauty bloggers, and with good reason. The colour and consistency is spot on – I apply it using my Real Techniques Stippling Brush and really buff it into my cheeks. It leaves me with a beautiful flush of colour, and it stays put for a good few hours. As with my other dual purpose lip/cheek products, I don't like this on the lips – the colour is a little too chalky and it isn't as moisturising as I like my lip products to be . But as far as cheeks go, this is an absolute gem.
Image by me.