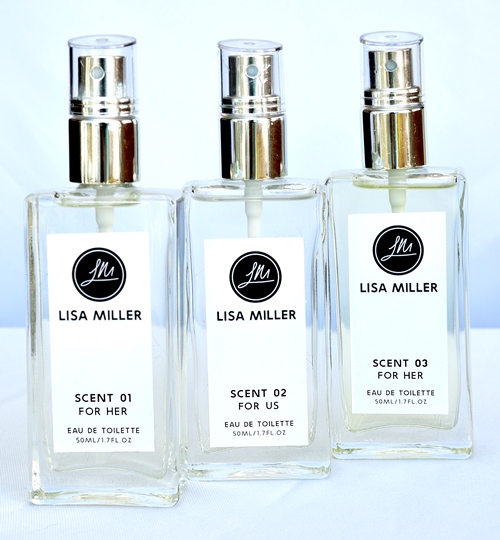 I'll be the first to put my hand up and admit that I know next to nothing about perfume – top notes, base notes…I just can't seem to identify what's what, no matter how hard I try. It's been something I have been keen to learn more about, so when Lisa Miller, a Cape Town based perfumer, contacted Jules and I to discuss her line of fragrances, I jumped at the opportunity to learn more…
Lisa (who, by the way, has the most magnificent head of hair I've ever seen – Jules and I were both utterly transfixed) has always had a strong sense of smell and has been fascinated by fragrance since she was a little girl. After creating a beautiful line of bespoke jewelry, Lisa decided to dedicate herself to her passion and travelled to Grasse to study with a "nose" who taught her all the dynamics of making perfume. On her return, Lisa created three very unique fragrances – two for women and one which is unisex.
Scent 01 is a women's fragrance and combines sandalwood and cardamom, with a hint of gardenia. Lisa bills it as "a scent for the passionate" and it is intended to invoke the smells of a Moroccan marketplace. This is my favourite out of the three and I have been wearing it solidly since we met – it's spicy and fresh, but not overpowering in the slightest and I just adore the way it lingers on my skin. A lovely fragrance for the summer.
Scent 02 is a unisex fragrance – "a scent for the modern sophisticate". This is Jules' favourite and I can understand why: it's delicious. The scent is intended to transport you to an Italian renaissance garden on a summer day – it has a woody green smell with the musky undertones of the herb groves on the hills. It smells clean and crisp –  a very interesting fragrance.
Scent 03 is a women's fragrance and is described as smelling like a stroll in the Madagascan rain forest – deep, luscious, smokey flavours of vanilla, vetiver and cinnamon are combined to create a very alluring scent. This is definitely the sweetest of the three and initially I liked it the most (which is strange because I can't stand the smell of vanilla), but then I smelt Scent 01 and I was a goner. I would say that this is the most potent of the three as the scent felt stronger to me than the others. It's gorgeous though, and I think if you are drawn to warmer, more full-bodied scents, this is the one for you.
All of Lisa's fragrances wear really well – they don't disappear on the skin and once they've settled a bit they leave you with a really unique scent, definitely unlike anything I've ever smelt before. They retail for R450 and if you wish to purchase some, which I would highly encourage you to do, you can contact Lisa here. If you'd like to learn a bit more about Lisa and her line for fragrances, you can visit her website here.