If you don't follow us on Twitter, then you would have missed me linking to my top ten recent beauty reads yesterday morning. I wouldn't want you to miss out so I've compiled them here for a little light weekend browsing: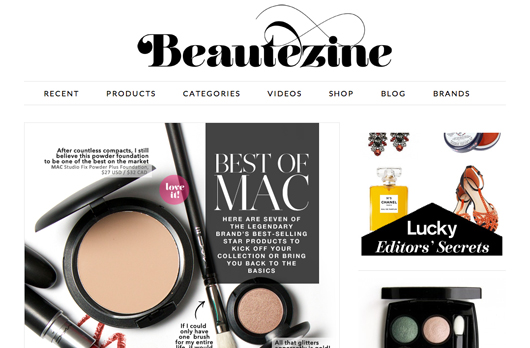 Best of MAC from Beautezine
Here are seven of the legendary brand's best-selling star products to kick off your collection or bring you back to the basics. Read more »


Sneak Peek: NARS Lipgloss Photos & Swatches from Temptalia
NARS Lipgloss ($24.00 for 0.18 fl. oz.) has been reformulated and will have thirty shades when it officially launches on April 15th. Read more »
New in Stores from Charlotte Tilbury, Dior and YSL from British Beauty Blogger
I said April is a heavy month for new launches so I'm going to flag up a couple in the spirit of unashamed enabling! Read more »
One for Dry Skins from Hello October
On a recent raid of my local pharmacy I stumbled upon the Bioderma Ultra-Nourishing Emollient Balm. Read more »
Top 10 Beauty Hacks from Vivianna Does Makeup
How could I get through a Beauty Hacks themed week without dedicating a top 10 chart to my favourite cosmetics shortcuts? Read more »
Primers and Smoothers from The Beauty Look Book
I've been testing out a few new primers and smoothing products and thought I'd share my favorite staple primers along with some new discoveries. Read more »
Beauty Chemistry: The 3-Mask DIY Facial from Into the Gloss
Give yourself an at-home facial once a week, by using not one, but three masks in succession to mimic the once-every-six-weeks in-office facial. Read more »
Bourjois Rouge Edition Velvet Lipsticks Review from The Sunday Girl
By now you will most likely have heard all about the Bourjois Rogue Edition Velvet Lipsticks, a new line of matte liquid lipsticks that come in six shades and are currently exclusive to Boots online within the UK. [FYI you can find these in selected Clicks stores] Read more »
March Favourites from I Covet Thee
It's time for another round of beauty favourites and coming to you today are my pick of the best products from the month of March. Read more »
Easter Inspired Manicure Tutorial from Minkys Blog
With Easter just around the corner, I've decided to do an Easter Inspired Manicure Tutorial. I am not very skilled at (advanced) nail art, so you can take it from me that this is super easy, and if I managed to do it then you can too. Read more »
PS I highly recommend you signing up to Bloglovin' if you haven't already. It's a super handy way of keeping track of all your favourite blogs and finding new ones to follow. You can subscribe to All Dolled Up on Bloglovin here.