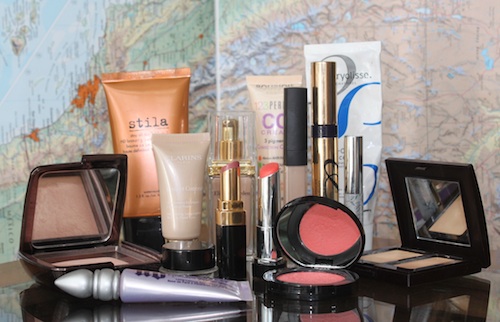 The time is almost here – the great American adventure starts tomorrow (*squeals*), and I think I showed remarkable restraint when packing my make-up bag (but only because I plan to bring back half of Sephora back with me)…
As far as the complexion-perfectors go, there aren't any real surprises, I'm afraid. The Stila Stay All Day 10-in-1 HD Bronzing Beauty Balm will (hopefully) help me look like I've been enjoying the California sunshine for longer than I have. And for nights out, I will be reaching for my favourite glow-giving primer, Embryolisse (note: I find this works brilliantly as a primer, but it's not great as a day-to-day moisturiser). I couldn't bare to be parted with my new love, the Elizabeth Arden Flawless Finish Perfectly Nude Foundation, so that definitely made the cut, and for days when I want lighter coverage, the Bourjois 123 Perfect CC Cream will do the trick. To cover dark circles, I rely on the magic combination of NARS Radiant Creamy Concealer and the Clarins Instant Concealer, and for blemishes, my trusty Laura Mercier Secret Camouflage Concealer does the job perfectly. To set the blemish concealer, nothing works better than the Estee Lauder Translucent Pressed Powder (pictured below). And last but not least, the Hourglass Ambient Lighting Powder in Radiant Light – you know why.
My two home-made eyeshadow quads contain all the shades that I think I'm going to need – a nice mix of neutrals for the daytime and more smokey colours for the evenings. I know I don't need to take my Charlotte Tilbury La Dolce Vita Eyeshadow Palette, but come on, how could I not? And then, for the most minimal of days, the Maybelline Color Tattoo for a sheer wash of golden gorgeousness. Mascara wise: Estee Lauder Sumptuous Extreme Lash Multipling Volume Mascara for the top lashes and Clinique Bottom Lash Mascara for the bottom lashes. I haven't photographed eyeliners, but again, there aren't any surprises: Smashbox Always Sharp Waterproof Kohl Liners in Raven (black) and Penny Lane (brown shimmer), MAC Eye Kohl Powersurge and Bobbi Brown Long Wear Gel Eyeliner for tightlining. Brows belong exclusively to MAC: brow pencil in Lingering, followed by a little clear brow gel to keep everything in place.
If you hadn't already noticed, I am rather partial to a Bobbi Brown Pot Rouge – I will be taking Calipso Coral for the day time and Rose for the evenings (I haven't used a powder blush for as long as I can remember – Tarte will change that, I'm sure).
Only three lippies – I think I deserve a medal! All lightweight, moisturising formulas – Revlon Colorburst Lip Butter in Juicy Papaya, Chanel Rouge Coco Shine in Boy and Clinique Chubby Stick in Heaping Hazelnut. All gorgeous, easy-to-wear, everyday colours, and perfect for anything and everything, whether it be Coachella or Yosemite National Park.
And…I'm off! See you beauties in a couple of weeks. And if you haven't already entered the competition to win a beauty treat of your choice from America, hurry! Entries close at midnight tonight. The winner will be announced tomorrow…good luck!