I don't know about you, but I'm really tired of being bombarded with anti-ageing messages by the media. The vast majority of beauty brands seem to think the best way to market products to women is to imply that a) they aren't good enough as they are and b) their self esteem and well being will be improved through the magical time-reversal properties of their lotions and potions. In other words, you will be loved if you look younger so you simply HAVE to use this cream!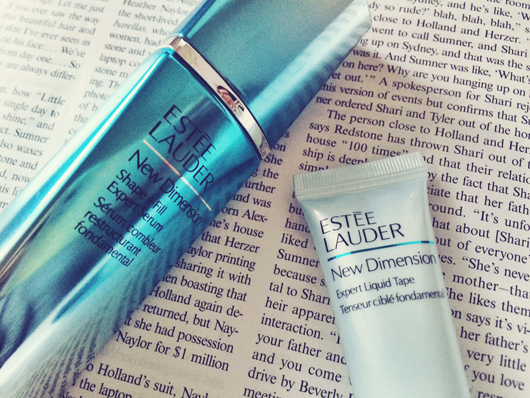 I could write an entire post on how this attitude makes me feel but I'll leave that for another time. The point of my ramble is that Estée Lauder (who have also previously used a version of this marketing strategy themselves) have woken up to the idea that this isn't the best way to get women to feel good about themselves, and flipped it on its head. Instead of asking women how their skin looks, they're asking customers how the product makes them feel.
The product range that is blazing the trail for this new wave of positive sentiment is called New Dimension, and *shock horror* it isn't designed to make your wrinkles disappear. Instead, the range promises to "define facial contours" and "improve both visible structure and volume" to help give skin the density and definition that is characteristic of youthful skin. The best part? The phrase "anti-angeing" phrase wasn't mentioned ONCE at the launch.
The Shape + Fill Expert Serum works on the skin's appearance to improve dimension, density and definition. It achieves this through a blend of ingredients that promote skin plumping (e.g. Hyaluronic Acid), firming (e.g. pro-collagen complex) and elasticity (e.g. proteins and lipids). Estée Lauder claim that you'll see both immediate and long-term results as the products works on the various layers of the skin.
The matching eye treatment, New Dimension Expert Liquid Tape, targets and helps give a tighter feel to key facial contours. Over time, it should help to firm, tone and give a more sculpted, lifted look around eyes, and in the short term it acts like a mini facelift.
We haven't yet had a chance to put this product to the test properly but we'll be sure to report back once we have. The range will launch in SA next month so keep your eyes peeled if this sounds like it's up your street!