I had been itching to do a "drugstore" haul for the longest time, so when payday rolled around I decided to head to Canal Walk (all the best shops are there, even though getting there after work can be painful) and I even managed to convince my trusty sidekick Jules to accompany me. Here's a quick whistle-stop tour of what I got (including a mini-review of the products I have already tried).
Avène Rich Compensating Cream. I had been researching new day cream options and decided on this one from Avène as it fitted the "hydrating and mild" bill! I have loved every single thing I have ever tried from Avène and this is no different: it feels wonderful on the skin and keeps my face moisturized all day. Retails from Clicks for R329.95
Sorbet Hydrating Face Mask. I used this last week and it was ok. It provided adequate hydration, but it was nowhere near as good as the Asian sheet masks I have been using recently. Retails from Clicks for R30.35.
Sorbet Smoothing Under Eye Mask. Retails from Clicks for R31.95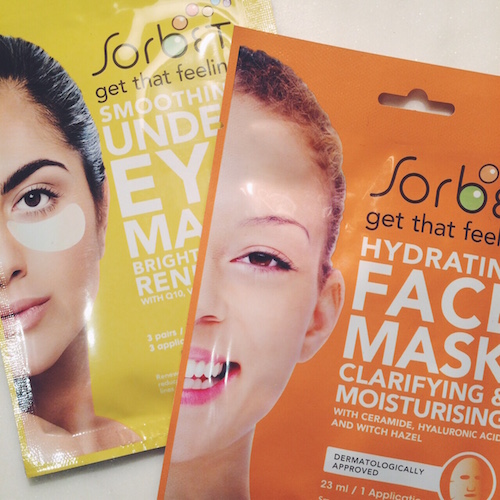 NYX High Definition Eye Shadow Base. I am nearing the end of my much loved and very excellent Smashbox 24 Hour Shadow Primer and I wanted to try a drugstore (read: cheaper) option, so I decided to give this a go. So far, so good – it does a good job of keeping the shadows in place but it doesn't amplify the pigment as much its Smashbox counterpart does. Retails from Clicks for R109.95.
Maybelline The Colossal Go Extreme Volum Mascara (what a mouthful). I picked this up because the brush looked nice and big and I anticipated that it would leave me with massively volumised lashes. Sadly this was not the case – the brush doesn't deposit nearly enough product, so instead of mega-lashes, I was left with decidedly 'meh'-lashes…such a disappointment. If it's volume you're after, I would skip this and buy Big Eyes instead. Retails for from Clicks R134.95
Rimmel Scandaleyes Waterproof Gel Liner. I already had the Maybelline Eye Studio Lasting Drama Gel Eyeliner in my hand when the sales lady suggested that I try this Rimmel offering instead, and I am so glad I did. The formulation is excellent: it's creamy and pigmented which makes it great to work with – achieving smooth, sleek lines is quick and easy. As it's waterproof, it's incredibly long lasting (you will need an oil to remove it) and it wears really well on the waterline. Comes with a great little brush too. Retails from Foschini for R110.00.
Maybelline Volume Express Big Eyes Mascara. Brilliant mascara – I reviewed this in my July Favourites post. Retails from Dischem for R125.00.
Essence Make Me Brow Eyebrow Gel Mascara. Jules has been raving about this for months – you can read about it in her July Favourites post here. I think this product is brilliant – it really does bulk up fine brows and leaves them looking nice and full. If I had a proper set of brows I wouldn't use anything but this. Sadly that isn't the case so I still have to pencil in the tails of my brows, but I like using this in the front portions where I have some hair. Retails from Dischem for R44.95.
Eyelure Brow Control and Shape Gel. New favourite alert! I must admit, the main reason for picking this up was because it didn't come in a clear tube (the MAC Brow Set looks revolting after a couple of days because all your brow product ends up making the gel look brown and manky). This formulation has more of an oilier texture (it feels nourishing, which I like), yet it still does a brilliant job of keeping the hairs in place (and without any crisp/crunch). Retails from Dischem for R95.00.
NYX Lip Butter Gloss in 'Tiramisu'. I am almost finished the tube I bought a few months ago, and I just adore this stuff. I would say it's my most used lip item of 2015 so far. Retails from Clicks for R124.95
Rimmel Lasting Finish Colour Rush Balm in 'Drive Me Nude'. In the bullet the colour looked similar to the Clinique Chubby Stick in 'Heaping Hazelnut', however, once I applied it, the colour was far more pink than nude on me (check out the swatches over on Beauty Editor). The formula is impressive and certainly lives up to it's 'Lasting Finish' name – it leaves a very definite stain that stays put all day (and even survives food and drink)! Retails from Dischem for R92.95.
Barbara Hofmann Round Eyelash Brush. I have been looking for a decent spoolie for ages (there are only so many you can, um, appropriate from MAC before you start to look dodgy) and when I stumbled upon this one in Dischem I snapped it up immediately. It is brilliant for both brows and lashes and it has become a firm staple in my make-up routine. Retails from Dischem for R74.95.
Real Techniques Setting Brush. Just stocking up because this brush rules. Retails from Foschini for R99.00
Have you picked up any must-haves from Clicks/Dischem/Foschini lately? Let me know!