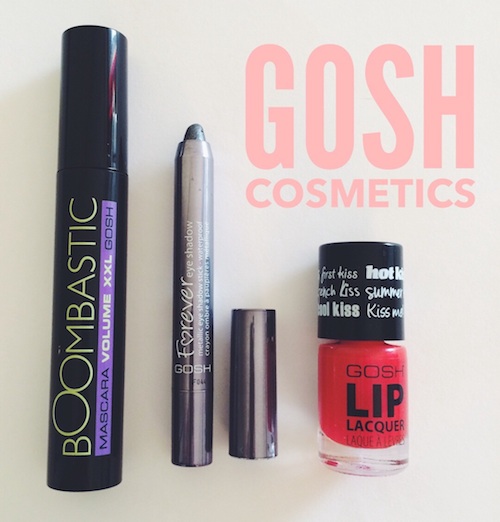 We were recently sent some goodies from GOSH Cosmetics to try, so I thought I would do a quick review of all three items. These are all available exclusively from Edgars, and the stock seems to be limited, so if there is something here that catches your eye, you best hurry!
Forever Metallic Eyeshadow Stick in 'Grey'*
I decided to really put this to the test by wearing it on a night out with no eyeshadow primer (something I never do). I am pleased to say it held up rather well – the colour did fade slightly but there was minimal creasing and it looked fresh until the end of the evening. The formulation is smooth and creamy, so applying it is dreamy – I just squiggled it over my mobile lid and then blended the edges using a clean fluffy brush. The finish is quite wet to start off with, but it dries down after 10-15 minutes and sets nicely. There is a fair amount of glitter in this eyeshadow, so I would reserve it for evenings out, as it might be a bit much for the daytime.
Retails for R139.00.
Boombastic Volume XXL Mascara*
This is a really nice mascara – it lengthens, separates and adds a decent amount of volume. The pigment is jet-black and the plastic brush has super-short bristles so you can nestle them right into the roots of the lashes and create the impression of a fuller lash-line. The formulation is long-lasting and doesn't flake at all during the day – there was a small amount of smudging after about 12 hours' wear, but that doesn't bother me. It's also easy to remove so you don't need to tug at your poor lashes at the end of a long day.
Retails for R140.00.
Lip Lacquer in 'Hot Lips'*
Saving the best for last! I totally expected this gloss to be very opaque, but it's actually quite sheer and juicy – I'm not a fan of strong lip colours, so I was very pleasantly surprised when I applied this. It contains Argan oil and Vitamin E, so it's incredibly moisturising and won't dry your lips out at all. It doesn't have the best staying power and you will need to top up throughout the day, but the formulation is so smooth that it looks consistently great every time you apply it (some lip products just aren't geared for multiple applications and can end up settling into lines and cracks, and can leave your lips looking gross). I absolutely adore this colour and think it would look fabulous on anybody – however if you are into more neutral colours you will be pleased to know that there are 7 other colours to choose from.
Retails for R99.00
All in all, I have to say I am very impressed by GOSH Cosmetics. The quality is fantastic and the prices are so affordable – you really can't go wrong. Have you got any favourites from GOSH you'd like to tell us about?
 *PR Sample