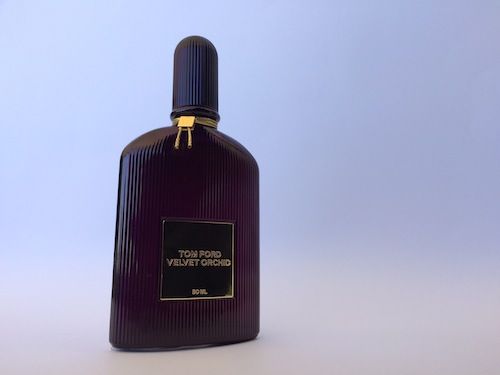 If you're anything like me, you chop and change between various fragrances, but none of them really hook you to the point that you don't want to use anything else. For years and years I used Narciso Rodriguez 'For Her', and although I loved it, the real reason I stuck with it was because I hadn't found anything else that grabbed my attention. I am a real sucker for Tom Ford fragrances – I own Black Orchid, Neroli Portifino and now, Velvet Orchid (all thanks to my globe-trotting boyfriend). Ladies, I'm delighted to tell you that Velvet Orchid is 'The One'.
I read a review recently which said "if you hated the original Black Orchid then you'll probably like this and if you liked Black Orchid then you'll definitely like this" – I think that sums it up pretty well (although, who doesn't like Black Orchid?!). I adore Black Orchid, but it is quite a heavy fragrance and it's not something I could/would wear everyday – it's more of a night out/wintery scent, which limits it a bit in my opinion. For example, I wouldn't dream of reaching for it during the summer months – it's just too rich. Velvet Orchid smells like a lighter, more feminine version of Black Orchid, making it pretty much perfect for year-round wear. I find it incredibly difficult to describe fragrances properly, as I don't really understand the 'notes' – I just like what I like – so I'm going to try and articulate how it makes me feel when I wear it (which is the most important aspect of a fragrance, don't you agree?). When I first smelled this, I was completely hypnotized by it. It starts off quite oriental, and you can definitely detect some Black Orchid in there, but then it develops into something a bit more warm and floral – softer than Black Orchid for sure. When I wear it, I feel sophisticated, glamorous (or as glamorous as you can feel in an office – amirite?) and polished. To me this is the epitome of a 'Rich Girl' fragrance…and you know me, I am all about looking and feeling like a 'Rich Girl'.
The scent lasts all day, so I can still smell it on myself by the time I take my evening shower – by that time it's muted down into a really subtle, gentle scent. You can definitely get away with one spritz of this per day – which, I think, totally justifies the price. If you already own Black Orchid and are trying to decide whether or not to buy Velvet Orchid, I would say that Velvet Orchid is distinct enough to justify its purchase (despite the bottles being identical, save for a purple tint).
Velvet Orchid is available from selected Edgars Red Square Stores (definitely at the V&A Waterfront, and I presume Sandton City). R1,575 for 100ml and R1,125 for 50ml.