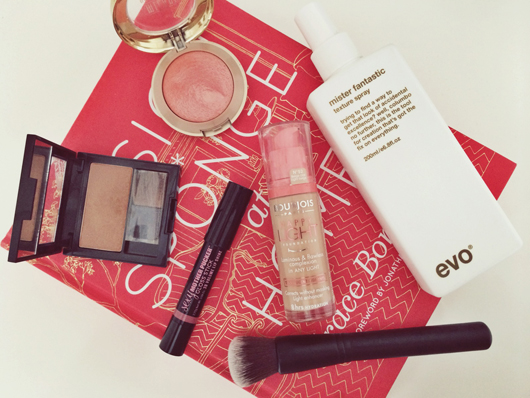 I've got a bumper edition of favourites this month so let's dive in. There is a mixture of products that I bought in London on my recent stopover there, and a few that are available here, so read on to get the lowdown:
I raved at length about "Raplumzel" in our July Favourites video and have since moved on to quite a serious love affair with nudes. "Nudist" is a highly wearable, gorgeous caramel nude shade that is easy to apply without a mirror and is now a permanent inhabitant of my handbag. The finish is smooth and glossy but not sticky and it lasts for HOURS.
I've had this foundation for a while but it was a little dark for me so it was gathering dust in my beauty stash. When I returned from a few weeks in Greece however, it was the perfect shade and I have literally worn it every day since. It differs from my beloved Healthy Mix Serum Foundation in that the consistency is a little thicker and the finish is a little more on the satin side (I'd say HMSF is a little more lightweight and dewy, and both are quite luminous). It's a gorgeous foundation and at R190, you can't really go wrong. I use shade #52 by the way, which is actually darker than the HMSF in #53 (my winter shade).
A quick Google search will tell you that this blush has achieved cult status for its flattering shade, good staying power and budget price. Camilla searched high and low for this little beauty when she visited the States earlier this year as I was desperate to try it, and I'm glad to say that she returned triumphant. I was initially quite disappointed actually because the colour comes off extremely warm on my skin and is totally unwearable in winter (it basically looks orange on me when I'm pale). Luckily, now that I have more of a tan, I totally get the hype. It sets off a bronzed glow perfectly and has just the right amount of sheen to leave you looking healthy and sun-kissed. I think this is going to be a huge hit during the summer months.
Revlon recently repackaged their powder blush range, one of them being this fab little bronzer (formerly known as "Your Bronze"). I heard whispers of it being a dupe for Benefit Hoola so I snatched one up at Dischem and have not regretted it. I don't actually own Hoola so I really can't say whether it's a dupe or not, but it's certainly a great bronzer. The formula is smooth and easy to blend with just the right amount of pigment (satin finish, no shimmer/glitter), and the shade is quite warm-toned but very natural. The packaging is a little annoying – I would happily forgo the brush for a bigger pan – but that's the only bad thing I can say about it.
I'm a bit of a foundation brush junkie. I'm utterly devoted to my Real Techniques Buffing Brush and Expert Face Brush, and my Sigma F80 Flat Topped Kabuki, but that doesn't stop me trying new things. I spotted this in Sephora in Athens and although it said it was for mineral powder, it looked like it would happily do the job for liquid foundation too. Turns out, it's called the "Classic Multitasker Brush" on the Sephora website so it can certainly be used for more than mineral powder. It does a lovely job of applying foundation and is a little smaller than my other brushes, which I quite like. The synthetic bristles are densely packed but not too tightly, and the domed top helps to effortlessly blend the product for a smooth and flawless finish. I'm a big fan!
I've been through a few salt/texture sprays over the past year, and my favourite has been the Kerastase Spray a Porter. It remains in the top spot but since it's now run out, I'm trying to work my way through the others in my collection. I got this overseas about a year ago (although I've spotted it at Frank Fowden in the V&A Waterfront so it's definitely available in SA) on the recommendation of Kate from Gh0stParties. She says; "I love that it doesn't feel heavy or crispy in the hair and it's almost invisible once applied. If you have fine or flat hair, I really recommend this." I couldn't have put it better myself.