There are certain skincare brands that I feel 100% comfortable putting on my face for the first time because the brand trust is so strong, and SkinCeuticals is one of them. With a simple mission to improve skin health through advanced skincare that is backed by science, their high potency formulas are concentrated in pure actives and proven to penetrate optimally into skin. There is no doubt that the premium range is up there in price and isn't affordable for everyone, but the effective, clinical-grade skincare they produce is totally reliable, and that's worth a lot when you think about all the lotions and potions you've bought over the years that didn't do anything. I was given some products to try recently and here's what I thought: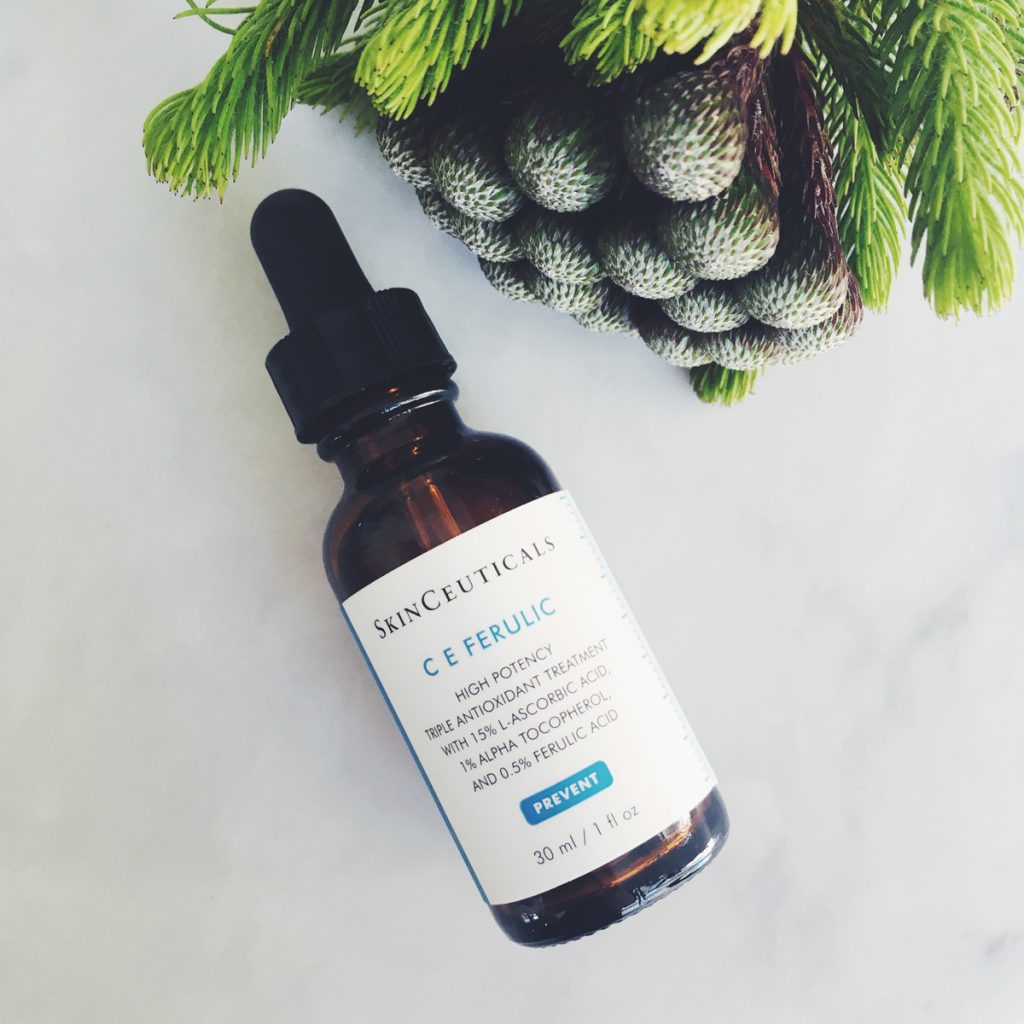 This product has been at the top of my skincare hitlist for – literally – years. I remember reading the Allure Best of Beauty issue a few years ago and seeing this pop up in most of the editors' holy grail lists, so I made a mental note to check it out. I never ended up buying it because the R2k+ price tag (ouch!) really put me off, so you can imagine my delight when Dermastore generously offered to send me a full-size sample to test. Let's break it down, shall we?
What is it?
As you'll know from this article we did all about antioxidants, these nutrients and enzymes help to prevent and repair damage to your body's tissue. This makes them not only a kick-ass anti-ageing ingredient but also super effective at tackling sun damage. C E Ferulic is a powerful and extremely effective antioxidant combination of 15% pure vitamin C, 1% vitamin E and 0.5% ferulic acid.
What does it do?
In addition to antioxidant protective benefits, C E Ferulic is designed to improve signs of ageing and photodamage, the appearance of lines and wrinkles, and the loss of firmness, while brightening skin's complexion.
How do you use it?
You apply the serum to a clean face and neck in the morning and allow it to absorb before applying a moisturiser and sunscreen. A serious bonus of this product is that, once absorbed, it cannot be washed or rubbed off and remains effective for a minimum of 72 hours. This means that you only have to use it every three days, making it last you a good few months and the price tag much easier to swallow.
What did I think?
This is a tricky one to review because you can't really see the benefits; it's the kind of product that's consistent use will really pay off later in life when the more severe effects of ageing start to show. Having said that, I can absolutely tell the difference in how much more slowly my face catches the sun when using this regularly. I've been layering an antioxidant under my sunscreen for about six months now and I've noticed that my face tans at a fraction of the rate that it used to. In other words, I choose to trust the science in the long-term but in the short-term I can tell that at least it's slowing down photodamage in a big way – and that's a huge deal for someone like me who spends a lot of time outside.
Price: R2 225/30ml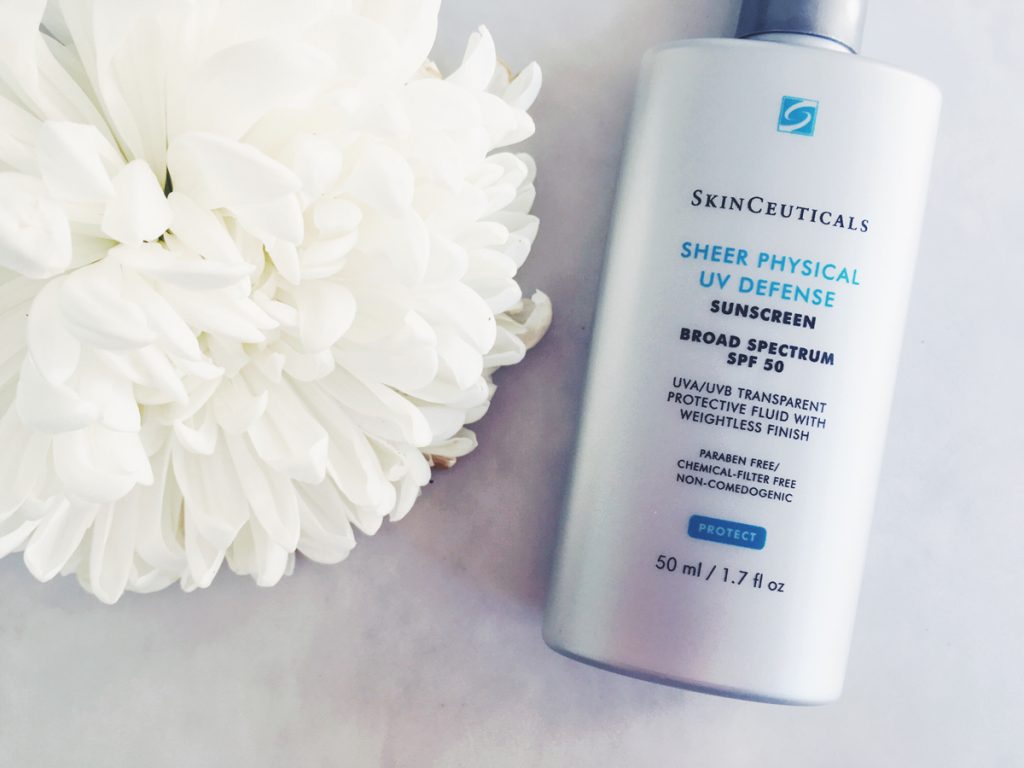 If there is one thing SkinCeuticals is known for (at least in my mind) it's very high-quality facial sunscreen. Their range includes a number of formulations that all provide a high level of broad spectrum sun protection with chemical-free UV filters. The one I tried is "an ultra-sheer and transparent sunscreen fluid" that uses zinc oxide and titanium dioxide as the physical sun protection ingredients.
What is it?
Designed to be transparent and weightless (my two favourite words when it comes to sunscreen!), the Sheer Physical UV Defense SPF 50 is perfect for normal/oily/combo and/or sensitive skin, and especially great to layer under makeup. The zinc oxide and titanium dioxide reflect, scatter and block the sun's rays, unlike chemical sunscreens that use active ingredients that absorb UV radiation, preventing them from penetrating the skin. The bonus of using a physical sunscreen is that they block both UVA and UVB rays, while most chemical sunscreens only protect you from one or the other, not both.
What did I think?
I love it! It does exactly what it says on the tin: goes on sheer and invisible, feels weightless, sinks in without leaving a sticky residue and works beautifully under makeup. I wouldn't necessarily choose to buy it over The Body Shop Skin Defence because I like that one as much and it's less than half the price, but if you prefer a physical sunscreen specifically then I can highly recommend this one.
Price: R535/30ml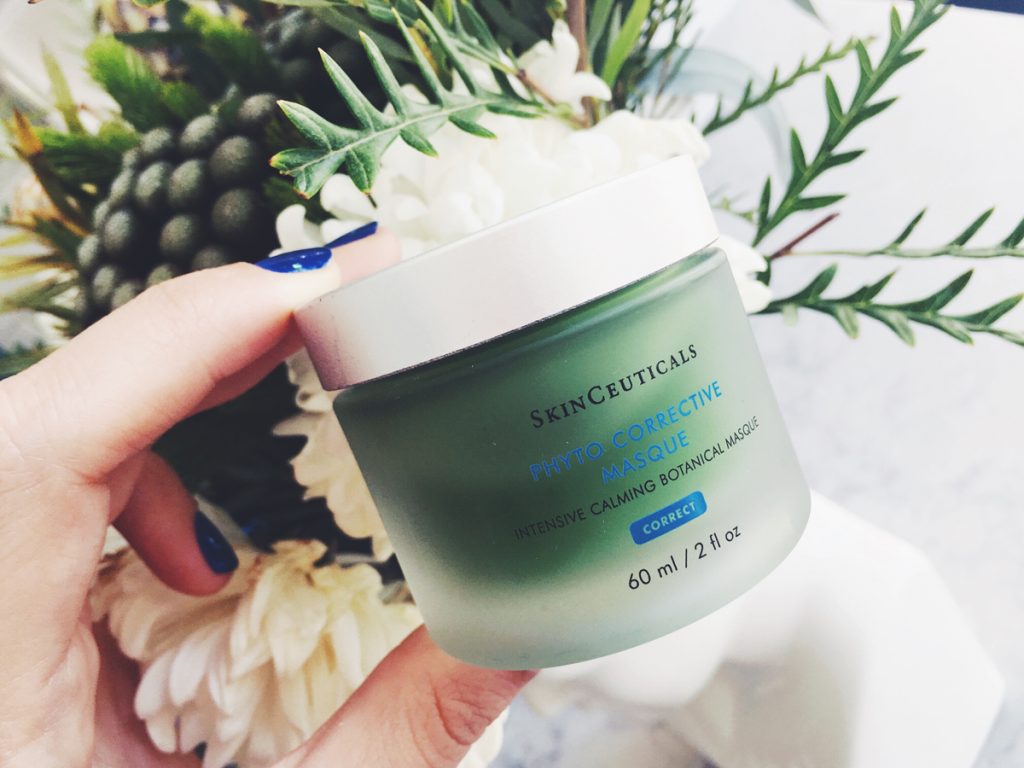 One of the latest releases from the brand is an extension of their Phyto Corrective range which is designed to be very calming and hydrating for inflamed or sensitised skin. The mask was specifically created to neutralise temporary skin reactivity caused by certain skin treatments (e.g. IPL or superficial chemical peels), sun exposure, chlorine/salt water, certain active ingredients that cause inflammation, post-workout flushing and environmental aggressors such as heat, extreme cold which induces redness and skin irritability.
What is it?
The Phyto Corrective Mask contains highly concentrated botanical extracts of cucumber, thyme and olive, a "calming dipeptide" (this is the bit that cools the skin), and hyaluronic acid to intensively soothe and replenish temporary skin reactivity. The mask is fairly intensive and cools on contact, while comforts skin sensitivity and restores natural radiance and smoothness.
What does it do?
SkinCeuticals did a dermatologist-controlled split-face clinical study on 30 female subjects ages 18-65, where the mask was applied to one half of the face following a full-face fraxel laser procedure. After 15 minutes the full face was rinsed with water and patted dry. These were the results:
– 20% reduction in visual redness
– 47% reduction in discomfort
– 15°C average reduction in skin surface temperature
How do you use it?
The mask is quite versatile as it can be applied as a leave-on, rinse-off or overnight treatment, so you can customise its use according to what your skin needs. Just smooth a generous layer on your clean face, chest, or neck (avoiding your eye and lip area) and then leave on or rinse off, as desired.
What did I think?
I haven't been able to test this properly as my skin hasn't needed it but having seen it in action at the product launch, I can tell you that it works. The subject was given a light chemical exfoliation that caused her skin to flush slightly red. However, once the mask was applied, the redness was completely reduced and, more importantly, the skin was totally cooled – it was much hotter on the half of the skin that didn't have the mask on it. If like me, you don't tend to have peels or laser, this mask would be most useful to treat sunburn and the kind of sensitivity you get from traveling on long flights and across climates.
Price: R1 125/60ml

**THE GIVEAWAY IS NOW CLOSED**
The nice people at Dermastore are giving you the chance to win a couple of goodies from SkinCeuticals worth R2 915! The prize includes SkinCeuticals C E Ferulic and the SkinCeuticals Gentle Cleanser; two of the brand's best sellers.
To enter, you need to:
Competition rules:
Open to residents of South Africa only and entrants must be over 18 years of age (or have a parent/guardian's consent before entering).
Entries will close at midnight on 8 February 2017 and no entries will be accepted after this date.
The winner will be selected at random and notified on/before 17 February 2017.
If the first drawn winner does not claim the prize within 7 days, another winner will be drawn.
An entry is only considered valid if ALL of the aforementioned entry criteria is met
Only one entry per person is allowed
The winner will receive: 1 x SkinCeuticals C E Ferulic (30ml) and 1 x SkinCeuticals Gentle Cleanser (250ml)
Good luck!