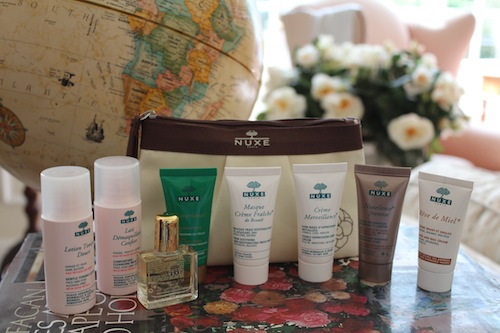 When Edgars stopped stocking NUXE earlier in the year Jules and I were so disappointed – we are both huge fans of the brand, and the fact that we could buy it locally instead of having to get friends to bring it from abroad was a real treat. Of course NUXE is available online at Style36, but they don't carry the full line, and I like to play around with products a little bit in-store before I commit to buying them. Anyway, fast-forward to August, and Jules and I were happily shopping in the V&A Waterfront when I happened to spot NUXE on the shelves at Truworths! Well, you can probably guess what happened next…
Obviously I wanted to buy everything but in the end I decided on the Anti-Age Try Me Kit because it is packed full of travel-size mini's which are perfect for long, drying flights (I think we might have mentioned that we're off to Greece for Jules' wedding soon…). The kit contains the following products (all of which smell incredible, by the way):
Comfort Cleansing Milk – 35ml (Gentle milk cleanser)
Gentle Toning Lotion – 35ml (Calming toner)
Nuxellence Jeunesse Fluid – 15ml (Youth and radiance revealing fluid)
Huile Prodigieuse Dry Oil – 10ml (Dry oil to be used on hair, face and body)
Nuxuriance Day Cream – 15ml (Re-plumping cream to restore radiance)
Marveillance Cream – 15ml (Anti-wrinkle cream for normal to dry skin)
Crème Fraîche de Beauté Mask – 15ml (A 24-hour moisturising and soothing mask)
Rêve de Miel Hand & Nail Cream – 15ml (Rich and hydrating hand cream)
Moisturising, hydrating, calming, soothing – all words I like to hear when it comes to skincare. I leave for Greece and Turkey today and I plan on giving myself a comprehensive in-flight facial both there and back (apologies in advance, travel companions) – my skin really suffers when I fly, so I am hoping that these products will help combat the dryness and will leave me looking fresh and hydrated when I arrive in Capaddocia after 16 hours of travelling (fingers crossed).
This set retails for R295 and is available from Truworths in the following locations:
Gauteng: Eastgate, Eastrand, Cresta, Centurion
KZN: Midlands Mall, Westville Pavillion, Gateway
Cape Town: Somerset Mall, V&A Waterfront