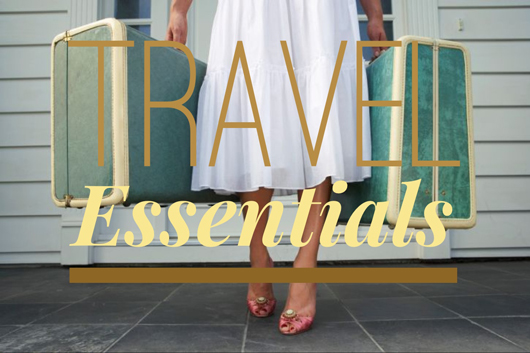 You'll probably see a lot of travel-related blog posts here over the next few weeks as Camilla and I start packing our bags for Greece. As you may know, we're headed to the Sporades where I'm getting married and Camilla is one of my beautiful bridesmaids. I'm so excited for the big day, and probably equally happy about spending two weeks in the Mediterranean sunshine with 50 of my favourite people.
I've written before about my trusty in-flight skincare kit but there are also a few beauty basics that are an absolute must when you travel. Here's my pick of the top five:
Travel mini's
Whether you collect samples and travel size products or buy little bottles and decant your favourite shampoo, conditioner, moisturiser, etc., transporting all your beauty goodies in miniature form is essential as far as I'm concerned. It cuts down on space and weight in your suitcase, and is especially important if you are relying on carry-on luggage. Variations on the theme include dinky fragrance samples, travel candles and nail polish remover pads. Keep it simple, sister.
Dry shampoo
Let's be honest, this is a life essential, not just a travel one. I go through a full size can of this in a matter of weeks so it's very high on my list of beauty basics and I couldn't live without it on holiday. At the very least, your hair has extra bounce and freshness, plus it buys you an extra 30-60 minutes sightseeing or on the beach because you don't have to go through that tedious wash and blow-dry routine.
Multi-tasking make-up
Products that pull double duty are not only extremely handy on holiday but also save space in your make-up bag. Hair, body and face oils, lip and cheek colour, and hairspray that keeps fly-aways in check but also tames eyebrows, stops ladders in stockings and stops static in its tracks. Check out our favourites: Givenchy Hydra Sparkling Magic Lip & Cheek Balm, Bobbi Brown Pot Rouge for Lips and Cheeks, Stila Convertible Colour and NUXE Multi-Purpose Dry Oil.
Skin balm
There's a reason that products like Elizabeth Arden Eight Hour Cream and Smith's Rosebud Salve achieve cult status in the beauty world – they hit a home run by being both super effective and wonderfully multi-purpose. Absolutely essential for keeping lips and cuticles hydrated on long haul flights, they also double as an eye make-up remover, sunburnt skin soother, cheekbone highlighter, eye gloss, frizz fighter and irritated skin healer.
Eyelash and eyebrow tinting
While this isn't exactly something to take with you, I can't stress its importance enough. Darkening your lashline and eyebrows means you not only add extra definition to the face (which most of us need anyway) but you cut down on the amount of make-up you need to wear day to day. It's especially useful on a beach holiday when you don't want to be slathering on a full face before hitting the sand anyway but also don't want to frighten people the minute you take off your sunglasses. If Shellac nails, spray tan or eyelash extensions are your thing, then get those done too. My beauty therapist of choice is Danielle at Mooi Beauty Salon.
PS Did you know that there is now a Yemaya Express Nail Bar at Cape Town International and King Shaka International Airports? So clever.