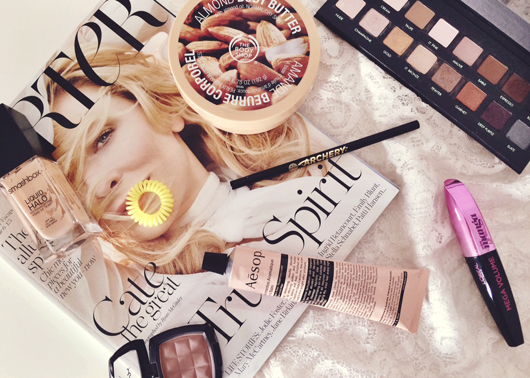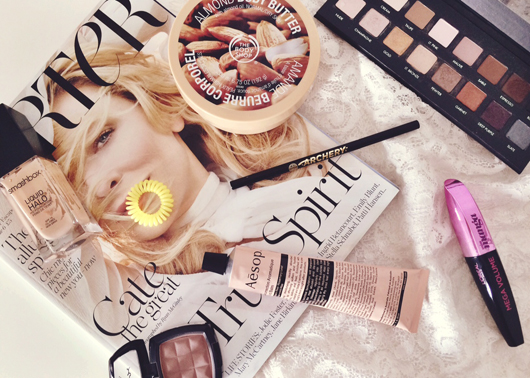 It was pretty hard to narrow down our ten Best Beauty Discoveries of 2014 so I thought I would sneak in a few "honourable mentions" that I also really enjoyed using last year. These are more favourites than discoveries technically, but let's not get bogged down in the details: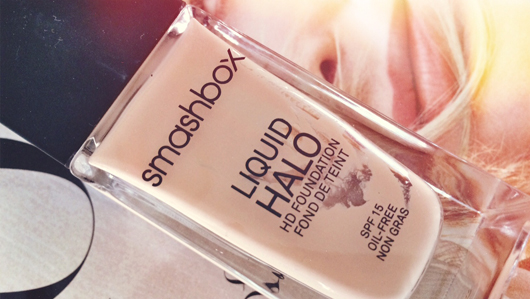 Smashbox Liquid Halo Foundation
If you're looking for a medium coverage foundation that is luminous but not shiny and has an extremely natural finish, then Liquid Halo could be for you. Application is smooth and silky and it wears really well throughout the day on my combination skin (even better with a primer underneath). The formula is also really adaptable – the colour adjusts well to variations in skin tone and its weightless texture is even suitable for normal-dry skin, as long as your face is well moisturised.
Price: R430 – Available from Woolworths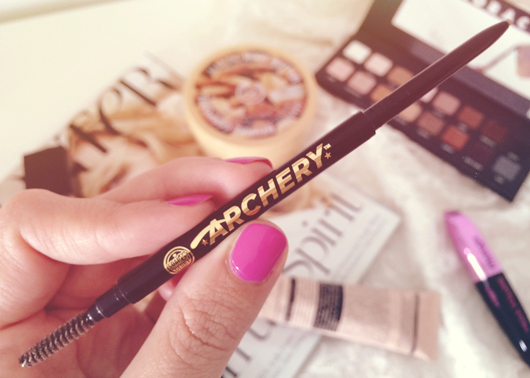 Soap & Glory Archery Brow Pencil
I've always been a big fan of the Anastasia Brow Wiz but it's hard to get hold of and makes a big dent in my wallet. Behold S&G's latest and greatest invention: the Archery pencil is basically identical to Brow Wiz, it just comes in fewer shade options. The super-fine nib makes light work of feathering in your brow hairs and gives plenty of control over the shape and depth of colour. I use this every day and already have two backups in my stash.
Price: £8 – Available from Boots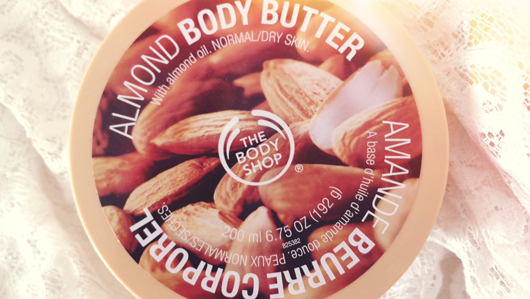 The Body Shop Body Butters
I can't even count the number of these body butters I went though last year; all I know is that I was completely devoted to them. I buy a different scent every time and so far I've tried Shea, Coconut, Sweet Almond (mah fave), Olive and Fijian Water Lotus. They are AMAZING value (especially since TBS seems to always be on sale) and while the scent disappears after a couple of hours, it leaves my skin super soft all day long.
Price: R150 – Available at The Body Shop and selected Clicks stores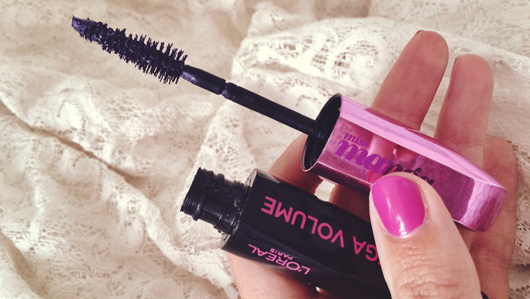 L'Oréal Miss Manga Mascara
Who would have thought that one of my favourite beauty products of 2014 would have been a purple mascara?! The Miss Manga formula is awesome – it gives lashes loads of volume without being clumpy and the flexible wand, although it looks gimmicky, somehow helps to prevent you getting mascara all over your eyelids during application. The purple shade, called "Tropical Violet", is dark enough to give lashes plenty of definition but looks sensational when it catches the light. I also use it on my bottom lashes as it doesn't smudge or flake; it's a total winner.
Price: R135 – Available at Dischem, Clicks, selected pharmacies and supermarkets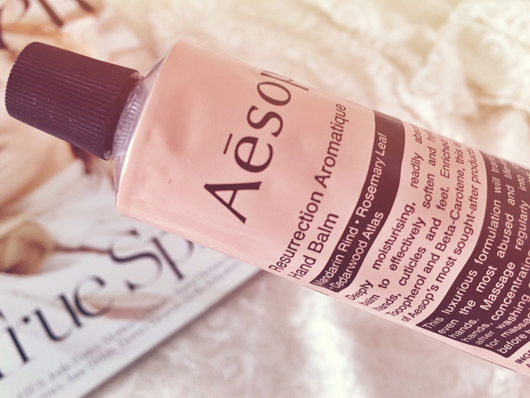 Aēsop Resurrection Aromatique Hand Balm
I didn't really used to care about hand cream – I mean, it was nice but it didn't exactly get my blood pumping. That was until my friend Murray (that's right, a DUDE) gave me this hand cream for my birthday and a new standard was set. Not only does it do all sorts of magic tricks to make your hands soft and smooth, but it smells like you're walking through a field in the South of France, dotted with lavender and rosemary bushes. It's not cheap but this tube lasted me over a year and I used it almost every single day. Dreamy stuff. I dare you to go and smell it and see if you can resist!
Price: R340 – Available from The Loading Bay in Cape Town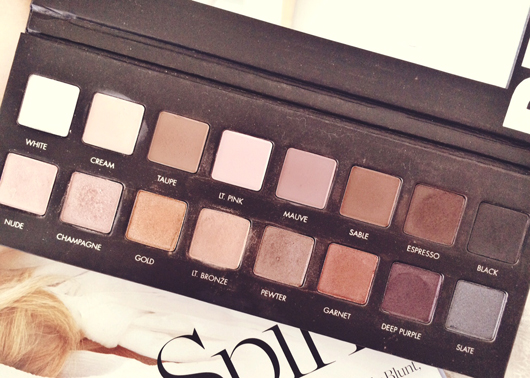 Lorac Pro Palette
Behold the most beautiful eyeshadow texture of all time! MAC eyeshadows are nice, Urban Decay eyeshadows are glorious, Stila eyeshadows are sublime. But Lorac eyeshadows are from a totally different planet. I've never used a formula that is so buttery and soft with such amazing colour pay-off; these are total perfection. Comprising eight matte and eight shimmer shades, the colours are neutral but interesting and complement rather than compete with the shades in my other natural palettes e.g. Urban Decay Naked 2. I can already feel the inevitable pull towards the Unzipped Palette…
Price: $42 – Available from Amazon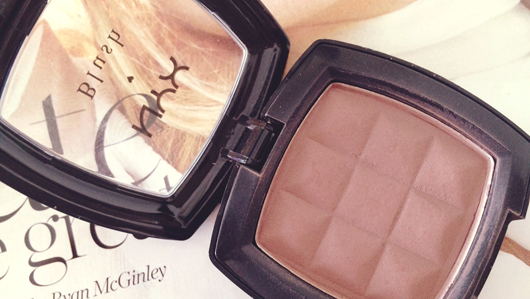 Nyx Powder Blush in "Taupe"
You have to love a good beauty bargain and Nyx blushers certainly fall into that category. They're great quality and very affordable, and lots of the shades are dupes for popular MAC and NARS blush colours. I discovered the Taupe shade when Sharon the Makeup Artist (current favourite beauty YouTuber) mentioned it and I thought it would make a great budget option for contouring. It's not as pigmented as I expected but it turns out that's a good thing, because it makes it difficult to go overboard with the colour. I apply it under my cheekbones, along my hairline and around my jaw and blend it out for a bit of soft, subtle definition. You can get Nyx products in Clicks but this blush shade is not available in SA for some odd reason.
Price: $6 – Available on Cherry Culture (ships to SA)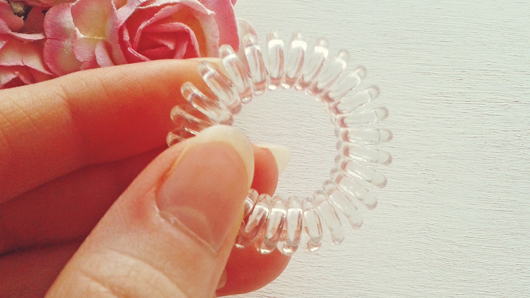 Invisibobble
I was so skeptical about these weird little hairbands that I only got around to trying one when they were sent to us as part of a branded PR kit. It's supposed to be a "traceless hair ring" that grips your hair firmly in place without leaving a kink or causing headaches. These are two of my biggest gripes about wearing my hair in a ponytail so I put it to the test and guess what, it works! I have very thin, fine hair so putting it up in a bun normally results in a birds nest on top of my head, but not with the Invisibobble – I haven't used a "regular" hair elastic since I got these. Total game changer.
Price: R80 for 3 – Available from Retailbox
Dermalogica Face Mapping Skin Analysis
Visiting the Dermalogica Concept Store at the V&A Waterfront was a real turning point for my skin last year. Catherine, the knowledgeable and friendly consultant, advised that I was over-exfoliating and that I needed to treat my dehydration and pigmentation with more targeted products (read all about it here). I was given a few no-obligation samples and went home to put her words into practice, with remarkable results. I stopped breaking out on my forehead all the time and the skin around my nose and mouth was less inflamed. The best bit? It didn't cost me a cent.
Price: FREE! Available at Dermalogica Concept Stores