Our love affair with beauty oils is no secret; we hardly shut up about favourites like The Body Shop Camomile Silky Cleansing Oil, Nuxe Huile Prodigieuse, Kiehl's Midnight Recovery Concentrate, Trilogy Rosehip Oil, Mama Mio O-Mega Body Oil, MoroccanOil and REN Rose Otto Ultra-Moisture Body Oil. In short, they are the best ingredient/formulation for cleansing and nourishing your skin and hair and we can't get enough. So we were delighted to receive an invitation to the recent launch of a brand new, affordable, oil-based skincare line that is going to rock your world. Introducing: Lipidol.
The range:
There are currently six products in the line:

What you need to know:
The brand was created by the same clever people who make Bio-Oil
It's a range of potent, oil-based, preventative skincare that is suitable for sensitive skin and non-acnegenic (i.e. don't be scared of oils if you have oily, acne-prone skin. They will actually help to balance it out)
Oil helps the skin retain moisture; without it, we fight a losing battle against the elements and our own hot showers to constantly keep our skin moisturised
The two "wash off" products quickly and effectively remove dirt and make-up without stripping the skin's natural lipid layer
The four "leave on" products contain active ingredients that help to supplement the skin's natural oily layer and prevent moisture loss
The range is lightly fragranced with essential oils and coloured with food-grade plant extracts
Packaging is clean and minimal with product names that simply describe the use e.g. "After Shower Oil"
Every product in the range costs R79.95 (available at Clicks)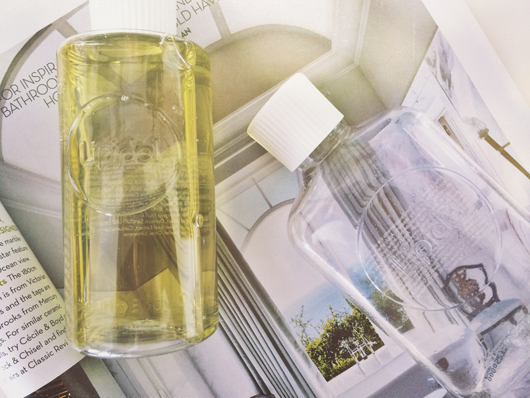 Product review:
We got to try two items from the range: Cleansing Body Oil* and After Shower Oil*. The former is formulated with a (very) light surfactant so that is lathers slightly on wet skin and rinses off easily without leaving any residue behind. It has a fresh lime scent and has a very cleverly-shaped lid that won't slip through wet or oily fingers in the shower – I do love small details like that.
The After Shower Oil is the perfect follow-up product to the Cleansing Body Oil and leaves an almost-undetectable camomile fragrance on the skin. The genius of this oil is its texture; it's light without being dry, and absorbs super quickly, so it's perfect for busy people like you and me.
Next on my shopping list is definitely the Cleansing Face Oil (to see how it compares to TBS version) and the After Shave Oil for my man. Do you have your eye on anything in the range? What do you think of oil-based skincare?
P.S. If you want proof that oil is the best thing for keeping moisture in your skin, watch this quick video demonstration.
*PR sample