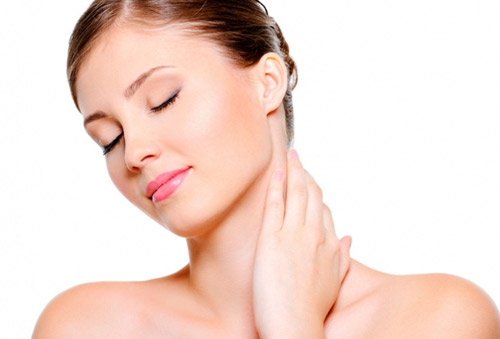 I was prompted to write this post after receiving a tester of the Clarins Advanced Extra-Firming Neck Cream, and starting to pay a little more attention to keeping that area moisturised. As my skin is combination-oily, I tend to use quite a light moisturiser or oil on my face which isn't necessarily rich enough for the skin on my neck and chest. Keeping this skin soft, supple and protected with SPF helps to slow down the signs of ageing, reduce the effect of gravity and improve its overall tone.
I'll be the first to tell you that you don't NEED a separate neck cream – especially at these prices! Simply smoothing your day or night cream down your neck will do the trick but this is a habit you need to get into early on. There are plenty of older women who neglected their neck and chest for too many years and now suffer with lines and brown spots as a result. For these women and pregnant ladies especially, a nourishing, firming neck cream can do wonders to improve the elasticity of their "saggy bits". Here's our pick of the top five: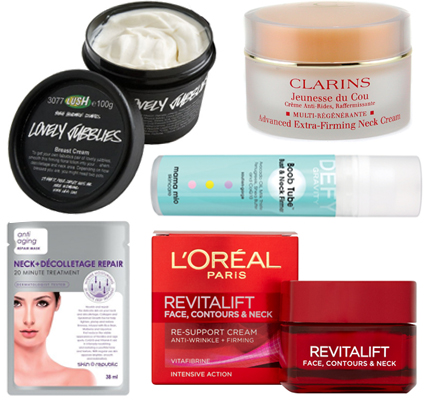 LUSH Lovely Jubblies Breast Cream – R240 (100g)
Almond oil, cocoa butter, jojoba oil, evening primrose oil, avocado oil and beeswax combine together to make a softening moisturising cream. Orange blossom honey moisturises, tiger lilies and meadowsweet herb help to firm the skin, while rose infusion, lemongrass oil, ylang ylang and jasmine make it smell amazing!
Clarins Advanced Extra-Firming Neck Cream – R665 (50ml)
This anti-ageing treatment firms, tones and protects the vulnerable skin on décolleté and neck. Plum Kernel and Sunflower auxins help smooth the look of lines and wrinkles with an immediate "lifting" effect. The rich but sheer formula melts into skin leaving it smooth and moisturised.
Mama Mio Boob Tube – R495 (100ml)
Described as a leave-on moisture mask for the delicate skin in the bust area, this product works fast – within a week, you will notice that the skin on your neck, your chest and your boobs looks fitter, glowing, more dewy and youthful. The rich blend of Evening Primrose oil, avocado oil, olive oil, sweet almond oil and shea butter makes your skin look firmer, softer and more toned.
L'Oréal Revitalift Face, Contours & Neck – R230 (50ml)
Enriched with Pro Retinol A, Vitafibrine and Elastin to support and smooth face and neck skin and reducing the appearance of surface lines and wrinkles. The unique formula and texture leaves the skin around the face and neck feeling immediately supported, hydrated and comfortable.
Skin Logic Neck and Décolletage Treatment – R50 (38ml)
Nourish and repair the delicate skin on your neck and décolletage with this deeply moisturising 20 minute treatment. Collagen and epidermal growth factors help to tighten the skin and restore firmness, while rice bran, mulberry and liquorice reduce the appearance of age spots. CoQ10 and vitamin E nourish your skin, for a youthful tone and texture.
Image via.