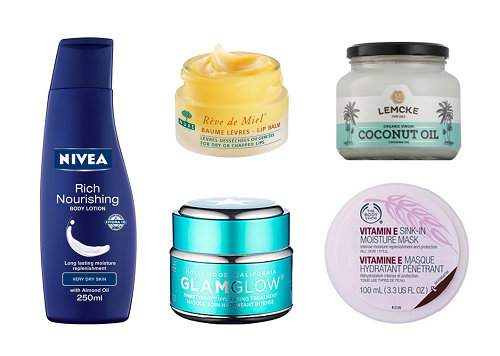 I was lucky enough to spend three days in the Karoo last week and, although it is the most beautiful, peaceful place in the world, it is also incredibly dry. By the time I got home on Sunday night, I felt as though every drop of moisture had been zapped from my body, so I went into damage control mode and whipped out every hydrating product in my arsenal. Here's what I did to restore the balance:
Face
Jules and I recently received a few GLAMGLOW face masks from the lovely people at Metropolitan Cosmetics. Being a dry skinned gal, my eye was automatically drawn to the THIRSTYMUD Hydrating Treatment. It looks, smells and feels like melted caramel – utterly delicious! I applied a thin layer all over and left it to sink in for a couple of hours. It does leave a residue on the skin (but it's not nearly as sticky/tacky as the Origins Drink Up Intensive Overnight Mask), so before bed I lightly blotted my face with a tissue and then drifted off to sleep. By the time the morning came my skin was looking plump and moisturised, with no dehydration lines in sight. This really is a miracle worker!
Lips
It should come as no surprise that my go-to product for saving dry, chapped lips is none other than my beloved Nuxe Rêve de Miel Lip Balm. Lashings and lashings of Rêve de Miel. Job done.
Hands
My Mom, my biggest beauty resource, told me about this one. She bought the Vitamin E Sink in Moisture Mask from the Body Shop a while ago and, although she didn't like using it on her face (too harsh, she said – which is bizarre because she can basically use battery acid on her face), she found that it did an excellent job on her décolletage and hands. I like to apply a thin layer on the tops of my hands and into all the little nooks and crannies that tend to look a little snakeskin-esque, leave it to sink in for 10 minutes, and then just rub what's left all over my hands like I would a regular hand cream. This little gem totally brought my hands back from the brink…thanks Mom!
Hair
Coconut oil. The end.
Body
I usually slather myself with my home-made body lotion concoction (containing, amongst other things, E45 Cream, Kiehl's Crème de Corps Body Lotion, REN Moroccan Rose Otto Ultra-Moisture Body Oil, Happy Event Antenatal Massage Lotion, and Skin & Bones Luxurious Moisturiser), but a cheaper alternative would be the much-loved Nivea Rich Nourishing Body Moisture (the smell alone…heaven). My trick is to apply it on damp, not dry, skin – I pat myself dry whilst still in the shower (so all the warm, moist air is still cocooning me from the cold) and then smother myself in lotion. I find this method works better than applying lotion to dry skin because this way, the lotion locks in all the moisture still lingering on the skin. Try it – you'll see.
So there you have it…my tricks for getting dry, parched hair and skin back to normal. I hope you found it helpful!