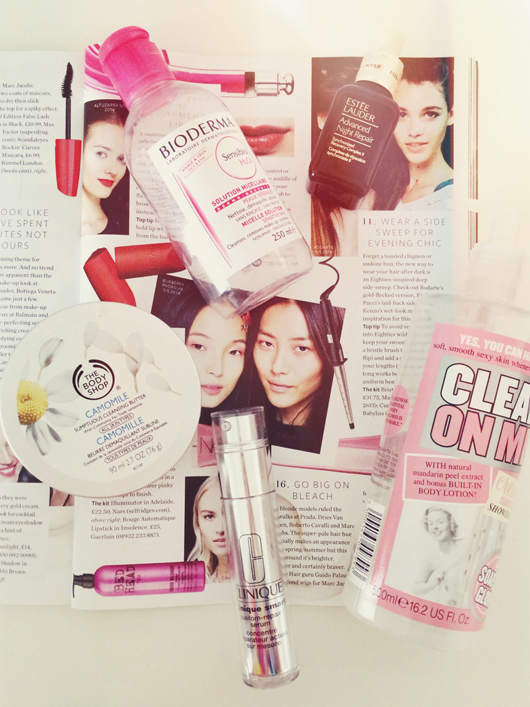 This is my second bottle and I'm pretty sure I'll be buying a third – love this stuff! It smells absolutely delicious and is creamy and nourishing without being too thick. It lathers up like a dream and leaves behind a subtle scent that lingers briefly on the skin. I pair it with The Breakfast Scrub on days when I need to exfoliate my legs and arms, leaving me with smooth, sweet-smelling limbs. Both are usually available from rubybox but they seem to be out of stock at the moment.
Price: R190 (500ml)
I think I said in our last empties video that every "products I've used up" post will always include a bottle of Bioderma, and here it is! Do I need to explain? Takes off make-up. Gentle. Effective. Effortless. Great value. If you don't use this then I'm not sure if we can still be friends.
Price: R180 (250ml)
There are a few tried and true cult products in the beauty world that have achieved platinum status (think Elizabeth Arden Eight Hour Cream, Kiehl's Creme de Corps and Philip Kingsley Elasticizer) and this is one of them. I use this most evenings underneath my moisturiser, pressing two to three drops into my fingertips and over my whole face. The texture is that of a light liquid gel and it dries down quickly without feeling tacky or greasy. It's the kind of all-rounder serum that is instantly hydrating and also helps to brighten and clarify the complexion over time. My skin is generally good so I don't have any miraculous tales to tell you but I wholeheartedly believe in the ingredients (hyaluronic acid, antioxidants and purifying cell renewal boosters) and the product's impressive heritage. It's the kind of thing I know will benefit me in the long run, but doesn't necessarily make a huge difference to my skin day to day. Definite repurchase… At some point. From Duty Free. When I'm feeling flush.
Price: R675 (30ml)
I picked this up at the same time as my first bottle of Camomile Silky Cleansing Oil and have been using it for the second evening cleanse. It has the texture of coconut oil at room temperature i.e. a solid that melts into a light oil in the warmth of your hands. There is nothing wrong with this product other than the fact that it's competing with my beloved Emma Hardie Moringa Cleansing Balm – and that's like comparing a family sedan with a vintage roadster. They both get you from A to B but the roadster is a lot more fun! It's perfectly good at breaking down make-up and daily grime from the face, it emulsifies easily (I wipe away the residue with a warm, soft cloth) and is nice and affordable. So if you're a Practical Pam then this is the cleansing balm for you; if you need a bit of citrus-scented luxury in your life, then it's time to get on the Emma Hardie train.
Price: R140 (90ml)
This is a tough one. Serums in general are really hard to review because they mostly offer long-term benefits rather than instant ones, and since my skin is generally in good condition, I find it very difficult to tell whether a serum is working or not. This is Clinique's new and much-hyped do-it-all wonder product – it's supposed to magically target your problem areas, providing custom repair where your skin needs it most. The science is difficult to believe but with a brand like Clinique, I feel comfortable trusting that it works like they say it does. I certainly enjoyed using it, but one of the biggest problems is that I seem to have whizzed through the bottle in no time at all. I managed to finish it up in a matter of weeks and the bottle is the same size as the ANR (although it's a pump dispenser so I'm sure there's lots of product left inside that I can't get out). Considering this, and the fact that so far it's an unproven product, I'll be sticking to my ANR for now.
Price: R700 (30ml)
*PR sample