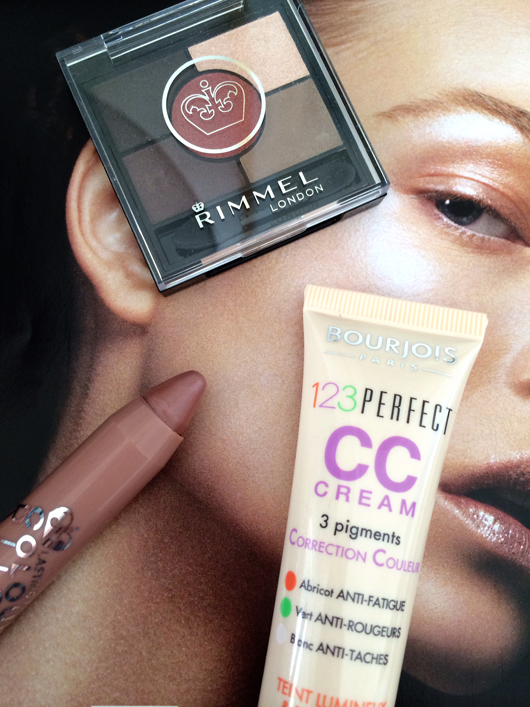 I recently wrote about my experience placing an order from UK-based website ASOS, and how I was pleasantly surprised that they didn't charge me customs duties. I'm hearing conflicting reports from readers so I think it's still quite hit and miss, but for a few small items I think it's worth the risk, especially since the lower the value of your order, the lower the customs charges if you get nailed.
Anyway, I thought you would be interested in what I bought:
Bourjois 123 Perfect CC Cream
Price: £7.50 (usually £9.99)
Shade: Rose Beige
As with most products she uses in her videos, Lisa Eldridge caused an absolute frenzy when she applied this new product to Sophie Dahl's face in a recent tutorial (side note: Sophie Dahl is SUCH a babe). Don't be put off by the whole CC (colour correcting) thing – it's really just a great tinted moisturiser with a little extra coverage and a bit of healthy glow. It's a fabulous product for girls on the go because you can easily blend it in with your fingers and build up certain areas that need extra help. This shade is unfortunately a little bit light for me at the moment but as we're going into winter, I'm sure I'll get to use it a bit more in a few months time. PS: This is available in SA at selected Clicks but I didn't know that at the time.
Update: This product is now also available on rubybox. Am also awaiting feedback from Clicks with a list of which stores stock Bourjois.  
Rimmel London Lasting Finish Colour Rush Balm
Price: £4.00 (usually £5.99)
Shade: Drive Me Nude
I would never have even picked this up in store, nevermind swatched it. Luckily I had checked out some swatches online and this shade really caught my eye as the perfect daytime lip colour. The packaging and even the product colour are a little misleading, because on the lips it's a lovely pinky-toned nude that's very easy to wear and extremely flattering. They have a yummy vanilla scent (similar to MAC lipsticks) and a twist-up mechanism so you never need to sharpen them. I think I might need these in a few more colours… As if I don't own enough chunky lip pencils already! I know, I have a problem.
Rimmel London 5 Pan Eyeshadow
Price: £4.50 (usually £6.99)
Shade: Brixton Brown
I read rave reviews about this little gem on a few overseas blogs (Alix, Lily & Anna) where it was often referred to as a good alternative to Charlotte Tilbury's swoon-worthy La Dolce Vita eyeshadow palette. On first impressions, I'm slightly underwhelmed. The colours don't swatch as nicely as I would have liked (the pigment of the khaki shade in particular is basically non-existent) but I'll reserve judgement until I've actually used these on my eyes and done a proper wear test to how they hold up. In short, I like the colour selection (although definitely better for brunettes I think) and it's wonderfully affordable, but I'm just not sure about the quality just yet.