Our darling friend Charlotte is arriving from London next week, so I took the liberty of putting in a sneaky Boots order. Full reviews to follow, but in the meantime, here's a run down of what I ordered:
Hydraluron Moisture Booster
Hyaluronic acid is found in the body and is responsible for maintaining moisture levels in the top layer of the skin. We produce it naturally, but it becomes more difficult as we get older (sigh). If you use this serum underneath your moisturiser it will, over time, increase the skin's hydration levels and minimize the need for frequent topical moisturing. Increased moisture levels have been shown to improve the skin's elasticity and reduce surface roughness.
According to Caroline Hirons, our skincare guru, Hydraluron provides an instantaneous feeling of moisture and leaves the skin looking plumped up and super soft. It also apparently makes for an excellent primer. Sign me up!
For more information, have a read of Caroline's post on Hydraluron.
La Roche Posay Effeclar Duo Corrective and Unclogging Anti-Imperfection Care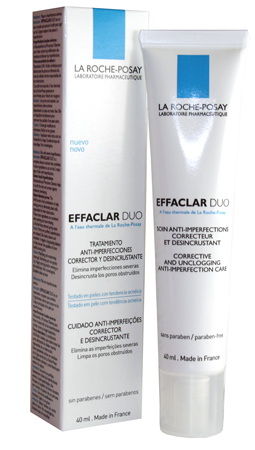 Lord, what a mouthful! Another firm favourite with beauty buffs the world over, this product helps reduce the appearance of imperfections and purifies pores. It works in two ways:
It reduces severe local imperfections by purifying the skin and protecting against breakouts developing; and
It helps unclog pores by eliminating dead skin cells.
Are you fine with that? Thought so. As it's completely hypo-allergenic and non-comedogenic (meaning it won't block your pores), it's perfect for even the most sensitive of skins.
Dr Jart+ Water Fuse Beauty Balm Cream SPF 25
I think this might just be the product that makes me jump on the BB bandwagon (I mean, let's be honest, Western BB creams are largely a load of crap – they are essentially tinted moisturisers in a fancier outfit). Our girl Vivianna loves this product, so that was enough of a reason for me!
This oil free balm apparently works brilliantly on all skin types since, although creamy and rich, the formula is still lightweight. It is made up of 50% water so it is incredibly smooth and hydrating. Perfect for those looking for a moisturiser, lightweight coverage and SPF all in one.
I'll report back soon!