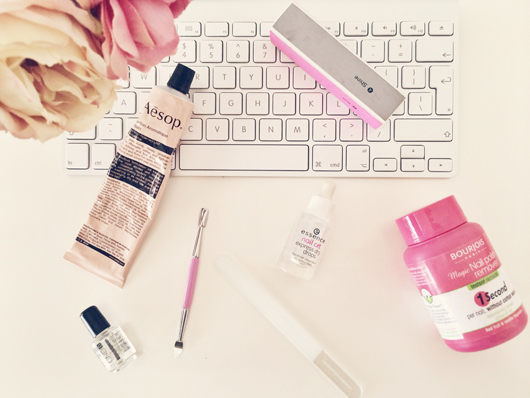 Nail polish remover
Obvious I know, but picking the right nail polish remover can make the difference between strong, healthy nails and ones that split and peel from dehydration. Bourjois Magic 1 Second Nail Polish Remover comes in a convenient little pot containing a sponge in which you dip your finger and twist to remove the polish. It's super quick, plus the acetone-free formula is made with nourishing sweet almond oil to enrich your nails.
Crystal or glass nail file
Described as the Rolls Royce of nail files, this one from Leighton Denny is made from the finest lead crystal, comes in a protective case and has a lifetime guarantee. The difference between this and a regular emery board is that the surface is smoother, finer and more durable which makes for quicker and less damaging filing. They help to seal the edge of the nail, minimise chipping and peeling, they last forever, and you can clean them so they're extra hygienic. This brand isn't available in SA but you can find similar ones from OPI and Sh'Zen, or online here and here.
Four-way buffer
I find these unassuming little tools really handy to add extra smoothness to the nail edge, gently polish out ridges and snags, and buff some shine onto bare nails. I got this Elegant Touch Shape & Shine 4 Way Block For Nails from Dischem but there are loads of different ones around – a cheap but essential little manicure implement.
Cuticle pusher backer thing
Yes, that is its official name, and let me tell you, they are not all created equal! My favourite types of CPBTs either have a rubber tip (like the one in this mini kit from Sally Hansen) or a square/squoval edge, that fits the cuticle perfectly and doesn't have sharp, painful edges. I found mine in a little set from Clicks (can't remember the brand but they all have pink plastic handles) but you can find these in practically any chemist or supermarket, or online e.g. Takelot.com
Hand cream
Hands down (sorry) my favourite hand cream is this one from Aēsop (available at The Loading Bay in Cape Town) that I was given for my birthday last year. The smell alone I think is worth the expense but it also extremely nourishing, non-greasy and skin-softening.
Cuticle oil
Nourishing your cuticles is an important step in your manicure routine, especially in winter as they start to shrivel and dry up in the cold weather. It is designed to keep the cuticles soft and healthy, preventing ripping or tearing that can cause pain, damage to the nail, or even infection. Alternatives to the CND SolarOil that I use include these options from Essie, Mavala and Sally Hansen.
Quick dry drops
These might be the most essential part of my whole kit. I first discovered these Essence Express Dry Drops about a year ago and I'm still using the same bottle, which makes them crazy-good value for money. They work like a dream to instantly dry your top coat and leave your tips tack-free in a matter of seconds. I never have to deal with the disappointment of smudging a perfectly good paint job or getting sheet prints overnight – to say this is a wonder product is a total understatement.
Do you have any at-home manicure tips and tricks to share?