We don't always get the chance to put together an in-depth blog post on a particular product or experience, so our Instagram account is a great way to find out what we've been up to. Here are the highlights from the past few weeks:
Skin saviours: My long-haul flight essentials comprise Nuxe Rêve de Miel lip balm for obvious reasons, and a combination of my favourite dehydration heroes. Hydraluron to avoid having my skin sucked dry by the recirculated air layered under a thick layer of Origins Drink Up Intensive Overnight Mask really does the trick! I also usually pack a mini rosewater facial spritz, some hand cream and a good cuticle oil. You can read more about my in-flight beauty routine here.
Testing, testing: This week I'm putting Sally Hansen's new Miracle Gel polish system through its paces. The colour and top coat work together to create a supposedly chip-free two week manicure without the need for a base coat, UV/LED lamp or any special removal. It cures in natural daylight and comes off with regular nail polish remover – no soaking, wrapping, scraping or filing necessary. I highly doubt that it'll last two weeks but if it lasts for even one I'll be impressed. So far, I'm on day four and there's only a little bit of tip wear – I'll report back in full once I've tested it properly!
Shine on: My favourite liquid highlighter, Revlon PhotoReady Skinlights is currently on sale at Dischem for R55 (it's usually around R190). I found this shade, which I've had my eye on for ages, in one of their little bargain bins and quickly snapped it up. It's the peachier sister to the champagne-y Bare Light shade that I usually use and I think it'll look particularly gorgeous on sun-kissed summer skin. Apparently this colour is being discontinued so you better hurry if you want to get your hands on it too.
Scentsational: Camilla and I were treated to an incredible massage at the Heavenly Spa at the Westin Cape Town last week, and were overjoyed to see that they stock Aromatherapy Associates. This luxurious British brand is a regular feature with some of our favourite overseas bloggers, like Lisa Eldridge, Amelia Liana and Ruth Crilly. I've often stared longingly at the gift sets in SpaceNK so I'm thrilled to know I can now get my hands on the range in SA.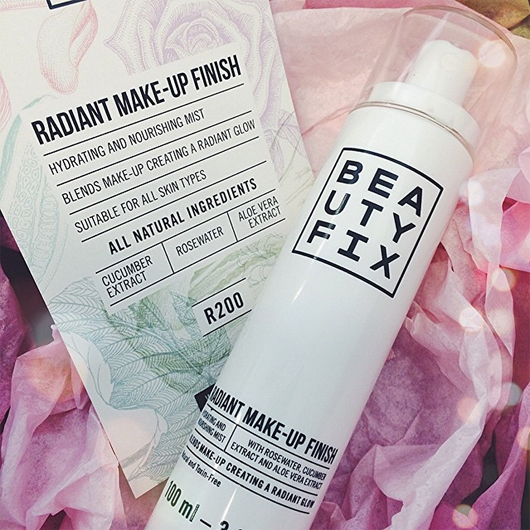 Local loveliness: We love a good local brand so when the creators of BeautyFix got in touch about their new natural and toxin-free Radiant Make Up Finish spray, we were understandably excited. Made from rosewater, aloe vera and cucumber extracts, it's suitable for all skin types and feels wonderfully soothing and refreshing, while giving your makeup a dewy glow. It even made its way into Camilla's favourites last month.
Follow us on Instagram: @alldolledup_sa