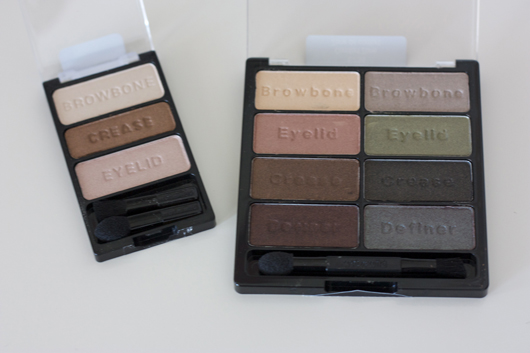 In case you haven't already heard, much-loved American beauty brand Wet n Wild recently launched in selected Clicks stores around the country. Known for their great quality makeup at super affordable prices, I was keen to try out some of their more famous products, like their Color Icon eyeshadows, Mega Last lipsticks and long-wearing nail polishes. As soon as I knew the range had rolled out in Cape Town, I popped into the Gardens Centre branch to peruse the stand and picked up two eyeshadow palettes:
Color Icon Comfort Zone Eyeshadow Palette
Price: R90
Shades: Left column: Browbone (warm beige), Eyelid (rosy copper), Crease (warm, medium-dark golden brown), Definer (dark, burgundy and copper shimmered brown with subtle red undertones). Right column: Browbone (pale, dirty grey-pewter), Eyelid (subdued, springy green with a golden sheen), Crease (charcoal brown), Definer (red-brown with a teal duochrome – the ultimate dupe for MAC Club).
Finish: Frost/pearl
Pigmentation: Excellent
Texture: Creamy and smooth, easy to blend
Wear: I haven't used the eyeshadows for very long but my experience so far is that they are long wearing and aren't prone to creasing when used with a primer (I never wear eyeshadow without a primer).
For (much better!) photos and swatches, check out Temptalia's review.
Color Icon Walking on Eggshells Eyeshadow Trio
Price: R60
Shades: Browbone (warm, golden beige), Crease (medium caramel brown) and Eyelid (frosty peach)
Finish: Frost/shimmer
Pigmentation: Very good
Texture: Smooth and blendable
Wear: As above.
For more photos and swatches, see Cafe Makeup.
Overall, I think the quality of these eyeshadows is excellent; easily on par with many more expensive brands. The value for money is unparalleled in the drugstore, and the huge shade range available is also very impressive. I have also since purchased a single eyeshadow in Nutty and Mega Last nail polish in Heatwave, the quality of which I have been equally happy with. In short, get yourself to Clicks and start stocking up!
You can follow Wet n Wild South Africa on Facebook and also see their list of stockists there.