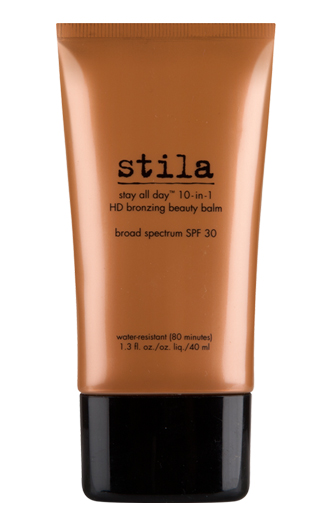 I will forgive whoever named this product with the world's longest name, but ONLY because I like it so much. I bought this after reading Tori from Kiss, Blush & Tell's glowing review (Tori, you are my biggest enabler and I feel that you should know that). Stila bills this offering as a high-definition, age-defying beauty balm which contains innovative micro-spheres that hide skin imperfections and reduce wrinkle depth by up to 84%. It has also enriched with a particular blend of ingredients which have been shown to reduce inflammation, improve texture and stimulate collagen production. Well I don't know about you, but I certainly like the sound of that…make-up and skincare in one nifty tube!
When I first used it I was a little alarmed by its colour – for a pale girl like me it looked like it would be far too dark. The balm is very heavily pigmented, and it doesn't have a lot of slip so it's quite difficult to blend (well, it was on my parched skin anyway – perhaps if you have oilier skin it will be a bit easier). However, I persevered and blended for a good few minutes and by the time I was finished I was left with a really lovely, healthy glow. I was really impressed by how the colour settled and adapted to my skintone – this is definitely a product that us paler girls can use without fear of looking like Katie Price.
As far as coverage goes, it wouldn't be enough for me for day-to-day wear, as I like something with a medium-to-full coverage, but I would definitely wear it on it's own if my skin was looking fantastic (mega-lols, that NEVER happens) or if I was going to the beach, as it has an SPF of 30 built in. I like to pop a little bit of foundation over the top to even out my skin tone a little bit more and to cover my blemishes. I haven't tried mixing it into foundation yet, but I would imagine that that would create a lovely result too.
Longevity? Pretty fantastic. I still had colour after a solid 10 hours of wear, which I think is excellent. It wears really well and doesn't fade or go patchy throughout the day, AND (miracle of miracles) it doesn't cling to any dry patches – a real treat for those of us with drier skins.
All in all, I would highly recommend this product: it has skincare benefits as well as an SPF, it leaves your skin looking bronzed for hours on end, and it feels light on the skin – once you've applied it you will promptly forget that you're wearing it. An essential summer staple from now on!
This little gem retails for R395 and is available from selected Woolworths stores, or online here. It's also available from Rubybox and Style36.