Following on from Tuesday's post about beauty bargains for the face, here are my picks of the best "drugstore" products for your eyes and lips. Let us know in the comments if you have any recommendations!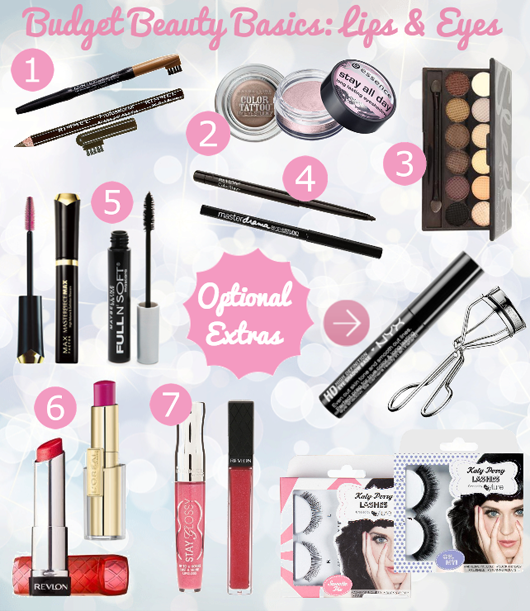 1. Eyebrows
I can go a day without foundation or mascara but I absolutely refuse to leave the house without my eyebrows pencilled in. Making the effort to subtly darken and define your brows will add structure to your face and make you look polished even if you aren't.
NYX Auto Eyebrow Pencil
Rimmel Professional Eyebrow Pencil
2. Cream eyeshadow
It might sound scary but it will be your best friend. Gone are the days of the creasy, smudgy versions that melted off your eyelids after five minutes; the new generation of cream eyeshadows are light, crease-free, long-wearing and come in all sorts of fabulous colours. Plus they double up as a great primer for powder eyeshadow.
Maybelline Eye Studio Color Tattoo 24 Hr Cream Gel Shadow
Essence Stay All Day Cream Eyeshadow
3. Neutral eyeshadow palette
The quality of cheaper eyeshadows has come a long way in the last few years. The texture, pigmentation and longevity of the most well-known drugstore brands rival those of MAC and many more expensive luxury brands. Purchasing a palette gives you extra versatility and is generally much more cost effective than buying individual pans.
NYX Trio Eyeshadow
Sleek i-Divine Eyeshadow Palette – available at Foschini

4. Eyeliner
There are so many choices for eyeliner these days: pencil, liquid, gel, felt-tip, kohl… and they all perform different functions. I would recommend that at the very least, you have a black pencil liner in a soft, blendable yet waterproof formula. These are two of my favourites but let me know if you would like a separate post on all the different types.
Revlon ColorStay Eyeliner
Maybelline Eye Studio Master Drama Cream Pencil
5. Mascara
Drugstore mascaras are as good as, if not better than, their more expensive counterparts about 90% of the time so this category is a no brainer. The problem is there is so much choice! Maybelline probably have the best range of good quality mascaras but honestly, most of the mascaras I've tried from other brands are excellent.
Max Factor Masterpiece Max
Maybelline Full 'N Soft
6. Lipstick
Revlon make the best lipsticks in my opinion, hands down. They also happen to make the best glosses (see next point) but the variety of finishes is a huge bonus – beautiful classic lipsticks, tinted balms, staining lip crayons, suede-effect formulas, liquid lipsticks and more. Their Lip Butters share the title of the Greatest Make-up Invention For Lips Ever with my beloved Clinique Chubby Sticks. Love, love, love.
Revlon ColorBurst Lip Butter
L'Oreal Rouge Caresse Lipstick
7. Lip gloss
I don't own a lot of glosses because they aren't really my thing, but the ones I do own are from Revlon because they're amazing. Smooth formula, pretty colours, just enough sparkle, great wear time… what more do you need? Rimmel also make good glosses from what I hear but let me know if you have any recommendations in this department.
Revlon ColorBurst Lip Gloss
Rimmel Stay Glossy Lip Gloss
Optional Extras
NYX HD Eye Shadow Base
Revlon Eyelash Curler
Katy Perry for Eylure False Lashes