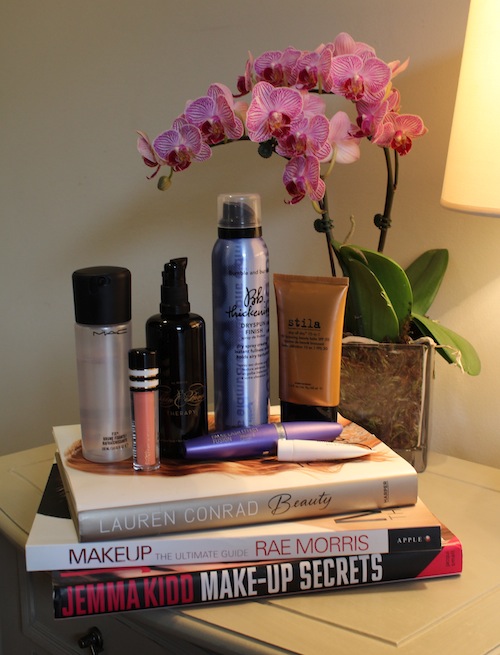 This has been described as "Jesus in a bottle" – I kid you not. Skin & Bones was founded in 2009 by a husband and wife team whose aim was to design and manufacture simple luxurious artisan products which were both glamorous and sophisticated, yet had youthfulness and a bit of an edge.Their signature product, the Luxurious Moisturiser, was released in 2010, and is created using a blend of 100% organic jojoba and nine therapeutic grade essential oils. I first learnt about this product when my boyfriend started using it and I became hypnotised by the scent – it is exquisite. He brought some back for me last month and I have been slathering it on my neck and décolletage daily. It leaves my skin soft and moisturised with the most beautiful, subtle sheen – if I could afford to use this over my entire body I would. If you would like to learn more about Skin & Bones, you can visit their website here.
It shouldn't come as much of a surprise that this has made the cut for this month! I have started mixing it in with my foundation in the mornings and the result is just peachy! My complexion looks much healthier thanks to the much-needed extra boost of colour, and now I can't imagine my routine without it.
MAC Fix+, how do I love thee? Let me count the ways…I am not exaggerating when I tell you this has not left my side since I bought it. I use it multiple times a day on myself and on others – sometimes they are willing, sometimes they aren't. In the latter instance I like to surprise them with a series of quick sprays to the face. Sounds quite aggressive, but I promise you that once it's done, they always say "Oooh that's so nice, what is that?" See, I told you so! I use it to set my make-up in the mornings and I also like to spray it on throughout the day as an uplifting treat – it refreshes my face and keeps my make-up looking fresh so that by the time I leave the office, I still look acceptable.
This. Jules and I have coveted this for months, so when my boyfriend brought it back for me from the States last month, I was beside myself with joy (side note: he bought me TWO because he said the bottles looked so small – I mean, what a keeper). This translucent dry spray creates instant fullness and texture – apparently this is achieved by using raw silk powders with light holding polymers which adhere instantly for "a softly interlaced texture to make hair look weightless and effortlessly full".  I cannot emphasize enough what an outstanding product this is – it lifts the root of the hair like magic, leaving it volumised and gorgeous. I also spray it throughout the lengths of my hair to get some texture and grit – it helps to take the gloss off of my usually sleek 'do, which I really like! This is a fabulous product for all hair-types, and if you ever come across a bottle, snap it up immediately – you can thank me later.
I was at a lunch last month with Margaux Knuppe, the co-founder of Rubybox, and she was telling me all about Verso, a new Swedish skincare brand which has recently launched in South Africa. Verso Skincare is apparently proven to make your skin appear younger and healthier by using a formula which helps the skin cells mimic how young cells behave. This formula is called Retinol 8, and is eight times more effective than typical retinol in the same dosage. It stimulates the skin's own production of collagen and hyaluronic acid, which can substantially reduce the signs of aging. As fate would have it, I had just received 2 x 5ml samples of Verso Night Cream in my Rubybox – thanks Margs – so I scuttled home and started using them immediately. Well. It's been about a month now and I can hand-on-heart say that I have never seen results like I have with Verso. My skin has been completely transformed – no more redness, no more uneven skin tone, no more blemishes…it's a Christmas miracle! Regular readers will know that the only thing a product needs to do to get a glowing review from me is to not cause a reaction, so you can imagine my delight when, not only was there no reaction, but there were such noticeable results as well. I am saving up to buy the full size version as it is quite expensive (R1,119.00), but this is a product that truly is worth every penny.
Probably the perfect lipgloss as far as I'm concerned: glossy but not sticky or tacky, and it leaves your lips looking plumped up and kissable without any flaking or dryness. I like to layer it on top of Chanel Rouge Coco Shine in Boy for the ultimate "My Lips But Better" effect.
I have been reaching for this mascara every morning since I bought it – I've sung it's praises before here. It lengthens and volumises, and it doesn't clump, smear or flake. I have been using it during the day instead of my usual mascara go-to, Clinique High Impact Extreme Volume Mascara, as it gives great definition without being too dramatic. I also like that it's a cinch to remove – just a swipe of eye make-up remover and it's gone.