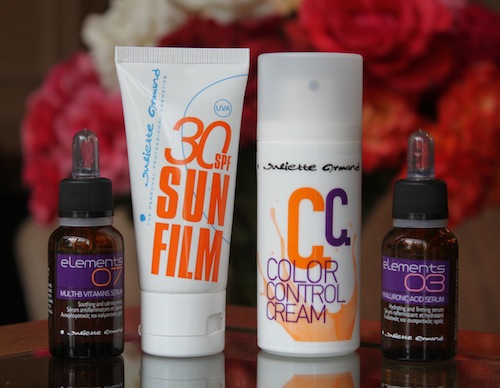 A few weeks ago I admitted that I didn't use sunscreen on a daily basis, much to the horror of our readers. Later on in that same week, a surprise package arrived from the girls at Positive Dialogue, the PR agency who represent Poise Exceptional Brands: a sunscreen from Juliette Armand! Now, I'd never heard of the brand before, but Poise is is the sole distributor for Mama Mio, so I knew it was going to be good. Juliette Armand was founded in 1992 by Greek couple Ioulia Armagou and Michalis Papaefstratiou, with the aim of creating affordable, high quality skincare. Whilst they acknowledge that the effects of time cannot be stopped, they can be slowed down, and their mission is to slow the effects of the lapse of time on the skin. What I like about this brand is that they take steps to treat the skin individually, beyond the definitions of sensitive, dry, oily, and they take a more holistic approach. I get frustrated when brands try to pigeon-hole skin into a particular category, because it is incredibly rare that anyone's skin is ever only dry, only sensitive, only dehydrated etc – it's usually a combination. Juliette Armand has created an a range of products which target multiple concerns, and that is something that excites me.
The range is broken up into three categories:
1. Elements
A professional line containing 73 high-end products, all of which are paraben free, allergen free and mineral oil free. The products are classified according to to their main function and can be identified by their characteristic number. For example, hydration is 03, eye care is 04, biological aging is 06, and so on. Each category is then broken down into cleansers, serums, moisturisers, etc. When Jules and I attended the official launch two weeks ago I was so impressed by the products that I decided to treat myself to two serums, the Hyaluronic Acid Serum (03 – Hydration) and the Multi-B Vitamins Serum (07 – Sensitive Skin).
The Hyaluronic Acid Serum contains hyaluronic acid (obviously), which is structural component of the connective tissue of the skin, and is widely acknowledged as being the most effective moisturising ingredient in skincare. For someone like me, who has incredibly dry skin, this is an absolute essential – I use it in the mornings before my moisturiser and Sun Film (more information below).
The Multi-B Vitamins Serum contains vitamins B5 and B6 which contain anti-inflammatory and anti-irritant properties. The B6 vitamin has regenerating and anti-inflammatory qualities and the B5 vitamin increases skin hydration by preventing moisture loss. It also accelerates the healing of injuries and reduces redness and skin irritations. I battle with rosacea, blemishes and general redness, so this serum really appealed to me. I use it at night before my moisturiser, and so far, it seems to really be helping. I shall keep you posted.
When we attended the launch we were given a bottle of their Color Control Cream  to try.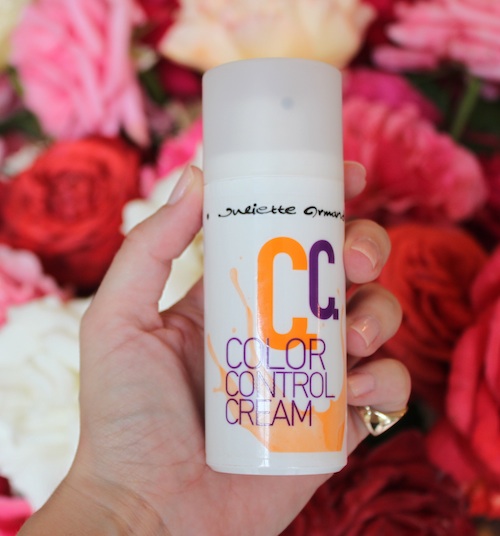 The CC cream forms part of their Elements range and it combines seven different pigments which offer coverage to suit every skin tone. It contains hyaluronic acid which provides the skin with necessary water reserves, aloe vera to moisturise and reduce  irritation and inflammation, and matrixyl 3000 tetrapeptide to smooth wrinkles, fine lines and improve the skin's texture.
We were advised to only use 3/4 of a pump for our entire faces, and to really take time to blend it in in order to see the full results. The cream is a deep bronze colour, which alarmed me a little when I first saw it, but I followed instructions and blended it in thoroughly and you'll see from the pictures below that it leaves the skin with a really beautiful, healthy colour.
Jules and I, as you know, have very different skin tones, and yet this CC cream looks fantastic on both of us. It adapts to your skin tone to create a colour which looks really natural and pretty. It takes a few minutes to adapt, so don't be scared when you first apply it – just keep blending and everything will work out just fine, I promise! This is the first CC cream that I've tried, and I'm very happy with it and would definitely recommend it to anyone looking to try something new.
2. Skin Boosters Anti-Surgery System
Treatments which help postpone your appointment with a plastic surgeon.This range contains five targeted systems to delay the effects of aging, namely:
Apocalypsis Therapy to postpone the need for chemical peels;
Thavma Therapy to postpone the need for botox;
Chronos Therapy to postpone the need for wrinkle fillers;
Opsis Therapy to postpone blepharoplasty (upper eyelid surgery); and
Schema Therapy to postpone liposuction.
3. Sun Film
Sun protection containing six broad spectrum sunscreen filters which protect against UVA and UVB rays. This sunscreen contains a patented innovative anti-oxidant complex called Antitox: a powerful, self-renewing anti-oxidant. The range contains something for every sun care need – from SPF15 to SPF 50, and there's even an After Sun lotion if you happen to overdo it a bit.
Positive Dialogue sent me the SPF30 Face Gel, and I have been using it religiously for the past 6 weeks. It has a slight tint which evens out your skin tone, and it creates the perfect base for foundation. It's hydrating and moisturing, but it doesn't clog your pores or make you look greasy in the slightest – I absolutely adore it. I haven't ever used a daily facial sunscreen before, but I know that I don't have to look any further than Juliette Armand – I love using it, it smells great, and thanks to the Antitox, I feel like my skin has improved since I started using it.
If you would like to learn more about Juliette Armand, you can visit the website here, and you can contact Poise directly to place an order, should you wish to do so (I encourage you to do so!). When the products are available in store, we will be sure to let you know.