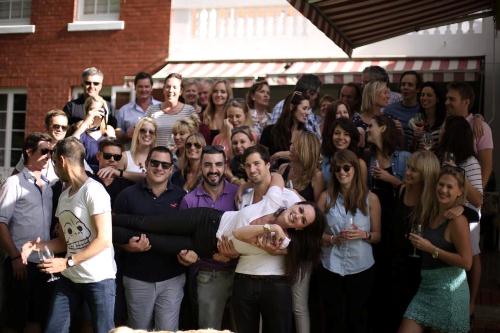 So, I recently survived my 30th birthday (which wasn't nearly as traumatic as I expected it to be) and I started thinking about all the beauty advice I've been given/read about/learnt first hand over the past three decades. With that in mind I decided to put together a piece outlining the 30 best tidbits in celebration of 30 years of beauty love! This is a long post, so maybe go make yourself a cup of tea and get settled in.
Contrary to popular belief, red lipstick does not suit everyone and it's ok. It has taken me years to come to terms with this – I just cannot wear it.
If you want to brighten your eyes, run a nude liner along the bottom waterline for a fresh, wide-awake look.
For fuller looking lips, line your lips with a nude liner, blend the edges and apply lashings of gloss. Hello, Angelina Jolie!
Don't throw your lipstick away when you get to what you think is the bottom – there is up to a third of product still sitting in the bullet. Use a lipbrush to scrape out the lippie – you will get another couple of weeks wear this way for sure.
Use a nail dehydrator to make your manis last for longer. OPI Chip Skip + Seche Vite Fast Dry Top Coat = week-long mani's with no chips.
Make your own texturising hairspray by boiling down some filtered water and adding in two tablespoons of rock salt. Pour into a spray bottle to cool, and use it on your hair to add texture and movement
Use an eyeshadow primer! This has changed my life, and that is no exaggeration. I wear a primer every day and my eyeshadow stays put no matter what.
For beautifully white, stain-free nails rub them all over with half a fresh lime. Then soak your fingertips in some water with dissolved bicarbonate of soda for a few minutes.
Use brown mascara on your lower lashes rather than black – even if you use black on the top lashes. A lighter colour on the bottom gives your eyes a lift.
To ensure that your dry shampoo doesn't make your roots look chalky and grey, spray it on to a paddle brush followed by some hairspray, then brush from the roots to the ends. Your hair will instantly look clean and shiny.
Sometimes, less is more when it comes to skincare, as overuse of products can lead to congestion. It doesn't have to be complicated – keep it simple.
Do your eye makeup before you do your skin, especially if you are doing a smoky eye. Apply foundation and powder, or a primer, to your eyelids, then apply your eye makeup. Once you're done, run a wet wipe under your eyes and start on your skin. Always apply powder under your eyes to help keep your mascara and eye shadow from smudging.
Once your hair is dry, loop two loose buns with a single pin to hold each bun on either side of your head (so pig tail buns aka Princess Leia) for perfect waves – sleep with it in, or let loose after 10min and set with a light hairspray.
Apply your make up in natural light. Always.
Don't feel obligated to follow skin care/make up trends. Some things are inexplicably popular, but if they don't suit you, let it go. Stick with what works.
Use eyebrow gel or hairspray to tame unruly brows. MAC and Elnette respectively are my go-to's.
While we're on the subject of brows, don't overpluck – thin eyebrows can be terribly aging. My father spent most of my teenage years shouting at me for plucking my brows into these horrible skinny lines. I wish I'd listened to him. Even now he says "I just wish you had eyebrows like Kate Middleton". Me too, Pops.
It's ok to moisturise when you've got spots – just as long as your moisturiser is non-comedogenic so it doesn't block your pores. In fact, tapping lightly on top of the blemish will increase blood flow to the area, bringing fresh oxygen and nutrients there, helping the spot heal more quickly.
If you know you're going to be photographed, use a foundation that contains no SPF. SPF is what creates "flashback" and makes you look shiny in pictures.
Wash your make-up brushes regularly. For my foundation and concealer brushes I use MAC Brush Cleanser as I find it is the only thing that really shifts all the oil/dirt properly. For all my other brushes I use either shampoo or an anti-bacterial handwash.
Cetaphil is the best cleanser in the world. End of story.
For me, cleansers are a "save" product, meaning that I don't spend a huge amount of money on them – they stay on your face for no time at all. Rather spend money on a serum or moisturiser, as these products sink into your skin and offer real benefits over time.
For a highly effective body exfoliator, mix together some sugar and Johnson & Johnson Baby Oil – you will be left with lusciously soft skin.
Don't bite your nails or pick your cuticles. It makes you look shabby, no matter how beautifully presented the rest of you might be.
My two "can't-live-without" beauty tools? Tweezers and eyelash curlers. Tweezerman and Shu Umera respectively are my favourites (although the MAC eyelash curler deserves a special mention).
Wipe your mascara wand on a tissue before you apply your mascara – you will avoid clumps this way.
My number one concealer for covering blemishes is Laura Mercier Secret Camouflage Concealer. A close second is MAC Studio Finish Concealer.
This goes without saying, but take your make up off before you go to sleep. Even if you are hideously drunk/tired/sick, just do it – you will look less shitty in the morning, I promise. If you don't, you'll wake up looking like Ke$ha.
Bobbi Brown Corrector and Tinted Eye Brightener are game-changers – I can't believe it took me so long to discover them. They banish under-eye darkness and make you look bright-eyed and bushy-tailed.
Last but not least, accept your face. It ain't changing (not without the help of a scalpel, anyway), so learn to play up the features you like and minimize those you don't – makeup has incredible transformative powers.
So tell me, have you got any beauty gems that you'd like the share? I am always fascinated by other people's beauty regimes and rituals – please let me know!
Special thanks to Andrew Brauteseth for the amazing picture, and to to all my lovely friends who helped contribute to this post.